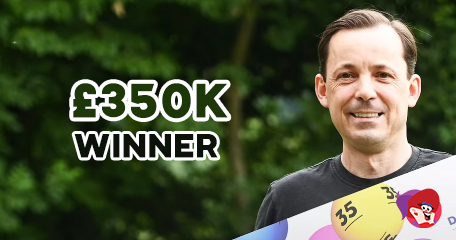 As August approaches, we know one thing for certain; we're more than halfway through 2020 and to be honest, I'll be glad when it's over! While many agree with me, there are at least 36 people who do not – thirty-six lucky devils who managed to win at least £1million by playing the lottery!
With fortune comes fame, unless you wish to remain anonymous that is, and as I suspected, the majority have decided to just that since picking up their life-changing wins, but there are a few who want us to know just how they won and how much they won in June.
Just a quick one before I get there; if you've any tickets unchecked, I suggest you get looking because there are three unclaimed prizes and unless you're quick, you could be about to miss out on a fortune! March 17th this year, a lucky ticket (from South Ayrshire) matched all 5 numbers and 2 lucky stars on the EuroMillions, that ticket is worth a mind-blowing £57,869,670.00! you have until September 13th to make your claim.
March 20th, another EuroMillions ticket with a win of £1million was purchased in the City of Leeds. If you're the owner of raffle number MGKX92653, you have until September 16th to claim your winnings! Set for Life now and on April 23rd, one lucky ticket from the London Borough of Brent, matched all five numbers for a prize of £10K a month, every month for a year! October 20th is the deadline for this one.
Introduce the Winners
Mr L from Portsmouth purchased a lucky dip ticket for the main lotto draw exactly a month ago, and it's safe to say his life will never be the same again, after landing a £1m win via the National Lottery website! Mr L from Kent decided to try his luck with the Set for Life lottery game and to his disbelief, he landed the top prize! That's £10K a month, every month for 30-years!
Mrs M from Tyne and Wear plans to put a deposit on a new house after winning £10K a month for a year and Marcin Jedrzejewski, a 40-year old essential worker, could barely believe his luck when his £1 Lotto Hot Picks ticket netted him £350K, and that's real money!
And what's even stranger is that the Set for Life draw on June 15th saw all winners (one top prize and 10 second tier prize winners!) having an extraordinary link! Yes, we know they matched (almost!) the same numbers, but the numbers drawn were almost identical to a lottery ticket in the smash-hit television show - Lost!
Season 1, episode 18 of Lost followed the survivors of a plane crash over the South Pacific. In this episode, a survivor known as Hugo won $114m on the lottery with the numbers 04, 08, 15, 16, 23 and 42. Monday 15th June draw numbers were 04, 15, 21, 23, 42 and Life Ball of 02! How bizarre!
Camelot's Andy Carter, Senior Winners' Advisor at The National Lottery, said, "Wow, the secret of the 15th June draw is finally revealed. It seems this TV show has consciously or subconsciously engrained these numbers into many of our players' heads. Many people have lucky numbers and it seems that the traditional lucky 7 or birthdays route is being challenged by numbers from popular culture.
However you choose your numbers, we can't wait to start paying these prizes and supporting our new winners. And remember, if you loved Lost, check your tickets online or on the National Lottery app!"
Source: "Lost and Found: Solving the Set for Life Mystery". The National Lottery. June 19, 2020.
Bingo Society News
Back to articles
Your feedback
Please enter your comment.
Your comment is added.
Member's Feedback (1)
TinTinn
07/28/20, 09:07:14 AM
The Lost show connection is mad! I'm quite surprised to see the unclaimed list being so short, it's usually twice that size! It's very easy to miss raffle numbers...
The Lost show connection is mad! I'm quite surprised to see the unclaimed list being so short, it's usually twice that size! It's very easy to miss raffle numbers on tickets, so they should be coming up with a new way of playing by ditching the paper tickets.
Show more