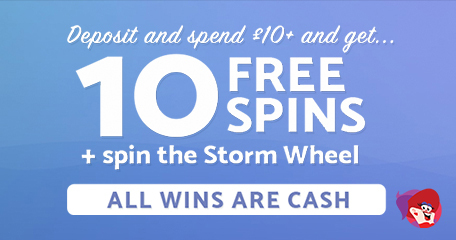 Win A Share of £10K For Free Every Month
Looking to play bingo for free to win real cash prizes? And not just a few quid here and there but up to £1K in cold hard cash? Well you've come to the right place! Bingo Storm is a leader when it comes to 100% risk-free bingo games and every single free bingo room guarantees to not only pay cash, but to come with no cashout clauses! Naturally, you'd need to win more than the minimum withdrawal limit, but that's a piece of cake!
A couple of days ago there I was playing in the free bingo rooms trying to conserve my cash balance when boom – I landed a full house win of £250! And guess what I did next…
…I headed straight to the cashier and withdrew the lot! Within 48-hours the funds were in my bank account! See, Bingo Storm don't just give £1 prizes away, they give lots away, every day! The free bingo rooms are busy and some require play activity status before entry is granted, by this we mean certain criteria must be met.
Free 4 U: A bingo room awarding £4 prizes in 75-ball bingo games. No criteria required to play.
Long Term Loyalty: £10 prizes played daily. This room is accessible for loyal members who have played for at least 6 months and that have made at least 1 deposit during the last fortnight. Deposits grant immediate access. 'Banned from bonus' customers cannot access this room. For more info on the 'banned by bonus' clause, contact support.
Most Loyal: The only place you'll find £20 cash prizes in 75-ball bingo games! To access the room, customers must have registered within the last 2 years and have made at least 1 deposit within the last 14 days. Deposits result in immediate access.
Magical Mondays: The big one! The triple chance 90-ball bingo room with 1TG and 2TG prizes thrown into the mix. Played once a week on a Monday, £1K in real money will be won by real players. Access is granted upon a deposit of £5 within the previous 7 days.
Then there are budget busting games and scores of promotions where you could win tangible goods as well as cash for pennies a ticket! On the 10th of every month £10K is won for free and everyone who participates is guaranteed a share of that cash prize pool! There is drawback to this specific promotion though…
…you need to earn tickets into the monthly game because you can't buy them! Participating in other promos and claiming offers can result in tickets being activated. Same rules apply to the prize room where once a week on a Tuesday, a fabulous prize is won. In the past we have seen gadgets, tech and vouchers being won for free!
New player offer: Deposit and Spend £10, Get 10 Spins + Spin the Storm Wheel. Anything won at Bingo Strom, even from free offers and bonuses, are credited as cash!
Promotions & Bonuses
Back to articles
Your feedback
Please enter your comment.
Your comment is added.