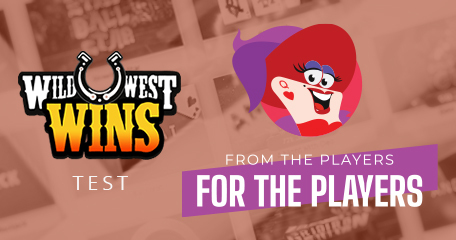 Wild West Wins is one of the latest brands to launch on the dominant Jumpman Gaming platform, and naturally we wanted to be the first to put them to the test to see if they really do offer a wild gaming experience. Our reviewer, an experienced and avid online bingo and slots player, was intrigued to try the Bingo Millions games where upwards of £10 million can be won in any game, but was she left impressed by their offering?
A little browse of the welcome screen reveals big winners, a no deposit spins offer and a loot box welcome offer of up to 500 spins on a first deposit plus a healthy selection of games and other promotions. What it doesn't tell you is the facts, which we only uncovered by putting our money where our mouth is. From the Players for the Players goes where no other online bingo review website goes to bring you the very latest information from deposits to withdrawals and everything in between. Did Wild West Wins pass our test with flying colours or did they fail spectacularly. Stick with us as we found out.
Tester of the day: lookin4bounty
Registration date: Monday 11th October
Deposit date, amount and payment method: 19th October, £150 via two Visa Debit transactions, one of £50 the other of £100.
KYC or other identification methods (if any) date of submitting and date of approving docs: Submitted on 14th Verified on 24th October and 4th November.
Withdrawal request date: 31st October, withdrawal request of £75.21p via Visa Debit.
Withdrawal received date: On 4th November, the withdrawal of £75.21p was processed minus £2.50p fee, which resulted in £72.71p being received.
Registration
First step for our reviewer was registration and after submitting all her info for the first time, she was told her details were incorrect.

Having read previous From the Players for the Players reports, she understood this could happen if you already have an account on another Jumpman Gaming website. Using a different email address, she was able to register on October 11th. Instantly she was prompted to add her card details in order to receive her no deposit spins, but our tester of the day decided to play a real money balance and declined the offer.

Initial Deposit
Wild West Wins informed our reviewer of the automatic deposit limit feature as soon as she registered, where as much as £5K can be spent per month. This can be adjusted to suit individual player requirements by requesting changes via support, which is always good to know.

In order to play with real money, lookin4bounty needed to credit her account. The available deposit methods listed on the welcome page were different to what was offered in the cashier, with one method in particular missing from the list – PayPal. Debit card, Pay By Mobile or PaysafeCard was offered. The tester opted for the debit card option, but before she could play, she was required to verify her account.

Instead of uploading documents to Facebook or waiting for email support to verify her documents, she discovered she had the option of uploading them via her account. Clicking the link to supply photo ID, resulted in her being navigated away from the website to complete this process. A mobile phone with a camera is a requirement at this stage as a QR code must be scanned to complete the upload via mobile. After supplying images of her driver's license, front and back, she was told to head back to the Wild West Wins website on her computer. Unfortunately, the page didn't refresh but after pressing the back button, she was then able to complete the verification upload process.
Even after supplying a recent utility bill, as requested on the previous on-screen pop-up, that proof of ID link was still displaying a cross icon. Once submitting photo ID, the link should display a green tick to show it has been added, but it wasn't despite having just completed this step.

With this now added, lookin4bounty headed back to the cashier to make her deposit, but the account was locked.

On the same day of registration, October 11th, she emailed support to ask why her account had been locked. On the 14th, a reply came in the form of a standard email asking for more ID, that had already been added to the account.

Five days later on the 19th, support emailed our tester and confirmed her account was now verified.

Heading back to Wild West Wins to make her deposit, she was finally able to make two deposits, one of £50 and one of £100 via Visa Debit for a total of £150 to play with. The cashier only offers pre-set values which didn't match the deposit amount our reviewer wished to play with, hence two deposits.

Gameplay
The bingo lobby is bursting with different variants, some offering up to 5 prizes per game and others offering millions, if you're a quick dabber/caller. Ticket prices, total prizes, jackpots, the number of players in the rooms are displayed via the lobby to help you find the right room for your budget.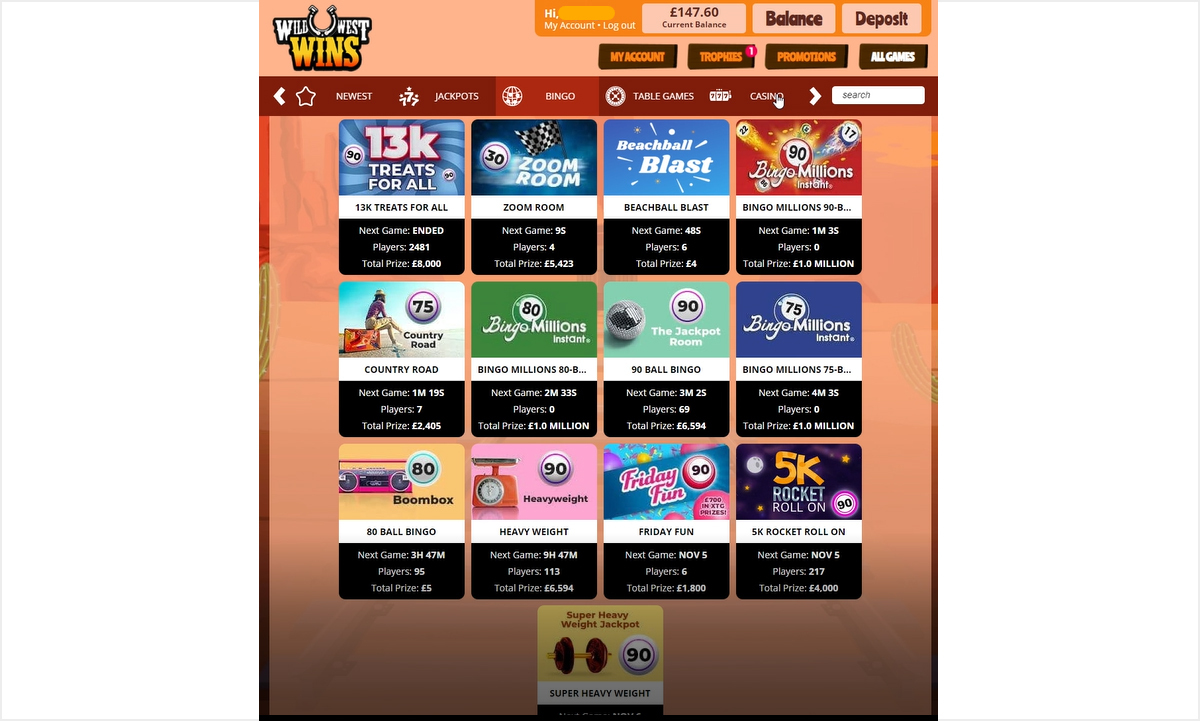 You can play in up to 3 bingo rooms at the same time with a handy on-screen feature allowing you to see how many numbers you need in each room.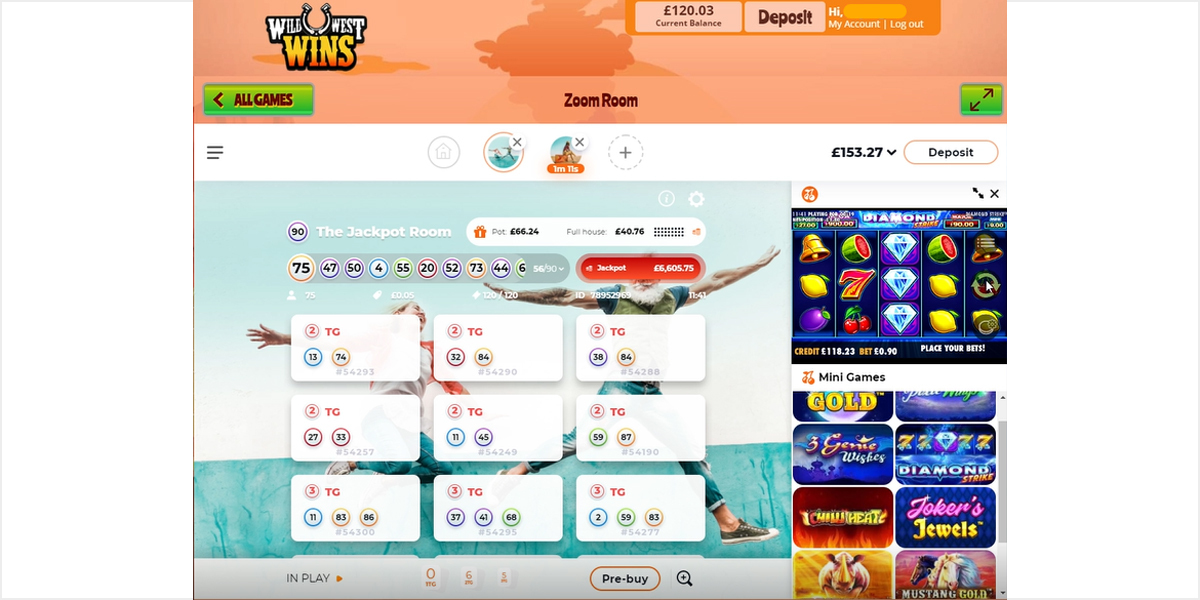 Side games are limited, but there are no limits on ways to have fun with the different bonuses and win ways of each title. For more choice, hundreds more games can be accessed via the main lobby, including live casino games, instants and progressive jackpot slots. 'My Faves' is a section of the lobby dedicated to your favourite games. You can add as many as you like for quicker access in the future.

Requesting a Withdrawal
Ensuring she wouldn't have any issues with her withdrawal, looking4bounty wanted to double-check her balance before requesting a cashout to ensure there were no bonus funds added. Bonuses mean wagering requirements, but as expected, her total balance was real money.

At this point, the cashier now included PayPal as a withdrawal method, despite it not being offered at the point of a deposit. A successful deposit via card is required before PayPal becomes available for UK players. As Visa Debit was used to fund her account, it would be used to withdraw from it. Only, our 'verified' player was met with a message indicating that the account was being reviewed.

Having been previously verified, our tester was frustrated to discover her account was now in a state of review. The pop-up stated it could take 48-hours to complete, but the process took much longer than that. Attempting to request a withdrawal on October 31st resulted in another email to support asking why her account was in review. In the meantime, lookin4bounty decided to upload a copy of her debit card (middle 8-digits hidden), just in case it was required. This was added on the 2nd of November.
A day later on the 3rd, 72-hours later, her account was still being verified. This already exceeded the 'up to 48-hours' period as stated. This same day, a reply came back from support with no explanation as to why the account was in review. All documents had already been verified, but support requested a copy of her debit card, the same info that was added multiple times and most recently, just 24-hours ago.

A withdrawal request for £75.21p was requested on November 3rd, even though her debit card was still unverified at this point. On November 4th, her debit card was verified, and the withdrawal was received, minus the £2.50p fee (£72.71p).

How Does Wild West Wins Stack Up?
There was an error during the registration process, which was resolved by providing an alternate email address. Please note that players must verify identity before a Wild West Wins deposit is permitted. Our reviewer's account was classified as 'verified' three separate times before being able to request a withdrawal and with support slow to reply, it was a process that took a total of 25 days, from registration on October 11th to eventually receiving her withdrawal on November 4th. Verification far exceeded the 48-hour timeframe given. In terms of payout, the funds were received the following days after the withdrawal request – a fast result.
This information concludes this extensive test as part of the project From the Players, For the Players. If you are a member of Wild West Wins or consider making a deposit, we hope this report provided some useful information.
From the Players for the Players
Back to articles
Your feedback
Please enter your comment.
Your comment is added.