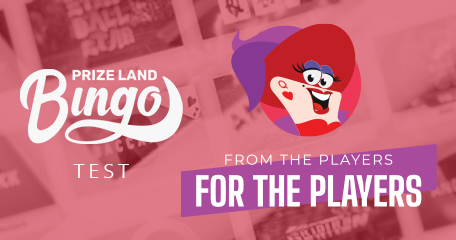 Prize Land Bingo may be a 2021 newcomer, but its roots take us back to 2012 when they were simply known as Iceland Bingo. At the time of launch, the brand offered all customers a shopping voucher as part of the welcome offer, but some years later, they decided to sever ties with the frozen food store in favour of more value for money entertainment.
A slap of paint here and there and a rebranding paved the way for more promotions, and as the name suggests, more prizes. Now known as the land of bingo and prizes, they claim to offer the very best in bingo deals and jackpots, so naturally, we decided to put them to the test. From the Players for the Players brings you everything you need to know before you decide to join a bingo site, providing the smallest of details that only become available when a real money deposit has been made. Our tester of the day funded her Prize Land Bingo account, played some games and made a withdrawal, but did everything run like clockwork? You'll soon find out!
Tester of the day: EyesOnThePrize
Registration date: Tuesday 2nd November
KYC Verification: Not required
Deposit date, amount and payment method: 2nd November, £150 via PayPal
Withdrawal request date: November 2nd, withdrawal request of £75.44p via PayPal
Withdrawal received date: On 4th November, the withdrawal of £75.44p was processed via PayPal
Registration
The first step before being able to play is registration. Once the basics were supplied along with a username and password, our reviewer was welcomed to the community. There were no issues reported, in fact, the process was completed in less than 2-minutes. Entering the lobby for the first time, EyesOnThePrize was given an insight into what she could win, which included a highly sought-after PS5 console. To be in with a chance of winning, she needed to opt into the bonuses, but wanting to keep things simple, she declined the welcome offer and proceeded with a real money balance.

Initial Deposit
The cashier is where you make your deposits and withdrawals and can be found housed to the top of the screen next to any available balances you may have. On November 2nd, our tester opted for PayPal as her preferred deposit method and deposited £150, the sum she needed to insert manually into the 'other' box. The only thing left for EyesOnThePrize to do was to accept or decline the bonuses. Ticking the 'No bonuses please' box first, as you can see below...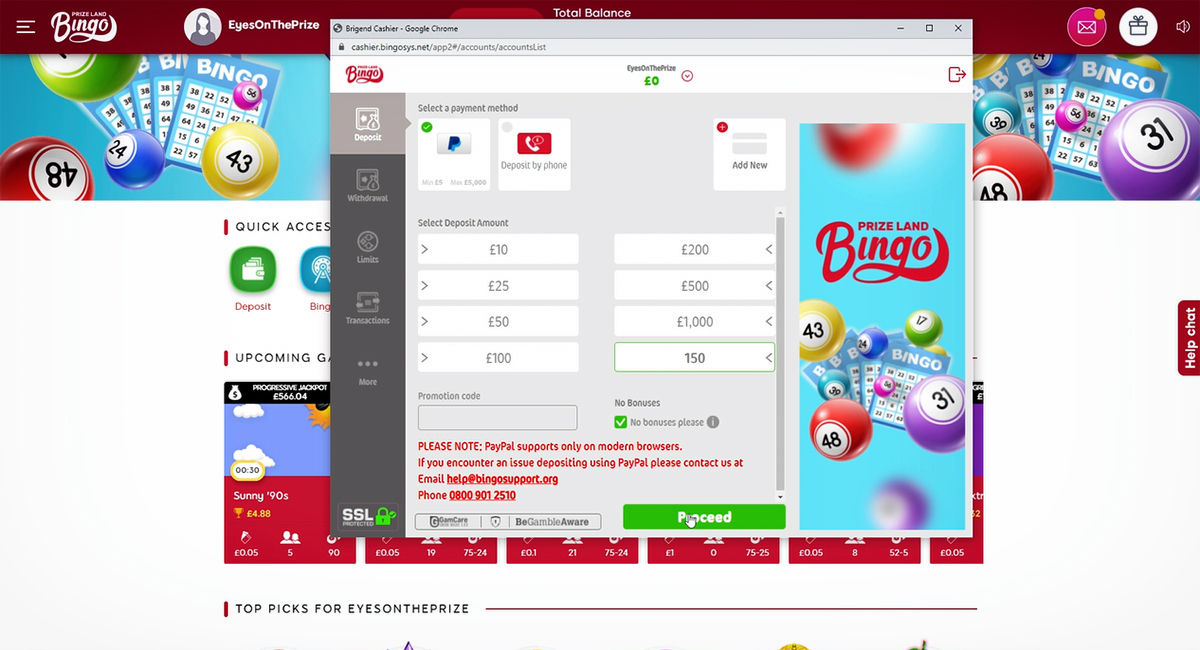 …then promoted an on-screen pop-up warning her of her current choice.

After continuing with no bonuses selected, she noticed her account was not only credited with the deposit of £150, but also the welcome offer of £20 in bingo bonuses, 50 free bingo tickets and 50 bonus spins, all of which have wagering requirements.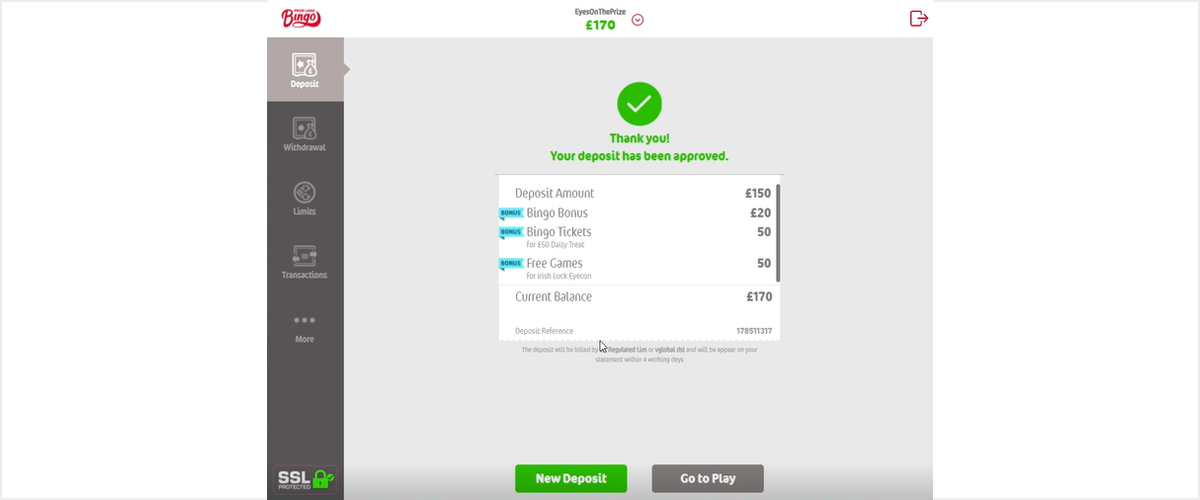 Heading to the help tab, she contacted live support and asked why the bonuses were added. The customer service team member insisted "the opt out of bonus was not set to yes", despite our reviewer declining the bonus twice - at registration and the point of deposit.

It took about 5-minutes for the help team member to remove the bonuses from our reviewers account, and when complete, she had £150 real money to play with.

Gameplay
One look at the bingo lobby revealed there to be some epic prizes on offer, prizes that were guaranteed to be won. The prize games were either once a week or once a month specials, and our reviewer was unable to take part on this occasion.


Player numbers were a little on the low side, but that was to be expected, what with EyesOnThePrize logging in at about 4pm. Dragonfish favourites include Mystery Jackpots, rooms where you can win spins for 1p a ticket and our reviewer's personal favourite, Bingo Roulette.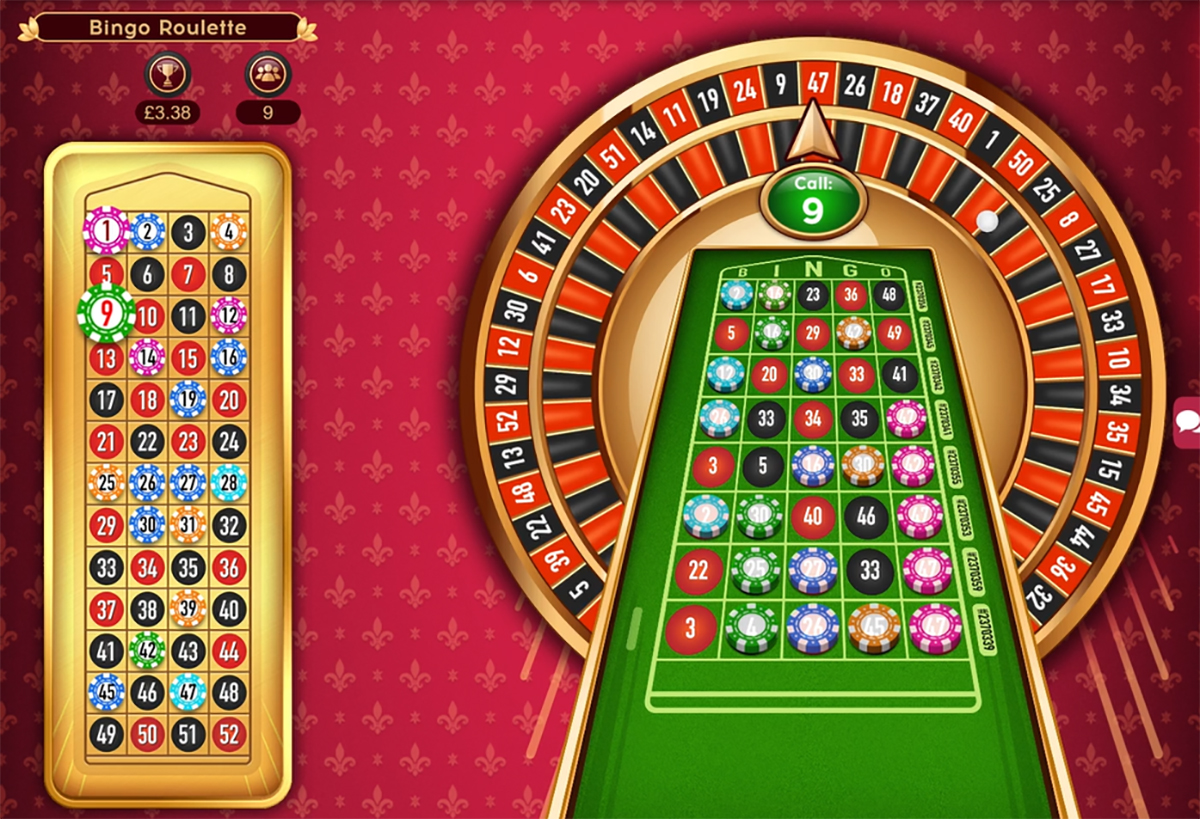 What is Bingo Roulette? It is a game featuring five numbers per ticket and numbers drawn by a roulette wheel. The first person to mark all five numbers on a ticket before anyone else, wins! EyesOnThePrize managed to win twice, but with less than 10 players in the room, the prize was often less than the cost of the tickets. A calming atmosphere with the tranquil sounds of the ball hitting the pocket come complete with casino floor chatter.
Being an online bingo site, you may be surprised to see top performing online casino titles at Prize Land Bingo, but they offer in excess of hundreds of thousands of pounds in jackpots!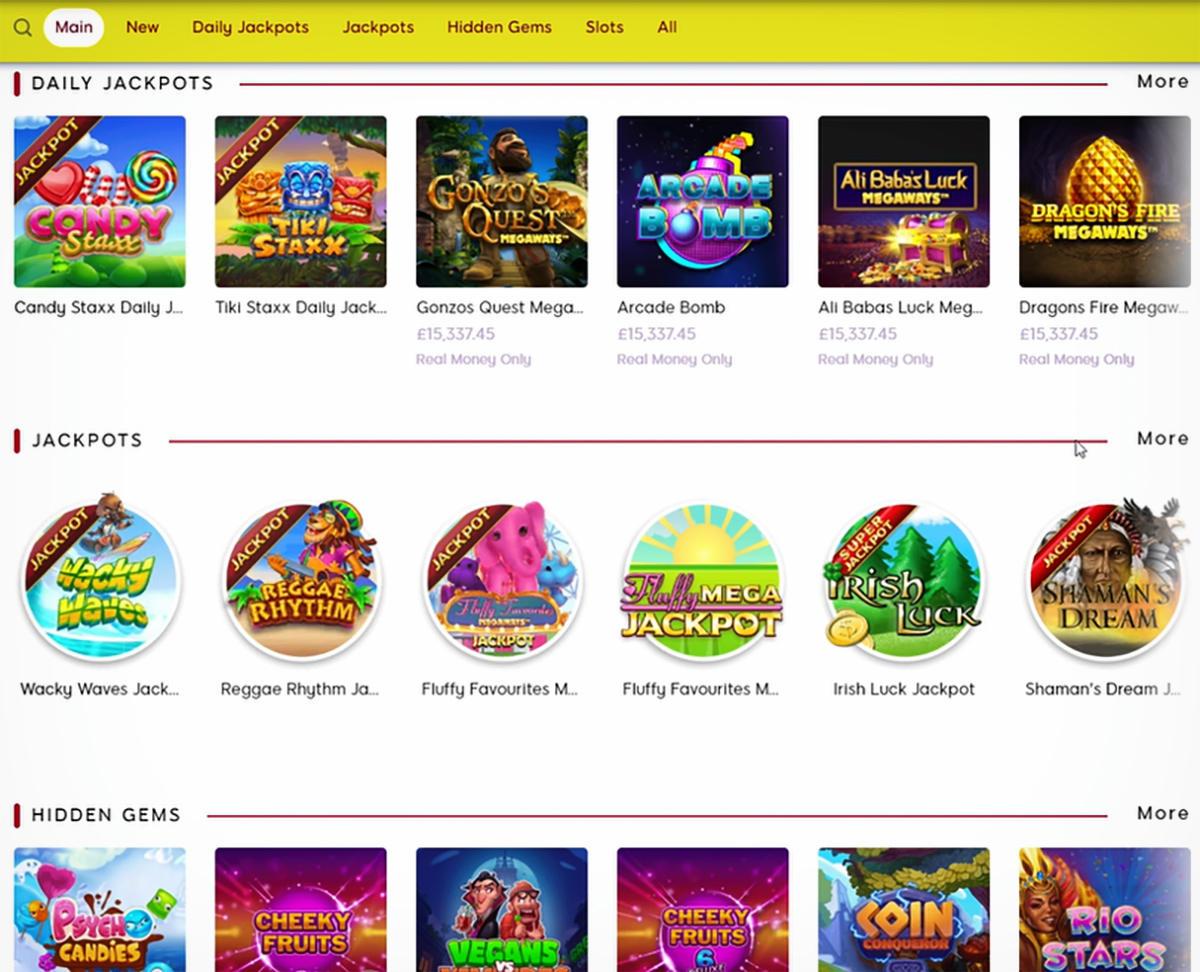 Requesting a Withdrawal
After playing some bingo and games, EyesOnThePrize decided it was time to cash out her remaining balance of £75.44p. In similar style to when she credited her account, she was warned she would lose her pending bonuses if she proceeded with her withdrawal request, but she shouldn't have had any bonuses to begin with, so losing those wasn't going to be a problem.

On Tuesday 2nd November, her request to withdraw £75.44p via PayPal was authorised. The cashier stated withdrawals are "usually processed within one business day", however, it took 48-hours for our tester to receive her funds via PayPal. As soon as the text came in on Thursday 4th saying her money had been processed, it was in her PayPal account.

How Does Prize Land Bingo Stack Up?
Prize Land Bingo really is the home of big prizes and tickets needn't cost a fortune either! There are many ways to get free entries into the draws, but a deposit will be needed to trigger those 'free wheel spins'. Depositors also get daily freebies too because the day after EyesOnThePrize funded her account, she was credited with 37 free goes on a fun little mini game.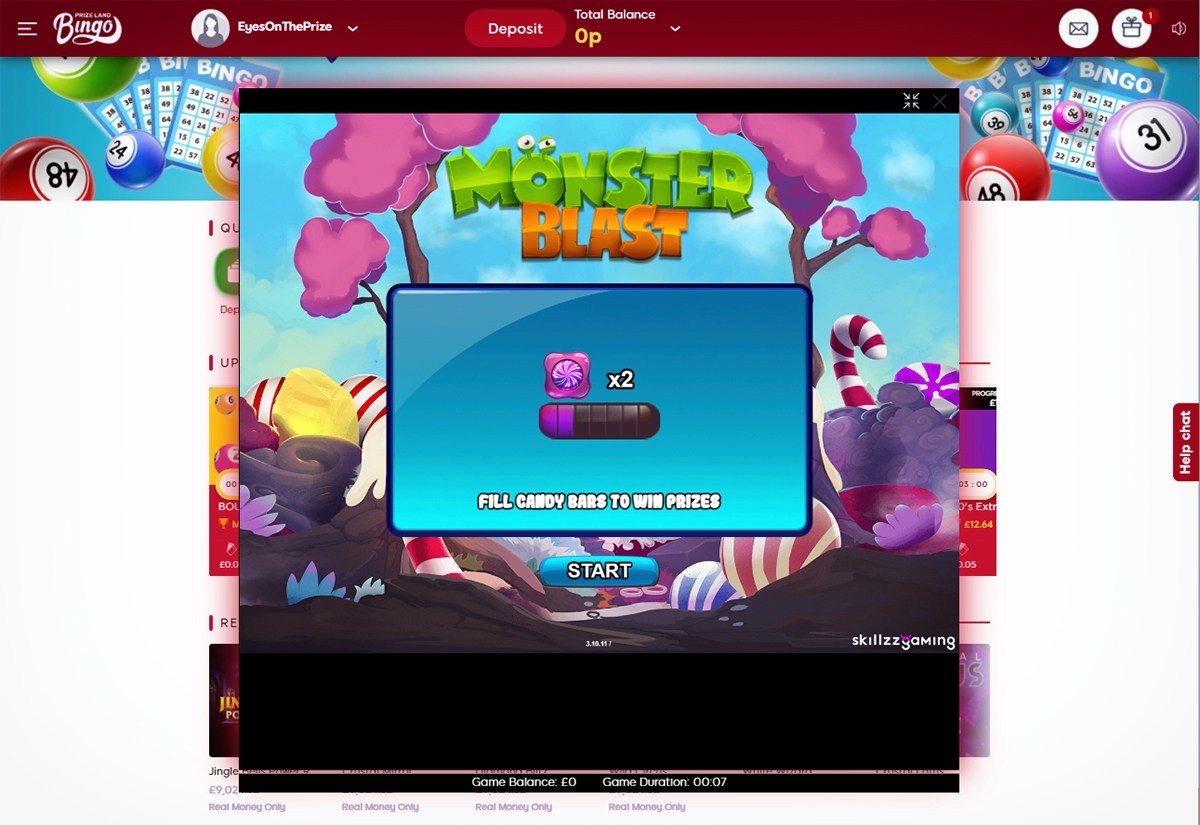 Despite one of her many wins being labelled as a 'monster win', when those points where eventually converted to real cash, all she had was a 54p bonus with monstrous wagering.

This information concludes this extensive test as part of the project From the Players, For the Players. If you are a member of Prize Land Bingo or consider making a deposit, we hope this report provided some useful information.
From the Players for the Players
Back to articles
Your feedback
Please enter your comment.
Your comment is added.