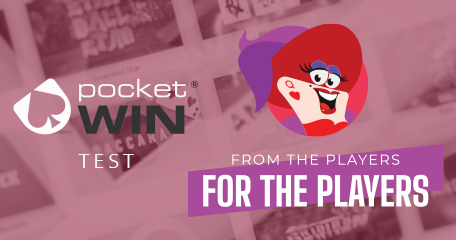 Intouch Games are an award-winning mobile bingo and casino operator with multiple brands offering no deposit offers and mega jackpots, so when PocketWin arrived at LBB we had to put them to the test. From the same stable as mFortune and Mr Spin, PocketWin has a lot to live up to in terms of promotions and giveaways. Did our reviewer experience the best in online gaming or was she left disappointed? We're about to find out!
Tester of the day: tillywillywoo
Registration: Not required (existing player)
Deposit date, amount and payment method: On Wednesday 5th January 2022, a deposit of £150 was made via PayPal.
Withdrawal request date: January 5th, a withdrawal request of £200.50p was made via PayPal.
Withdrawal received date: Wednesday 5th January, £200.50p was received via PayPal.
Registration
There are two ways to play; download or instant play. All games are developed in-house, which means you won't find PocketWin games on any sites outside of the Intouch Games group. On Wednesday 5th January, our tester of the day, tillywillywoo (who had previously registered), logged into her account to play directly via her browser. No downloading was required, and the entire suite of games was available to play on desktop. With our reviewer being a registered player, she was unable to claim any welcome offer.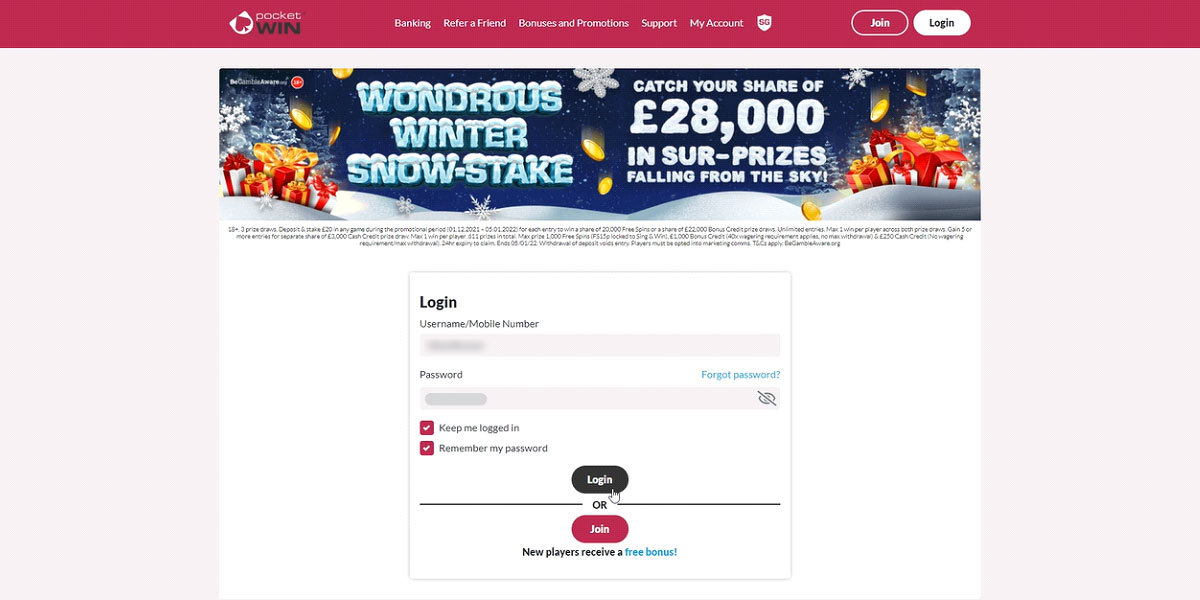 Initial Deposit
Heading straight to the cashier, our tester opted for PayPal as her preferred deposit method. Pay by Phone, PaysafeCard and debit card were the other funding options available. Once PayPal was selected and authentication had been completed, our reviewer was automatically rerouted to PocketWin where her deposit of £150 had been processed.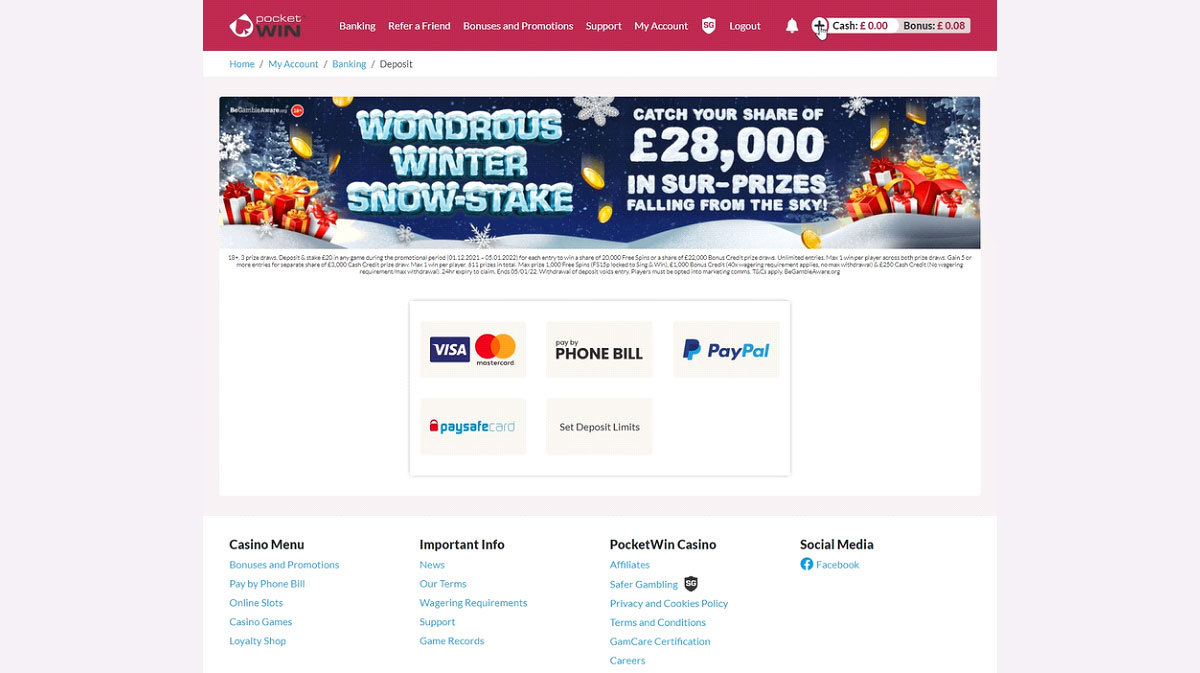 Gameplay
Our reviewer's first port of call was the bingo rooms. Pressing the bingo option pulled up a screen dedicated to all things PocketWin bingo. How to deposit, an option to download the app, how to win the jackpots and details on how to claim the no deposit offer were all waiting to greet our player.
This may not have been tillywillywoo's first time to PocketWin, but it was the first time accessing the bingo rooms so, she was required to choose a username (nickname).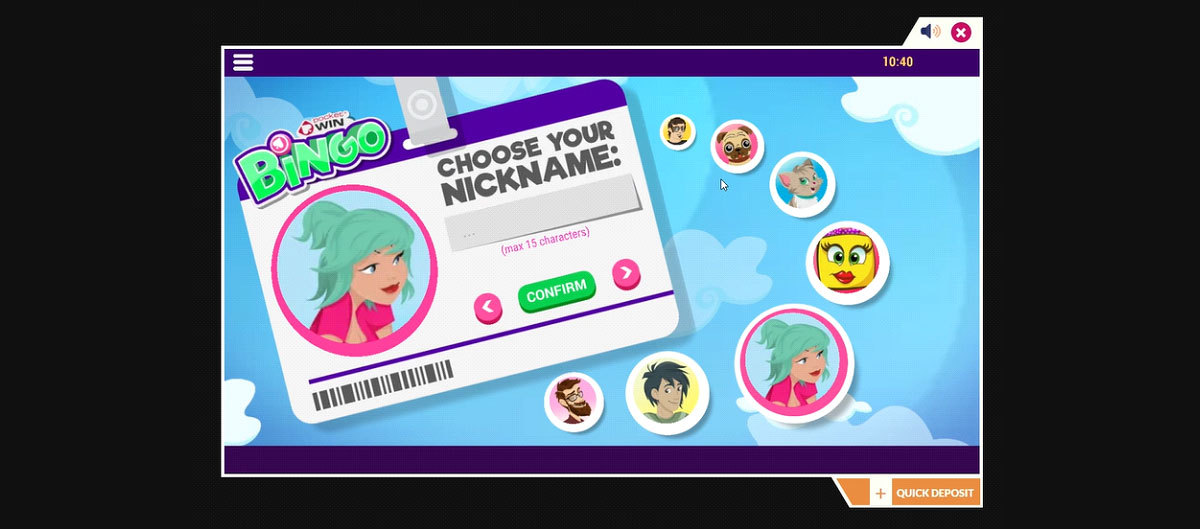 'ShowMeMoney' was accepted and would be the username displayed next to her avatar when playing in the bingo rooms. A brief summary of the bingo rooms, settings and how to play flashed up on her screen. After familiarising herself with the rules, tillywillywoo noticed there were 5 different rooms to play in, each offering 90-ball bingo games, each with their very own progressive jackpots. Of the five rooms, four were open 24/7 with a fifth set to open later in the day.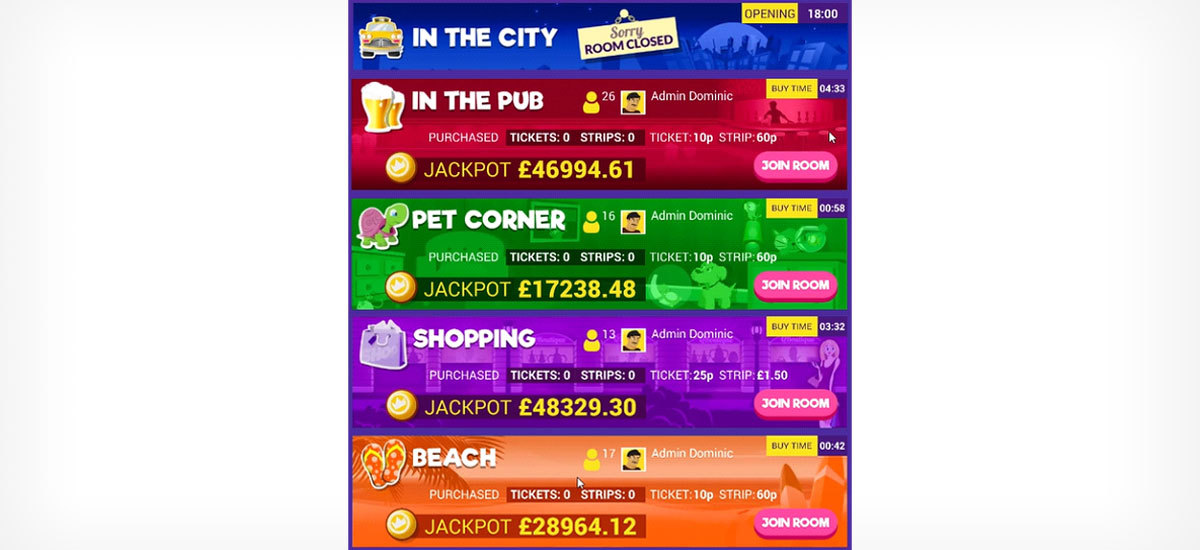 The first thing our reviewer noticed was the two purchasing options when it came the tickets. Instead of a set price with a strips/ticket option, there was a feature to increase the price per ticket and per strip. Most unusual as all other online bingo sites dictate the ticket price per game with an option to buy multiple tickets.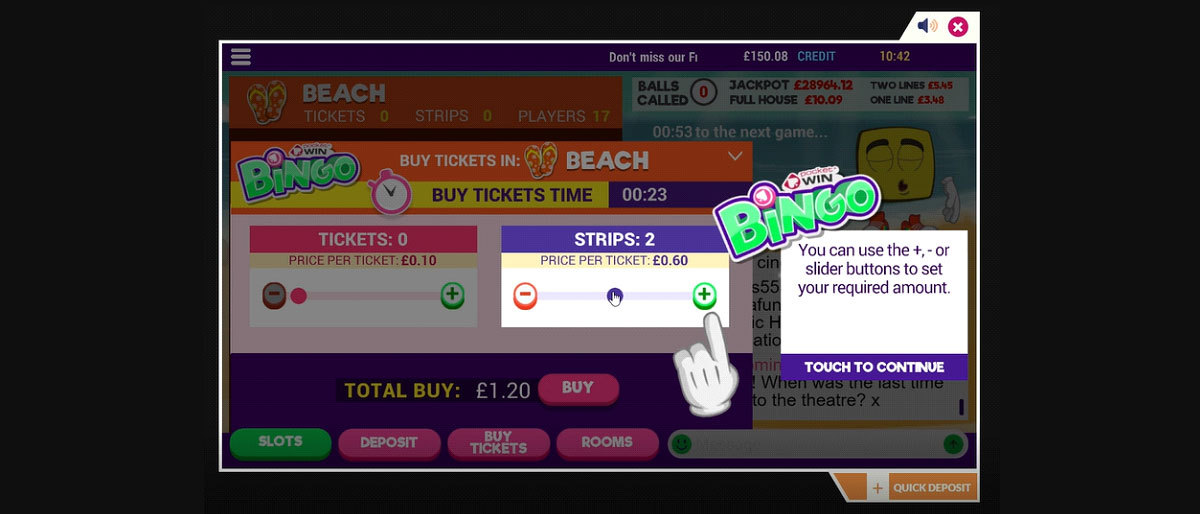 Another interesting and somewhat confusing feature is the ticket order. When the game is in play, tickets will constantly re-arrange themselves to show the 'best chance to win' ticket at the top, however useful this may be, it isn't when the line and 2-line's are still in play. While tillywillywoo was looking for the line and then the two-lines, her tickets were always highlighting what she needed for the full house. When she wanted 1TG for the line, that ticket wasn't positioned out of view to make way for the 8TG for the full house.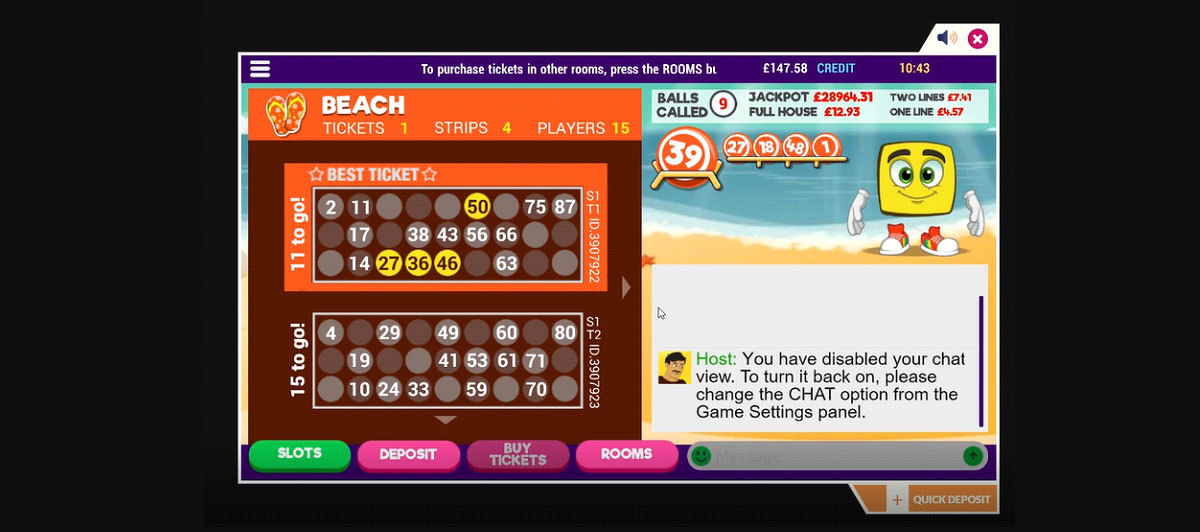 Next was the slots. All titles housed at PocketWin come with a progressive jackpot win chance and playing any of those could result in landing a life-changing sum of money. Five jackpot symbols occupying any win line will trigger the stated sum, but only if those pesky wilds stay out of the way! To help players narrow down that substantial list of games, each one comes with a detailed description on how to play and win, the various symbols and a paytable of prizes. There is also a demo mode for those wanting to play without the risk to their bankroll.

Having played Prize Pot Picks, Cheese Chase, Black Hearts, Deadly 7's and Spin Your Cards Right, tillywillywoo wanted to try her luck with Jackpot Agent, the 007-inspired release. The minimum bet is 10p but the tester increased her bet to £1.80p per spin. After two spins of the reels she noticed her bankroll had gone down substantially – over £30 to be precise and that is when she realised her bet was not £1.80p per spin, but £1.80p per win line! This resulted in two bets at £16.20p per spin! Her bet was showing as £1.80p on the gaming panel but £16.20p at the very top of the machine.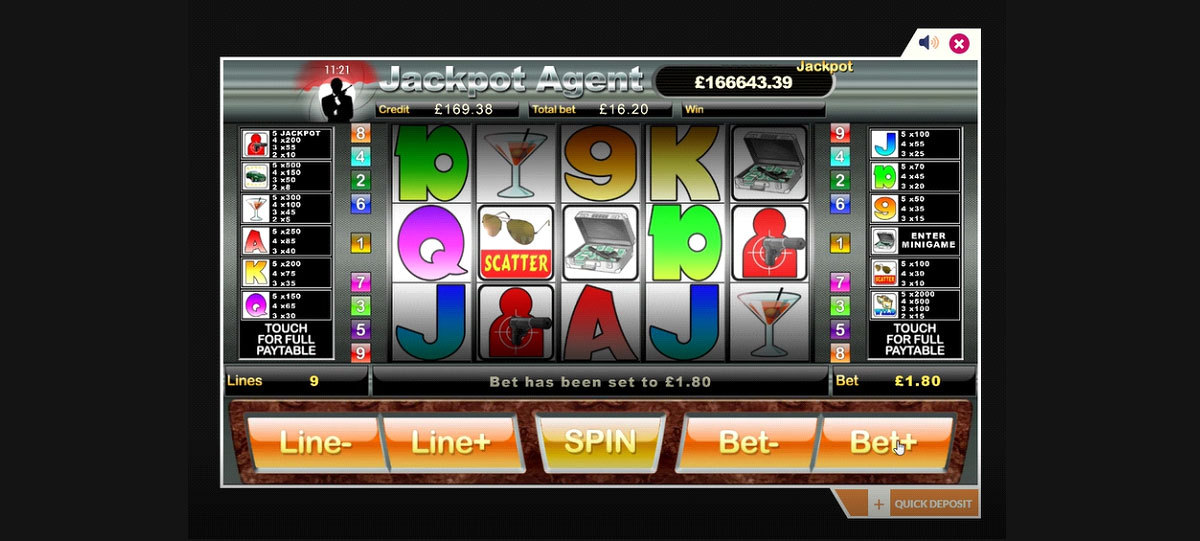 Requesting a Withdrawal
After playing bingo games in every bingo room bar the one that was closed, and playing multiple exclusive slot titles, tillywillywoo decided to cash out her remaining balance. Heading to the cashier she chose PayPal before submitting her withdrawal request for £200.50p. instantly she was alerted to verify her withdrawal with a notice of how any remaining bonuses would be lost if she was to proceed.

As no bonuses were active, there was no risk of losing anything. Pressing to confirm, her withdrawal request was submitted on Wednesday 5th January and less than 7 hours later, the withdrawal was complete! PocketWin sent our reviewer a text message and an email address to verify the withdrawal had been processed and her funds were waiting for her in her PayPal account.

How Does PocketWin Stack Up?
A wide choice of casino games with frequent pays and exciting bonus features are the star attraction here, despite the bingo rooms offering mega cash and random prize draws. That being said, the bingo rooms are nothing but entertaining if a little bit confusing at first. PayPal withdrawals are processed the same day, even for those players who have yet to complete the KYC process, our tester of the day is proof of that!
A solid offering, great promotions, fast cash outs, 24/7 live chat and a loyalty shop where points can get you amazing prizes – what's not to love? Each wager generates points and those points can be exchanged for some of the most generous perks in the online bingo/casino industry! Stadium tours to hotel stays, car hire to the latest video games consoles is all up for grabs!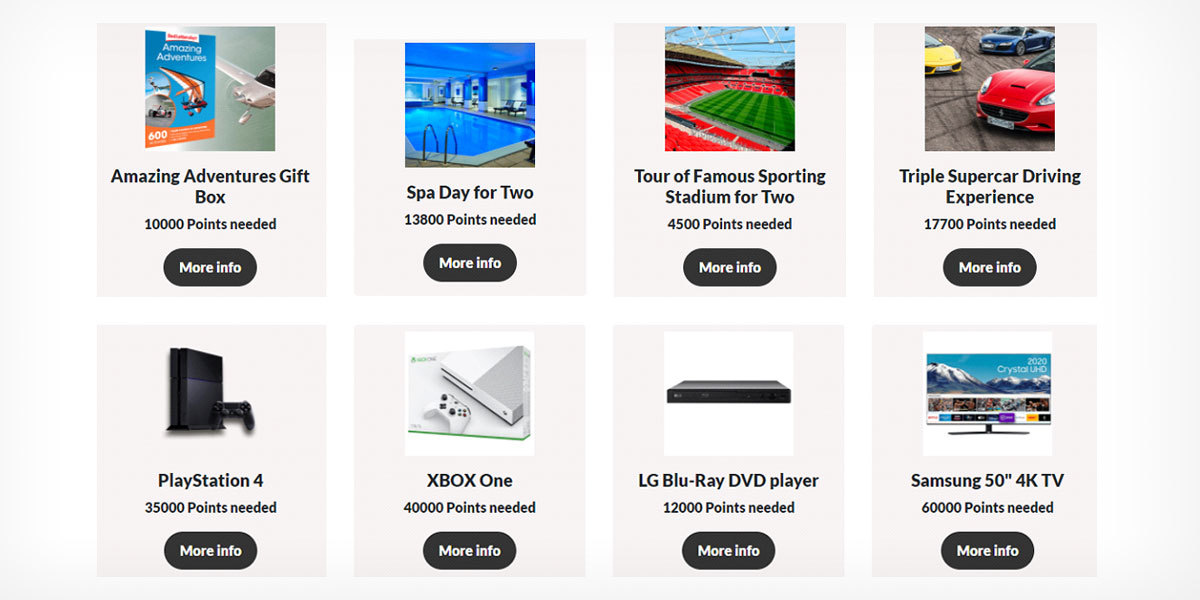 This information concludes this extensive test as part of the project From the Players, For the Players. If you are a member of PocketWin or consider making a deposit, we hope this report provided some useful information.
From the Players for the Players
Back to articles
Your feedback
Please enter your comment.
Your comment is added.
Bixy
01/27/22, 08:01:43 AM
Fast withdrawal along with a broad range of casino games will make me play at PocketWin. Thanks for the detailed report :)