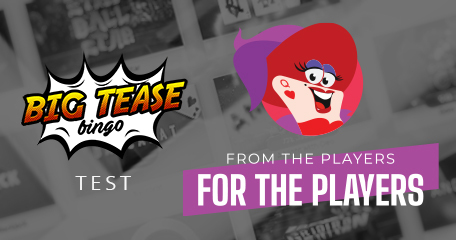 Big Tease Bingo is one of umpteen other brands running on the Dragonfish platform with an extensive gaming catalogue, bountiful bonuses and promising promotions, so we wanted to put them to the test. Do they live up to their promises or are they just a 'big tease'? All will be revealed shortly.
LCB are on a mission to keep online casinos in check, so, naturally they thought it would be a great idea to test the bingo side of things too. Operators promise a lot of things to get new players to jump on board, but can we can trust their words? Nothing beats personal experience, so the entire process - from registration to withdrawal - will be subject to scrutiny and the first test subject was Big Tease Bingo.
Tester of the day: k4yl3ighwh1t3
Registration date: Monday 10th May 2021
Deposit date, amount and payment method: Monday 10th May, £142 via Visa Debit which was instantly available to play.
KYC verification: Identification submitted on day of registration and to date, still no email on acceptance.
Withdrawal request date: Monday 10th May for £50.18 via Visa Debit.
Withdrawal received date: Wednesday 12th May
The Registration Process
Signing up was a relatively easy process, which started on Monday 10th May at approximately 1pm (GMT). Registration was completed within 5 simple steps.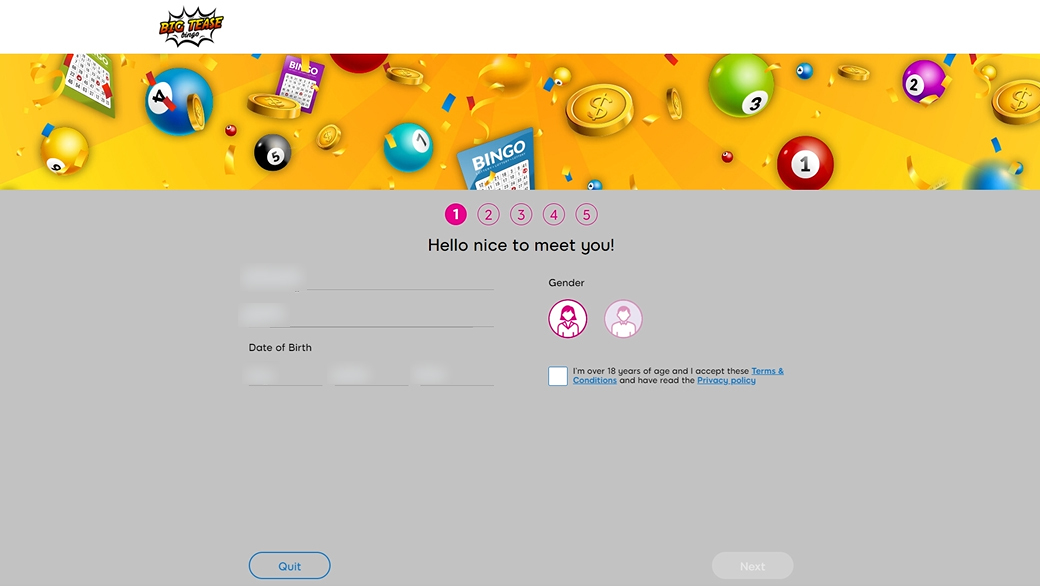 It's worth noting that Big Tease Bingo clearly state PayPal as an acceptable payment method, but it wasn't an option when k4yl3ighwh1t3 registered. The T&C's state that PayPal is available to UK players only, which is where the tester is located. An email was sent to customer support regarding this, and they assured her that PayPal would be available once an initial card deposit was made. We can confirm k4yl3ighwh1t3 can now use PayPal as a deposit and withdrawal method.
As soon as registration was complete, all that was left to do was to confirm identity and make a deposit. KYC documentation isn't required at this point, but the bingo tester didn't want the withdrawal process stalled, so decided to upload there and then using the Big Tease Bingo ID upload form. Our tester submitted photographic proof of address (recent utility bill), identity (driver's license) and an image of the card she had just added to her account, naturally with the middle 8-digits blanked out for security. A pop-up appeared with a message that the document upload had been successful. Confirmation was never sent regarding the acceptance of the documents.
Initial Deposit
The cashier was the final process before being able to play and it took a few clicks to find where it was hiding.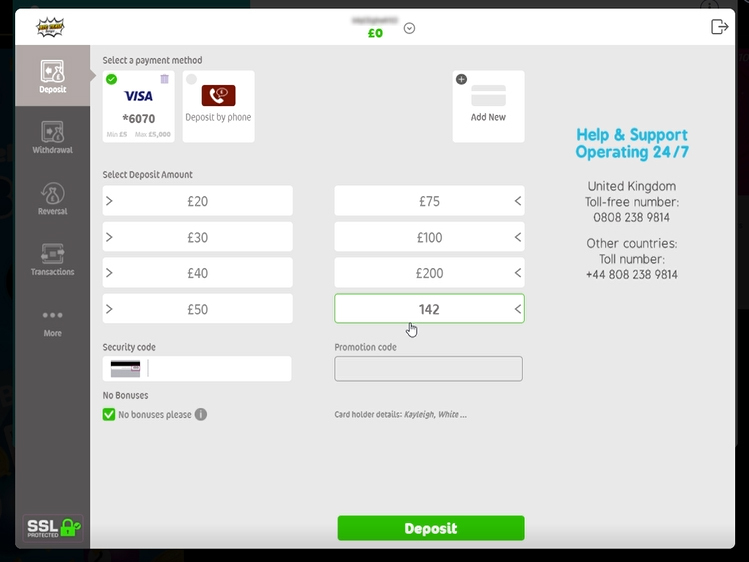 Big Tease Bingo offered deposit via the previously registered card, by phone or by adding another card. As a UK player, PayPal was not an available method as advertised by the operator. A deposit of £142 was made via Visa Debit at approximately 1:10pm on Monday 10th May, which was available right away. Also, the tester made a straight deposit and did not accept the welcome offer.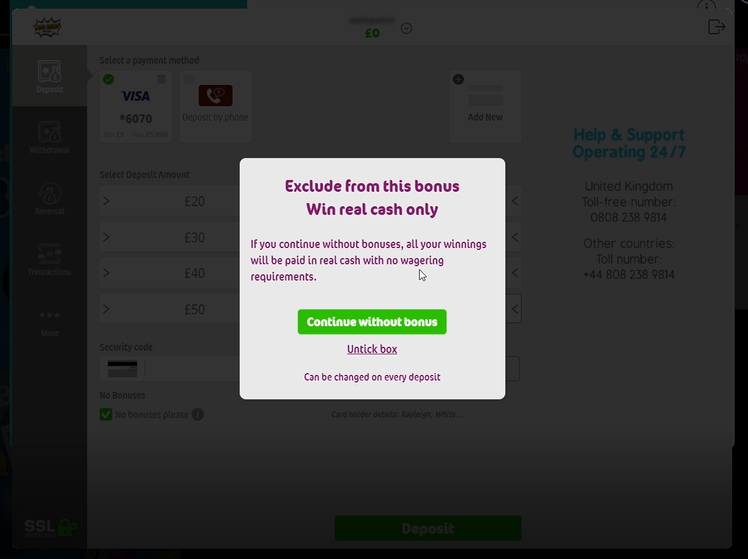 Gameplay
The bingo rooms were up first. There were 28 players in the room playing for a share of £19.11p. While waiting for the game to begin, the tester tried her luck with the side games, one of which was Eyecon's Fluffy in Space title. She managed to win the line but had to share the prize and received her winnings of £2.08p after the full house had been won.
Mystery Jackpots is a popular Dragonfish bingo room where players won't know what they can win until after ticket sales close. These 75-ball bingo games offer the one full house prize of between £10 and £500 for just 10p a ticket. Naturally, our bingo player wanted to maximise their chances of winning so bought the maximum tickets per game – 96, at a total cost of £9.60p. Between games she would switch from side game to side game. A full house win helped boost her bankroll, but when playing the max number of tickets per game, it does eat into your bankroll quickly.
The tester moved into the games lobby in search of slots. Would she find bigger cash wins in big Bass Bonanza by Pragmatic Play? Sadly not, nor did she have luck spinning on Gordon Ramsay Hell's Kitchen slot.
Overall, there were no issues reported in terms of gameplay or software performance.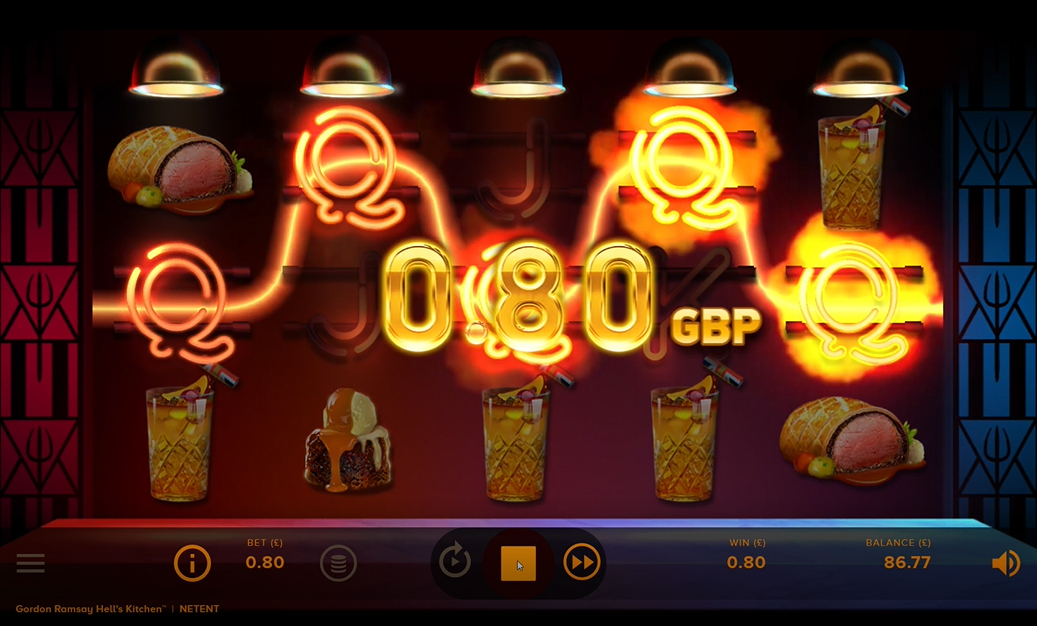 Requesting a Withdrawal
After a good 80-minutes of play, our tester decided to cash out her remaining balance of £50.18p. The withdrawal was requested at 2.23pm on Monday 10th May. The cashier states all requests will be pending for a period of 24-hours and from there, it can take up to 7 working days to complete.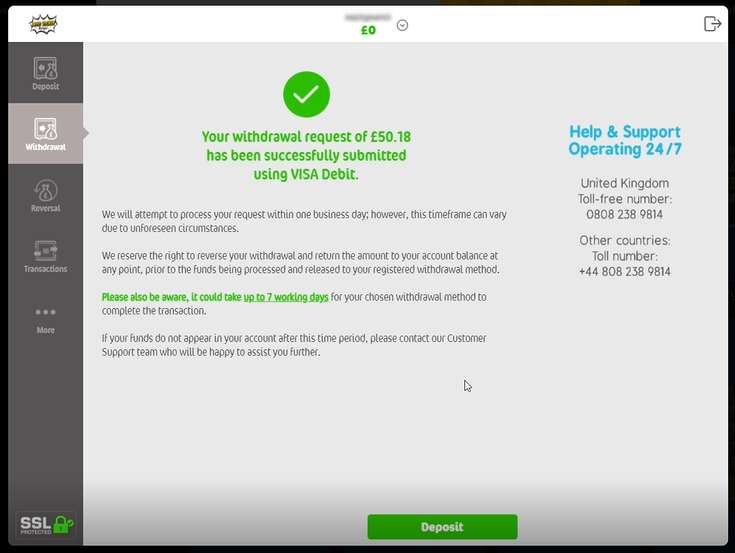 The cashier comes complete with a progress tracker which is supposed to update at every step of the withdrawal process, but it never updated. The progress page should have updated by 2.23pm on Tuesday 11th May, but it didn't. Wednesday 12th at 2.23pm – 48-hours after requesting a withdrawal, still no movement. It was at this time an email was sent to customer support at big Tease Bingo to enquire as to why there was no update on the withdrawal request.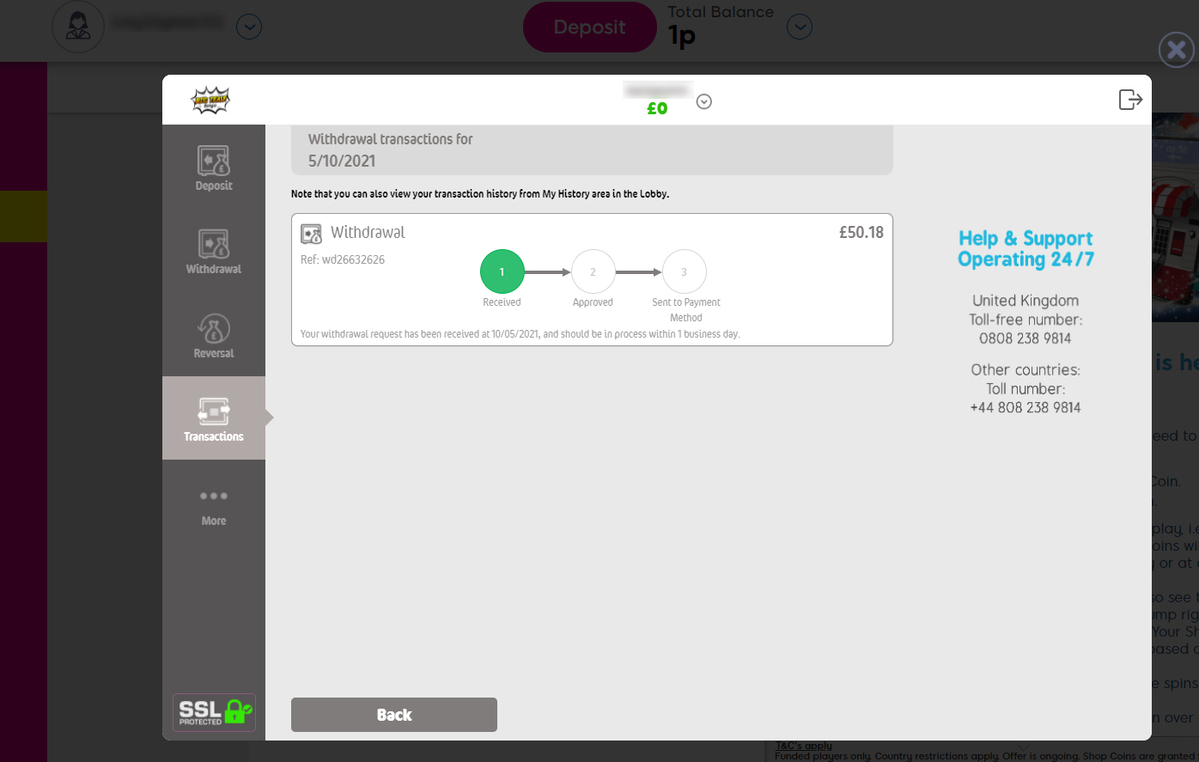 Wednesday 12th May, at approximately 9.05pm, an email and a text message was sent to the tester to confirm the withdrawal had been processed.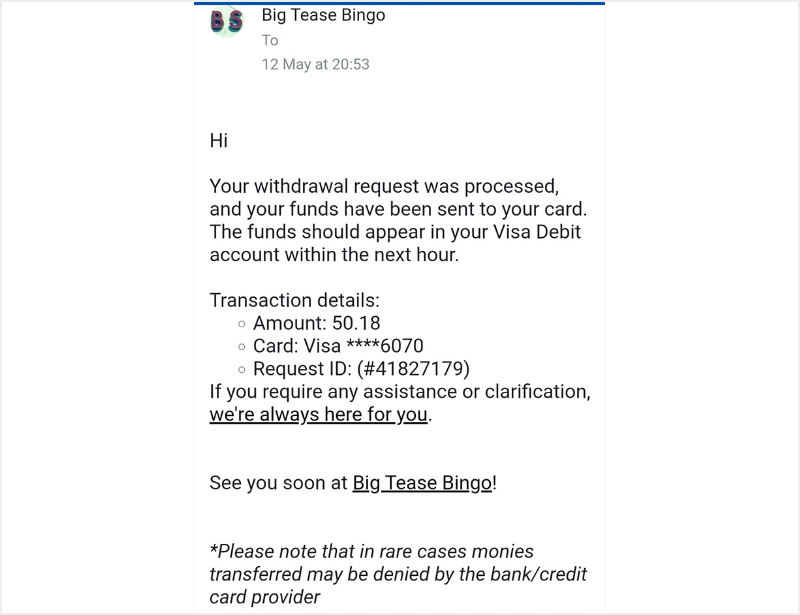 Details on the email stated debit cards would take 4 to 7 business days, but when do they start counting? It had already been 2-working days now. Roughly 10-minutes after receiving the email, k4yl3ighwh1t3 checked her bank to find the funds already waiting for her. Overall, the withdrawal process took little over 2-working days when it could have taken 7-working days.
The withdrawal query email received a response on May 14th, 48-hours after submitting, and 48-hours after receiving the withdrawal, with basic info which could be accessed via the Big Tease Bingo website. There were no reasons given as to why the progress page was in a frozen and did not provide any updates, despite having already received the withdrawal some 2-days earlier.
How Does Big Tease Bingo Stack Up?
The sign-up and initial deposit process ran smoothly with the exception of the lack of PayPal as a banking method. Customer support explained that a card deposit is required prior to the availability of PayPal, which was confirmed. No issues reported in terms of the operation of the bingo rooms, side games or slots. The only hiccup was the failure to update the withdrawal process ticker. Our tester received her payout faster than expected.
This information concludes this extensive test as part of the project From the Players, For the Players. If you are a member of Big Tease Bingo or consider making a deposit, we hope that this comprehensive and detailed experience helps in your future endeavors. Feel free to drop by and leave a comment for other potential players!
General Bingo News
Back to articles
Your feedback
Please enter your comment.
Your comment is added.
Member's Feedback (2)
Bixy
06/24/21, 11:06:23 AM
It's strange the confirmation was never sent regarding the documents acceptance. The tester got her cashout quicker than expected, it was a surprise, perhaps Big...
It's strange the confirmation was never sent regarding the documents acceptance. The tester got her cashout quicker than expected, it was a surprise, perhaps Big Tease Bingo just wants to justify their acts in cases when they have the withdrawal process delayed.
Show more
HangingAround
06/18/21, 12:06:54 PM
I've been checking reports for casino tests..surprised to see it's bingo time now. Thanks!