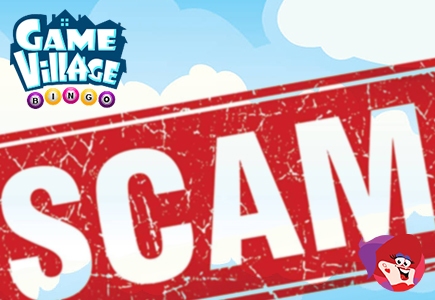 Game Village Bingo
has been placed on our blacklist. As a courtesy and a friendly warning to our members, we wanted to explain the reasons for this decision. We've just put them on the naughty list because they've breached the terms of our contract. As an affiliate, we provide marketing services and they pay us a commission. A while back, they switched affiliate programs and we contacted them to ensure that they'd transferred over the details from our original account to the new program. It turns out they couldn't locate our account and suddenly stopped answering our emails.
Now, here we are having lost all records of the players we've sent their way over the years. If nothing else, we're fair. Emails were exchanged and we were patient as they searched for our account. In the end, they couldn't – or wouldn't - find it and ignored further communications. Of course, LBB made contact three more times and even let them know that blacklist status was coming. Unfortunately, another one bites the dust.
Wondering what this has to do with you?
Here's the thing, if they don't make good on their deals with business partners, there's no guarantee that they're going to cooperate and pay players. In the world of online gambling, payment processing is everything and rogue ways such as this are not acceptable. If you win, you expect to get paid and the same goes when you provide a service. Please take this as a friendly warning and choose an alternative bingo site. Besides, there are endless options for fans of Cozy games.
Good luck out there and be safe.
Bingo Warnings
Back to articles
Your feedback
Please enter your comment.
Your comment is added.
Feelin froggy
03/08/17, 08:03:58 PM
I remember when they used to run on St. Minver software. They've been around a long time, so I'm surprised and disappointed that they didn't cooperate with us. We tried and now all we can do is share the information with our members.
drtheolen
03/08/17, 12:03:25 PM
As stated in the article, there is quite a number of Cozy Games powered sites out there to be considered when depositing. To my knowledge, there is very little difference among many of them in terms of game selection or bonus deals. I would rather play safe and avoid these guys!