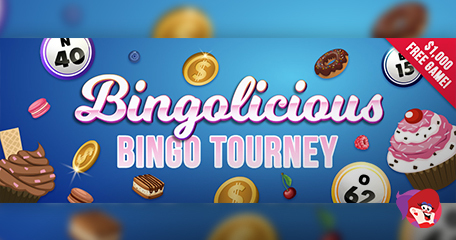 Sweet Bingo Special with Tasty Results
Do you have what it takes to be crowned the bingo tourney weekly champion? If you've a Cyber Bingo account and a love of winning, you could just be the next big, featured winner! And taking part is a lot easier than you probably think! Bingolicious bingo tourneys are popular at this online bingo destination because they allow players to win even more (cash) without the added cost or effort. Intrigued? Read on!
Every Friday, an additional $1K will be won. All you need to do is play the tourney games and if you dab the most full houses, you will win a share of that prize pot. Credited as wager-free cash, the $1K will go to a total of 10 lucky players – but how much? The value of the additional prizes will be based on the number of games won and the position on the leader-board.
What is a Bingo Tourney?
Ever heard of a slots tourney or tournament? Well, the bingo equivalent works much in the same way, only, this one is not based on points or the amount you wager, but the number of games you win! And making these even better is the fact they run for one evening only, whereas slots tourneys can run for hours and sometimes all weekend too! A leader-board is very much in place, the more games you win, the more likely it is to see your name featured.
The fun commences at 8pm (EDT) for three whole hours and if that wasn't enough, straight after this one, a free bingo game gets underway with $1K in cash also guaranteed! Talk about a sweet treat! To qualify, you need to have a funded account and must take part in the tourney games. Prizes are set each week and are as follows:
1st Position: $300
2nd Position: $150
3rd Position: $125
4th Position: $100
5th Position: $75
6th to 10th Positions: $50 each.
Remember, the values you see here will be on top of the full houses you win too! Last week, the winner received an additional $300 in cash for winning just 3 houses over the course of the evening, making this a promotion for all to enjoy! And talking of promotions for all, have you tried the fair n square bingo games yet? Cyber Bingo has its own dedicated even stevens room where everyone has the same chance of winning!
For one-hour only each day, the seasonal bingo room will deliver the fairest games of all with prizes of up to $100 for as little as 0.25 a ticket. Minimum purchase requirements will be in place and will be the same for all taking part. Don't forget, each ticket purchased will generate bingo points and these points can earn you big cash rewards with a possible $1K to be withdrawn every month. Bingo points will grant access to the following, depending on how many you have that is:
- When: Every night at 11:59PM EDT
Weekly Draw - $250.00 cash
- When: Every Saturday night at 11:59PM EDT
Monthly Draw - $1,000.00 cash
- When: Last day of every month at 11:59PM EDT
Bingo Promotions & Bonuses
Back to articles
Your feedback
Please enter your comment.
Your comment is added.
Member's Feedback (1)
HulioSas 04/26/21, 07:04:44 AM
Never understood bingo tourneys before. I thought you had to do so many complicated things. It's just 'win as many games as you can' to win more!