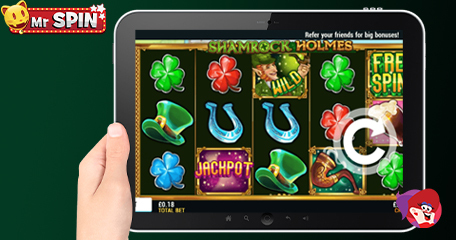 Mr Spin's game of the month promotion sure does come around quick! It was only a few weeks ago we brought you news of a new middle eastern slot packed full of promise and here we are again with news of another. Only this time, the slot will take you on an adventure a little closer to home.
The rolling green hills of Ireland have long been a favourite of slot players and it's not the first time we've seen the popular mobile bingo site unveil a game of this genre (and magnitude!), however, it's very different to what we've come to expect from its theme. Yes, you'll find a leprechaun, clovers and symbols that immediately scream 'Ireland,' but the bonuses are something else!
Shamrock Holmes is the latest slot to drop at Mr Spin and he needs your help in cracking a very big case – the case of the stolen treasure! Forget little leprechauns and jolly good adventures, this one will require strong leads, dedication and more than just a sprinkle of luck!
Shamrock and Roll
As the smoke from the Irish equivalent of Sherlock Holmes fills the room…
…a man begins to clear his throat. As the clouds of tobacco disperse, you notice a red-haired chap sitting at his desk, pointing and summoning you to join him. He slams his hand onto the table startling you in the process, before throwing some papers your way – papers with an alarming message!
The treasure has been stolen and someone has made off with a substantial sum of money. Shamrock Holmes is seething and has no leads to go on. He needs your help in tracking down the criminal(s) involved and as an incentive, he's giving you a head start; up to 35 bonus spins with no deposit required!
To get your hands on the freebies, you simply need to sign in (or sign up!) and pay the (free) instant win style game. Scratch and match for guaranteed free games on the new mobile slot, without having to spend a penny! When this mission is complete, your next task is to set those reels in motion in search of the missing loot!
Bonuses are as thrilling as ever with a few little surprises; a progressive jackpot ticking over nicely (more than £220K up for grabs at the time of my writing!) a gamble bonus where you match symbols on the reels to boost your winnings, a bonus spins feature and a mini game where similar to that of the Rainbow Riches – Pick n Mix title, you spin the reels to match symbols and win big cash!
Shamrock Holmes may be the world's greatest leprechaun detective, but there's no disguising the fact he's incapable of solving this case without your help! Are you up for the challenge? Log in, claim your bonus spins and start tracking down the treasure to help close the case!
Bingo Promotions & Bonuses
Back to articles
Your feedback
Please enter your comment.
Your comment is added.