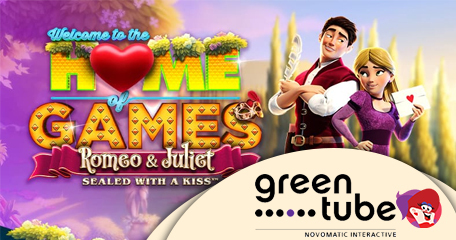 Greentube, the Novomatic interactive division, is excited to let us all know that they will be pulling out all the stops at London ICE 2020, when they showcase their latest spectacular slot; Romeo & Juliet – Sealed with a Kiss.
The developer will be transporting visitors to the annual event to the stunning streets of Verona via a 'kissing photo booth.' There, they will be able to capture the moment and take home a love letter sealed with a kiss. Two very impressive Romeo and Juliet impersonators will be sweeping the floor with gifts of flowers and lip-balm just in time for Valentine's Day.
How very pantomime, but if it works, it's going to be a huge success for the software developer. I can't help thinking the 'scene' waiting for visitors at stand #S6-340 will be more like a nursery school play.
Lovely Grand Gesture
Michael Bauer, CFO/CGO at Greentube said: "Romeo & Juliet – Sealed with a Kiss™ has all the twists and turns you'd expect from a Shakespearean love story and we wanted to bring that level of entertainment and light-hearted fun to this year's ICE exhibition…
… and our Verona-inspired exhibition area will be a real attention grabber this year, with lots of exciting events to mark not only the release of our star-crossed slot but also to celebrate NOVOMATIC's 40th birthday."
During the three-day event, visitors to the stand will also gain exclusive access to the next episode of its Reel Reveal series, explaining what it is that makes the slot spin, so to speak.
A prize-packed business raffle will also see one lucky winner heading to the West End to see '& Juliet,' the new hit musical currently taking London by storm.
Show Some Love
The romance-themed slot features a 5-reel, 30-win line engine which captivates the thrills and excitement of Shakespeare's acclaimed play. Hiding within the symbols on the reels is an action-packed bonus round – Sealed with a Kiss; this offers the potential to unlock bonus spins and maximise player win potential.
Whether you like Shakespeare or not, you'll be all too familiar with how the story goes. Only in this casino game, you won't have to sit listening to Juliet asking where her Romeo is. The two star-crossed lovers are united on the reels and are waiting for you to fall in love with the features…
…change of heart, reel love and a brush with love. Each of which have a unique effect on the reels, thus forming winning combinations when triggered. The bonus feature which has me drooling with anticipation is the 'sealed with a kiss re-spin';
"A Love Letter symbol may appear in the topmost symbol position on reel 1 during any spin to then unfold into a stacked wild symbol, triggering a re-spin. This symbol covers an entire reel and will move across the reels one reel at a time if a win occurs during the re-spin, triggering another re-spin. If the stacked wild symbol reaches reel 5, then the bonus spins feature is triggered."
Bingo Software
Back to articles
Your feedback
Please enter your comment.
Your comment is added.
Bubles12
01/30/20, 02:01:07 PM
Sounds intriguing, especially the bonus round. Hopefully we won't have long to wait to try it ourselves.