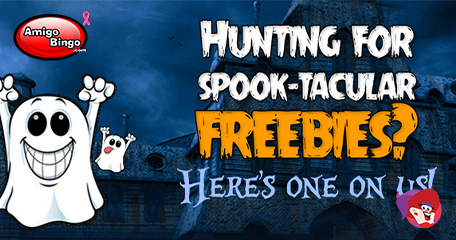 Go Ghost Hunting to Win Extra Treats Every Day!
Ever wanted to see a ghost? Well now you can, courtesy of Amigo Bingo, your friendly online bingo destination! Halloween is fast approaching and to celebrate, a series of spooktacular specials have been unveiled, including one where you get to hunt down spirits to win a range of bonuses and freebies! The rules of play are ever so simple…you log into your account every day between now and Sunday 31st for a chance to win deposit deals, team entries, free bingo bonuses and more!
Select one of the friendly ghosts to reveal a guaranteed hidden gift! There are no tricks waiting just treats. You're also being asked to be extra vigilant in the ghostly BOGOF games in the main room, because not only can you win a great big jackpot, but if you just happen to be in chat at the right moment, you can claim an extra 100% bonus on your next deposit (Monday to Friday!).
Not Just Witch-Ful Thinking
Ghosts will appear when you least expect it, making this one of Amigo Bingo's most exciting promotions! Okay, so maybe we fibbed a little! The $45K fair and square witching hour special is a great contender with guaranteed cash to be won! At the stroke of midnight each day (EST), $150 games will get underway for just 0.10 a ticket, and everyone has the same chance to win that money!
Flying monkeys, brooms and witches' hats are the special tickets to look out for with an additional bingo bonus of 100% up for grabs. If you call house on either (or all) of these, you will receive that boost on your next deposit! Make sure you're taking part in chat during the 'witches' races' to win extra bingo bonuses (BB's).
The money keeps on rolling in…
…with the haunted rails promotion with $150K guaranteed to be won! One-hour rides depart at 11pm every Friday, Saturday and Sunday until the end of the month and they will make sure you get back safely at midnight. A $100 BB's game – a freebie game, will commence first with spooky $2.5K, $5K, $10K and $25K coveralls being followed by $250 - $500 multipart seed games. During the hour, jackpots will grow with no win cap!
A rodeo bingo fest worth $150K offers weekly rewards and cash prize chances to all those who take part. Buy 15 and get 5 free offers will be stapled to all games, but it's what you do that gets you closer to the prizes! Earn 1 point for every game you win, 2 points for every $10 wagered and 3 points for every deposit made during the weekly contest. Five prizes of bonuses can be won in addition to prize money each week, plus at the end of the contest, cash prizes will be won too!
Now for the biggun' - the $250K slots tourney! Styled similar the bingo tourney, you collect points when playing games. Five points for deposits made during the weekly tourneys, three points for every $30 wagered on Mobilots and one point for every $50 wagered on Parlay games – Get Cracking and Hollywood Reels for example. Cash prizes include $300 + 200% bonus every week as well as $2.5K available at the end of the promo!
Bingo Promotions & Bonuses
Back to articles
Your feedback
Please enter your comment.
Your comment is added.
Member's Feedback (1)
TinTinn
10/15/21, 08:10:30 AM
There are free games to claim every day too! Wednesday and Sunday you can claim 25 no deposit games for the machine of the day!