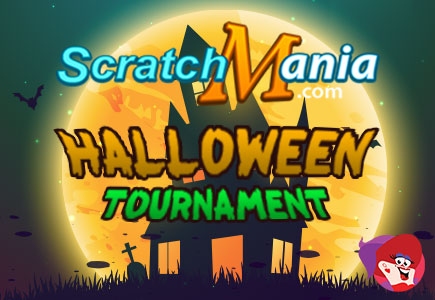 Scratch Mania
is one of the so-called "dark horses" of the online bingo world - somehow they're never at the top of anyone's tongue when talking about the finest bingo sites out there, but they deserve a mention: with plenty of jackpot games on hand and a
no deposit bonus
for newcomers, this is a place that is much more than just a haven for
scratchcards
.
Scary Tournament:
Don't worry, it is only scary in name and that it coincides with the scariest holiday of the year - Halloween. Everyone loves a good tournament and this one is among the best...
...It begins on October 29th at 12:00 ATC and lasts until November 5th at 23:59 UTC. You play by collecting points on your favorite games. The top 25 players from several VIP groups will all win some pretty amazing cash prizes!
Special treat for those who play Pumpkin's Mansion and Full Moon games during the Tournament as they will have their wagering count as 150%...
...Your only obligation here is to play the games you are particularly fond of. The more you play them, the more points you will collect. Experience the greatness of being on one of 4 VIP tiers (Non-VIP, Bronze and Silver, Gold and Platinum, Diamond).
Players can win up to 4,000 EUR/USD/GBP! Isn't that something worth your try this Halloween?

A Classic among Classics:
As children, most of us just loved playing Snakes and Ladders - this simple board game is loads of fun and it makes us recall our most favorite moments of childhood...
...There's time to revisit this classic game as Snakes and Ladders promotion runs until October 23rd. The game will appear every time on your screen when you wager 400 EUR/USD/GBP.
This is a free bonus mini game available for all players. While you play on the board, you can land on instant bonuses and win VIP points. There will be daily prizes ranging up to 1000 EUR/USD/GBP in cash, but also in other prizes whenever you land on a lucky field!
The colorful board game is just as beautiful as we remember it - this mini game will be a fun addition to a website that is already brimming with entertainment and gaming options.
Trustworthy Place:
Feel free to read our review of Scratch Mania at the very first link in this article - you will notice that, despite some downers like low withdrawal limits and slow payout times, there is plenty to love about it - especially if you are a fan of random, unexpected surprises which happen here every week in form of Weekly Surprise Bonuses!
And certainly, even though it may be extremely boring, getting to know site's terms and conditions is highly recommended, because who knows just what sort of misfortune you could prevent just by being informed. Stay on top of things and - enjoy this Halloween season!
Bingo Tournaments
Back to articles
Your feedback
Please enter your comment.
Your comment is added.
Member's Feedback (1)
JaniceJ 10/23/18, 10:10:13 PM
Neat, especially the Snakes and Ladders. Oh man, I loved playing that as a kid!