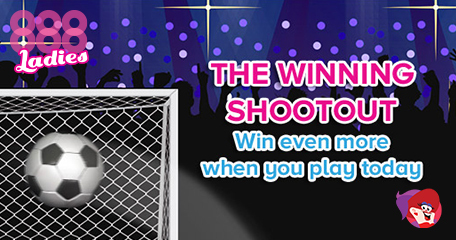 To celebrate two of the biggest European football events featuring all English teams; the Champions League Final and the Europa League Final, 888 Ladies has created a special football-themed game which will be dishing out guaranteed bonus spins, but before you step up to the penalty spot and get ready to take on the goalie, you need to qualify.
You can score big and come out a winner even if your team fails to, thanks to this new and exclusive game. The 'Winning Shootout' was created in honour of these two football events – both of which are guaranteed to have an English winner…
…first up it's Chelsea v Arsenal in the Europa League final, then it's Tottenham Hotspur v Liverpool in the Champions League final. When is the Europa League final? That's taking place on Wednesday 29th May at 8pm. When is the Champions League final? The final will be kicking off on Saturday 1st June at 8pm.
That's enough about football, now back to the promotion.
He Shoots, He Scores:
Unlike a game of football, the 'Winning Shootout' will guarantee you to be a winner, all you need to do to qualify is;
Wager £125 (real money) on any of the shootout themed games. Every £125 wagered will generate 1 shot at the game.

Take three penalty kicks to score guaranteed bonus spins

Every goal you score will trigger 5 bonus spins on the Striker Goes Wild video slot
Play up to 3 games every day until 1st of June
To get in on the action you'll need to play one (or more) of the following:
Rainbow Riches Slingo: The number-crunching bingo slot with all the infamous Rainbow Riches features.

Gems Odyssey: Align the glittering gemstones in the grid to earn massive wins.

Fruit Blast: Getting your 5-a-day has never been more fun.

Slingo Deal or No Deal: It's just you against the banker with numbers, boxes and big cash potential.

Slingo Reveal: How many bingo lines (and wins) can you reveal?

Love Island Slingo: Numbers meets TV reality fun.

Slingo XXXtreme: Big wins are hiding beneath the numbers; just mark them off!

Slingo Riches: Another Slingo variety, only this time, the cash is boosted.

Slingo Who Wants to be a Millionaire: The only thing missing is Chris Tarrant himself. Will you call a friend or ask the audience?

Britain's Got Talent Slingo: Do you have what it takes to wow the judges?

Slingo Cash Buster: Bust those numbers to release the big cash.

Big Money Slingo Bonus: The title of this game speaks for itself.

Big Money Slingo Bonus: Like its predecessor, only with added bonuses.

Slingo Fortunes: Select your stake and watch as the numbers daub themselves. The more lines you have, the more you can win!

Cash Buster: The only thing standing between you and the cash is colourful blocks; you need to eliminate them!

Super Cash Buster: The pimped-up sequel to Cash Buster.

Slingo Reel Riches: Get into a winning spin when you find those bingo numbers.

Cash Buster Towers: A little like Tetris, only it carries big wins.

Slingo Reel Extreme: Fast and furious numbers fun.

Crossword Cash: Solve the solutions and match the words for big rewards.

Slingo Reel Extreme: The slot machine with a bingo winning theme.

Cash Buster Extreme: More colourful blocks only this time, the rewards on offer are greater than ever.

Cash Buster Spin: Featuring a 6x6 grid of blocks which must be destroyed. Eliminate the lot to win big.

Battle Royale: Experience the trials and tribulations of the monarchy in this Play'N Go slot. The bonus features see Henry VIII be-heading his wives; nice! But they do come back to haunt him and boost your bankroll.
Which one will you be playing? Remember, you only have a limited time to get involved in the football fun at 888 Ladies Bingo.
Bingo Promotions & Bonuses
Back to articles
Your feedback
Please enter your comment.
Your comment is added.