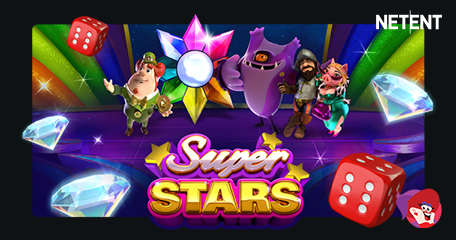 Join Popular Characters On A Dazzling Adventure
NetEnt's Superstars has landed, a new video slot with all your favourite characters from previous releases, including Gonzo, Brute from Space Wars and a few others. Described as a "sensational" game, this feature-rich title features an unparalleled bonus game with interaction guaranteed!
Finn, Gonzo, Lady Pig, Space Wars Brute, and the gem-studded Starburst octagram are taking time out from their otherwise busy schedule for a spot of fun and you're invited to join in! Bonus spins is where the real excitement begins as it boasts a board game which envelopes the reels.
The More You Move, The Better It Gets
The aim of the game is to collect dice, these will then allow players to move a red token around the reels, as you would with a typical board game. If that token lands on a special square it will trigger NetEnt's character bonus, thus potentially increasing the multipliers on the bonus spin reels!
Gonzo Bonus: A golden brick drops from the sky boosting up to 24 randomly selected multipliers during bonus spins. Gonzo will put on a bit of a display with his sword as multipliers are boosted by 2x, 3x or 5x.
Finn Bonus: Leprechaun Finn will launch a lucky clover when the flute tunes float, adding up to +5 on up to 5 multipliers, combining them into a single prize in the process.
Miss Banks Bonus: Multipliers from 1x to 5x are placed on up to 15 positions on the reels. If multipliers land on other multipliers, they will stack up for greater win potential!
Space Wars Bonus: Brute will deliberately disturb the screen, cloning the most significant multiplier awards in the process. He may even sprinkle some duplicates across unique re-spins.
Starburst Bonus: A vertical stack of three equal Multiplier awards with values ranging from 2x to 5x will be added to the reels.
Fill all reels with multipliers during the bonus spins and gain access to the final game. What happens here? Well, the player gets the chance to move that token around the board once again, and with each position comes additional rolls of the dice or an increase to the overall total multiplier. All in all there are wilds, multipliers, free games and extra plays as well as a fun mini wheel game all packed into the reels of the Superstars casino game.
Todd Haushalter, Chief Product Officer at Evolution, said: "Thanks to the excellent work of our team, we have created a landmark game, jam-packed with action and features. Paying homage to NetEnt's most iconic titles and the best-known characters, the Bonus Game of Superstars brings wildly different outcomes to players every single time they are lucky enough to enter…
…the unique atmosphere, fantastic soundtrack, and novel animations of our well-known characters, alongside the wide range of features, will ensure that both slot veterans and new players alike will find something to love about Superstars™. Let us roll out the red carpet and let the Superstars™ entertain you!"
Source: "NetEnt's Superstars Features Stellar Bonus Game Starring Legendary Characters". NetEnt. October 27, 2022.
Bingo Promotions & Bonuses
Back to articles
Your feedback
Please enter your comment.
Your comment is added.