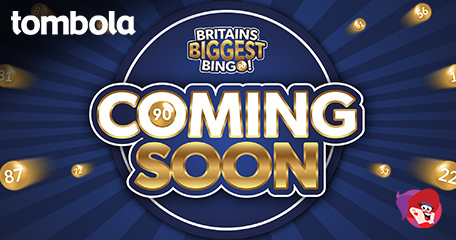 Call A Full House to Win £100K
Tombola is the master of being unique there's no denying that. From bingo games where heads leap from the tracks into the carts below to pirates sailing across the seven seas in search of mega treasure, they know exactly how to create unique and interactive games not available anywhere else.
Being crowned Britain's biggest bingo site is no mean feat, and it's a reputation they excel at day in, day out - they've got a full trophy cabinet to prove that, including awards for being a socially responsible operator. Being different is how they've become so successful, and now they're about to deliver something so different it will change lives. Britain's Biggest Bingo game!
The Biggest Bingo Game To Date
Big jackpots and must drop cash pots are a regular occurrence at Tombola, whether you're shouting for a full house in a set number of calls or creating a winning hand before anyone else. Unlike other bingo sites, jackpot winners at Tombola will never have to share their cash and that's a promise that's always fulfilled. Britain's Biggest Bingo game pays a guaranteed £100K full house prize with no 1 or 2-line prizes - just a massive full house jackpot!
Another promise is that there's never any wagering…
…chat bonuses, bonuses for registraton and locking in responsible gambling preferences, all carry zero turn over terms. Having a commitment to be the best in everything they do has led to a Tombola promotion so grand, if you win, it will certainly change your life.
Prepare yourself for the biggest bingo game in existence because it's coming and someone will win £100K! Tombola are bringing you the largest full house in their history with a brand-new monthly 90-ball bingo game. Be the first player to mark off all 15 numbers on your ticket and you'll win that one-hundred-thousand-pound prize.
There are four ticket options, 50p for one strip, £1 for two strips, £1.50p for three strips and £2 for four strips. This means participation in the games will only ever cost a maximum of £2 and that all players taking part only ever have up to 4 strips each! You'll find none of this 96 tickets nonsense here.
With this being a special promotion, tickets can be purchased up to a month in advance, allowing you to take part even if you're not logged in. The very first £100K bingo game will commence on Tuesday 1st November at 9pm. Ticket sales open on Saturday 1st October at 10am. Look for the new standalone room for this jackpot game. If player numbers on the night are low…
…that pot is guaranteed to be £100K. And you won't have to win a full house in a set number of calls either! If the room is busy on the night of the big game (we suspect it will be!), the prize pot could grow to more than the £100K stated.
What do you make of the new Tombola promotion? Will you be taking part? Let us know below. Oh, one other thing. Don't forget to follow Tombola on social media to keep up to date with bingo news, promotions, and giveaway.
Bingo Games
Back to articles
Your feedback
Please enter your comment.
Your comment is added.
lollipops321 09/30/22, 05:09:50 AM
Wow! That really can change your life. If I won I'd help family and buy myself a motorhome. I've been after one of those for a while now. Great to hear it's max...
Wow! That really can change your life. If I won I'd help family and buy myself a motorhome. I've been after one of those for a while now. Great to hear it's max of £2 and 4 strips per player. Gives everyone the same chance to win then.
Show more