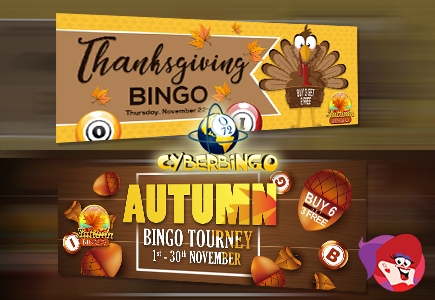 Isn't November the most autumn-y of all months? The days are stark, cold and significantly shorter, as flora takes turn to a decidedly maroon/ochre palette, and the incessant questioning about our plans for the New Year's Eve are already bugging the hell out of us.
Still, if you disregard that fact, for the sake of autumn, due to all those toasty nights and fuzzy sweater weather – and there's Thanksgiving, of course – the end of the month ultimately turns into a "all you can eat" feast. Just the recipe for some bingo, right?
Giving Thanks, Bingo Style
We turn your attention again to Cyber Bingo, our chums who never fail us in the promotions' department. In addition, we couldn't wait for what they have in store, knowing that this time of the year always brings a Cornucopia to our collective bingo tables.
First, we'd like to give you a timely heads up and let you know that on Thursday, November 22nd there will be a
very special Thanksgiving Bingo
taking place, and it will come with guaranteed cash prizes...
...which can all be won during Turkey Supreme Bingo games with $2,500 prize pool. Each game begins exactly in the Autumn Bingo room, starting at 6 PM EST on the hour – at 6, 7, 8, 9 and 10 PM where you can already prebuy the $1.50 entry cards that come with
an enticing 'BOGOF' offer
of "Buy 3, Get 2 Free"!
Each game begins with a guaranteed cash pot of $150 but as the game goes on, the pot keeps growing until it reaches $500 – five times that and you have your $2,500 prize fund.
Tournament Rolls As Leaves Fall
So, you'll have to wait until 22nd for some Thanksgiving Bingo, but what you don't have to wait for and can, in fact, join any time you want, is the
Autumn Bingo Tourney
!
Running for the duration of the whole month – from November 1st until 30th – this tournament has a
guaranteed prize pot of $2,000
and is also played in the Autumn Bingo room. A superb collection of 20 fantastic prizes await to be won by the most skilled participants and, to some degree, the luckiest of players.
Entry cards cost a mere $0.50 and if you buy 6, you can get 3 totally free of charge. Furthermore, here's the kicker of this offer:
The
tourney games are played EVERY HOUR, EVERY DAY
! Beside the cash prize, earn yourself one point which will reflect your ranking on the leaderboard and the more points you collect, the closer you will be to winning major prize of $750 in cash.
As for rewards, they're divided like this:
first place gets $750 in cash
. Second ranked player wins $350 in free play bonus. All of the subsequent rewards are in
free play bonus money
, so the third place gets $200, 4th gets $125, 5th wins $75 etc.
Cash prize will be credited to the winner automatically on December 1st.
As much fun as these promotions are, don't rush into them without checking out those specific terms and conditions on their respective pages, nor without getting to know the basics of Cyber Bingo's general T&C's. Knowing is half the battle, as they say, so go into it prepared. Good luck!
Bingo Warnings
Back to articles
Your feedback
Please enter your comment.
Your comment is added.