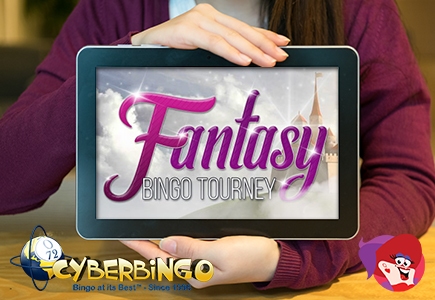 After a long and exhausting week at work, it's nice (and advisable even) to leave it all behind and step into another world – a world of fantasy and magic, for instance. A bit of escapism is needed every now and then, and
Cyber Bingo
knows this and is willing to help you put all worries aside, have fun and make some neat profit along the way.
Every Saturday at the site promises to be ridden with good spells and profitable magic, as you encounter all sorts of make-believe creatures such as unicorns and dragons. Registered players can take part in a Fantasy Bingo Tourney promo, played every Saturday between 8 and 11:59 PM EST. Players will have the opportunity to play various games for a guaranteed prize of $15,000!
The lucky player who wins the most games during the Tourney will win a $300 prize – the 2nd ranked player will win $150, and the third gets $125. Fourth and fifth players get $100 and $75 respectively, while places 6 to 10 share a prize of $50 in free play bonus money.
The multipart games you can take part in during the tourney are: The Dragon's Den Game, The Fairy Nights Game, The Genie's Lamp Game, Starting Mushroom House, The Prince Charming Game, The Princess Game, The Werewolves & Vampires Game, The Warrior's Challenge Game, The Wizard's Hat Game, Starting Magic Potion, The Pumpkin Carriage Game and The Frog Prince Game.
As you can see, there's plenty of charms, fun and cash to go around in this fantastic promo, so don't forget – every Saturday is the portal to a fantasy land. Good luck...
Bingo Tournaments
Back to articles
Your feedback
Please enter your comment.
Your comment is added.