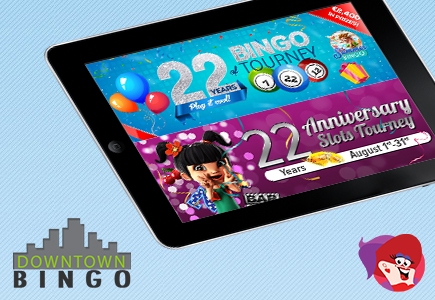 Hey bingo gang! We have a very last-minute reminder to steer your attention to
Downtown Bingo
where there's some serious celebration taking place, but alas only until the end of August, which is due in just a couple days' time...
...But still, time enough to join the 22 Years of Bingo celebration taking place on this popular site, which has really surpassed itself and the expectation by putting together a festival of fun.
First There's a Bingo Tourney:
On the site's
22 Years of Bingo Tourney
you can win up to $1,000 in cash, and you can take part in this tournament in the Summer Bingo room. A special tourney bingo game is played every hour and the entry card costs only $0.50. Winning the bingo game means that the player takes home a fantastic sum of money but also gets a point on a leaderboard...
By the end of the tournament, the more points one collects, the bigger the prize will be. The 50 top-ranked players will share a prize fund of $5,000 in this amazing bingo offer, while the
top 5 players can win up to $1,000 each!
Places 6-50 will win awards in
free play
bonus money, while first the five spots will get
real cash
prizes.
...And Then There Are Slots:
A 22 Years Anniversary Slots Tourney is also what's going on Downtown and you can also win $1,000 in cash by playing the select group of slots. Some of the eligible games are Puppy Party, Disco Fever, Samba Spins, Rock Star Havana Nights, Princess of the Sea, Coral Reef etc.
The best-ranked player wins $1,000 in cash, 2nd place gets $500 in universal bonus money, 3rd place will win $350 in universal bonus, 4th gets $250...
This promotion also lasts until August 31st. Check out the Terms and Conditions for both so that you don't end up badly surprised somewhere along the way. And most of all, have fun before September comes!
Bingo Tournaments
Back to articles
Your feedback
Please enter your comment.
Your comment is added.