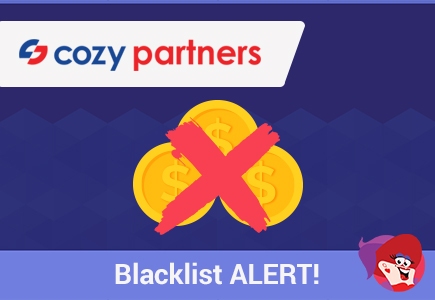 Let's be honest - online
bingo sites
featuring Cozy Games software aren't known for enforcing the fairest of terms and conditions, nor are the bingo rooms among the most preferred in the market. With that said, plenty of players have remained loyal to these sites through the years and our business relationship has been on the up and up – until now.
Unfortunately, the time has come for LBB to Blacklist all
brands within the
Cozy Partners
affiliate program. Our attempts to repair our partnership with them have continued over the course of just over a year and this decision wasn't made in haste, however, very necessary nonetheless.
Our dealings with Cozy Partners have been less than stellar...
...as they've
failed to pay commission
for our marketing services dating
as far back as 2017
! The fact is that our team has made numerous inquiries with their repeated reassurance that the payments would be processed. To date, outstanding payments include the months of June 2017 - July 2017 and Nov 2017 – January 2019. Not only have they failed to honor the contract with LatestBingoBonuses.com, but also other bingo portals within the
LCB network
, which resulted in warnings placed on the bingo sites here on LBB in June 2018. Efforts to settle this matter have yielded no results and the next step is to blacklist the group and the brands they represent.
How does LBB's dispute affect players?
It's our goal to ensure transparency with our members and
we will no longer promote any operators associated with Cozy Partners
and encourage players to
find alternative options
. Our hope is that you'll avoid each of these brands, which include, but are not limited to,
Aunty Acid Bingo
,
Buttercup Bingo
and
Lucky Ladies Bingo
. If your loyalty to any of these brands continues despite our warning, please proceed with caution. As we always say, if operators fail to honor their business agreements, it should serve as a red flag to players in terms of how valued you are to them. We're doing our due diligence to make the bingo community aware and share our experience with this group.
If there are other affiliates or players that have been treated unfairly by Cozy Partners, we ask you to share your experience in the comments below. If there is any movement following the publishing of this news, we will promptly provide an update.
Bingo Warnings
Back to articles
Your feedback
Please enter your comment.
Your comment is added.