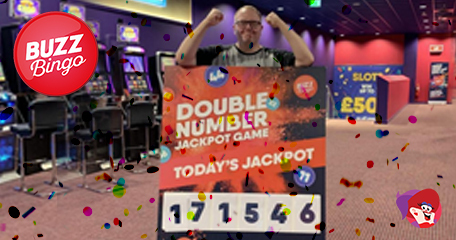 One of the thrills of playing bingo is knowing what you can win before the game even gets underway, but this wasn't the case for one extremely lucky man from Southampton. Thirty-year old, Gareth Bedford, had planned Wednesday out from the moment he rose from his bed; he was to visit Salisbury Races for the day, but Britain being Britain, the heavens opened, and the rain started to pour putting a dampener on his plans.
So, what did Gareth decide to do next? He thought he would give bingo a shot with his father and sister, so off they went to Buzz Bingo in Antelope Park (Southampton).
Eyes Down for a Big House:
Sometime during the evening, Gareth called house and was ecstatic with the thought of bagging a generous £2500 cash prize, but on closer inspection of his ticket, he realised his £2500 win was not all that it seemed! Prior to Gareth winning, the new to 2018 jackpot bingo game had not seen a winner within a 32-days period, which means the cash prize was rolling over – the best thing that could happen in his case.
Calling on the number 55; a double jackpot number, saw his winnings shoot through the roof. Buzz Bingo staff checked his ticket and confirmed that he had in fact won £171,546.81p. Three people have now won the jackpot double number prize; two in July of £11,960.38p and £12,364.38p, but Gareth's £171,546.81p is by far the grandest.
Mr Bedford said on his new-found fortune: "I am ecstatic and shocked to have won such a life-changing sum of money. When I called 'house', I hadn't realised how long the jackpot had rolled over for. What I thought was a normal £2,500 win turned out to be over £171,000. I couldn't quite believe it and when someone told me, I burst into tears of joy and bought all the other players a round of drinks to celebrate."
Speaking on his win, the lucky player reveals how he plans to spend his winnings: "I will be sharing half of the winnings with my dad and splitting the other half with my sister. We'd like to share a huge thanks to the Buzz Bingo team - Paula and the rest of the staff made us feel like royalty and we enjoyed an impromptu party in-club immediately after the win."
General Manager at Buzz's Southampton Antelope Park club, Paula Joynson said: "We couldn't be happier for Gareth's incredible win. The double number jackpot is still quite a new game to Buzz Bingo so to see someone in our club win such a huge jackpot this early in is phenomenal. We are very much looking forward to celebrating Gareth's win with our other members at our party night at the end of the month."
Buzz is available to both land-based and online bingo players with the online offering delivering a welcome bonus which not only boosts your chances of winning online, but you'll also receive a voucher to spend at your local club. That's not all, all winnings are awarded as real cash with no wagering requirements EVER, whether you play 90-ball bingo or online slots!
Land Based Bingo News
Back to articles
Your feedback
Please enter your comment.
Your comment is added.