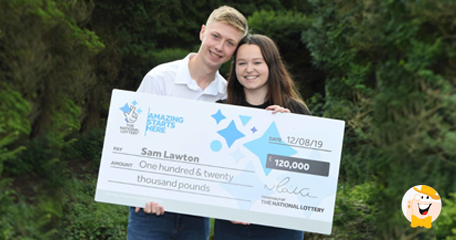 Imagine playing lottery regularly since it launched only to be pipped to a life-changing prize by your son; you'd be both annoyed and ecstatic at the same time! Sam Lawton found himself in this exact situation recently when his numbers came up. On Monday 12th August, 19-year old Sam from Leamington, became a winner on the Set for Life game, and it was his first-ever lottery purchase (how jammy), but despite his new-found fortune, he went into work the next day still not totally convinced on his win.
At 8am, Sam headed for work but as soon as the National Lottery phoneline opened, he rang through and confirmed the numbers on his ticket to the draw the previous night. If his brother couldn't convince him he'd won, could Camelot? To his amazement, the lucky teen discovered he had won, and his £120,000 win would see him, his 20-year-old partner Connie and their 1-year old son Noah, benefit from a lump sum payment of £10,000 a month for the next 12-months!
Check (it) Out:
After the news sunk in on his win, he decided to leave work 45-minutes later and rang his mum who was working on the till at Tesco. "I think my mum has played the lottery since it started. I spoke to my sister and apparently mum had seen there were four winners and she was fuming that she wasn't one of them. But then she found out that I was! I rang her in Tesco and she was at the checkout and she just broke down on the phone to me."
The couple plan to splash out on a trip to the Big Apple and use the rest as a deposit on a house of their own. Connie said: "Even now being able to put a deposit down on a house and get on the property ladder, any new parents has those worries for the future. Obviously with us being young as well it has always been 'what will the future hold for us' because we are still only renting."
Connie continued:
"Knowing that we will have a place that will be our home and will always be our home just feels amazing. It takes away a lot of those worries because we will always have somewhere to go."
Big Cash Potential:
The National Lottery Set for Life draw has a top prize of £10,000 every month for 30-years! Playing is simple;
Pick five numbers from 1 to 47 plus 1 'life ball' (or go for a lucky dip like Sam)
Choose the number of lines you wish to play
Cross your fingers for a win!
The draws cost £1.50 each and the draws take place every Monday and Thursday. Although Sam didn't scoop the top prize, he matched the 5 main numbers drawn for the £10,000 a month for a year prize.
Set for Life launched in March 2019 and took 19 draws before anyone managed to win the jackpot, but this was only down to the 'super chance' new rule that was introduced. In May, two lucky winners managed to match the first 5 numbers drawn like Sam, but because of how money weeks of no jackpot winners, they were automatically upgraded to the £10,000 a month prize for 30-years – each!
You could be a big winner too, but you don't need to play lotto to win millions; Buzz Bingo and a handful of Jumpman Gaming powered bingo sites have a bingo game that's played twice a week, and for just 50p a ticket – that's £1 cheaper than the Set for Life draw, you could win £1,000,000! Plus, you'll find slots with multiple-millions in red hot cash waiting to be won too!
Lottery & Scratchcards
Back to articles
Your feedback
Please enter your comment.
Your comment is added.