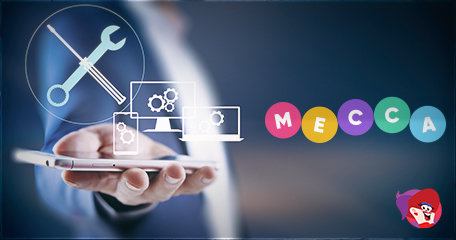 Fans Mecca Whole Load of Noise Over Update
If you're looking for an update in regards to the whole Mecca Bingo maintenance issue, you've come to the right place. Big bingo news this week centered around one of the UK's most popular bingo websites after it was hit with a major maintenance issue; what should have been a few hours down time has turned into a couple of days of mounting problems for many players.
The "grab a cuppa and we'll be done" update didn't exactly go to plan and this resulted in service updates showing up on social media every 4-hours. First there were issues with logging in, then there were issues with games not loading, and some players were even reporting being locked out of their own account. The social media could hardly keep up with their copy and paste replies.
"Head to live chat for support" was a common reply, but for most, live chat was blank! Yet another problem that had surfaced after what should have been a quick update to the website. Players who had won bingo games were logging in to find no money in their account while others were being told they couldn't withdraw any winnings!
The End is Nigh
Thursday at midday an announcement came…
… "We're still working on restoring your favourite site. Don't worry if you are having issues with your account, rest assured we are working behind the scenes to ensure player stability, player safety and enjoyment. Our next update will be at 4pm where we will have an exciting offer to announce!"
So, what was this exciting offer? Four hours later, Mecca Bingo was still no closer to running problem-free and decided to generate business for another online bingo site! The fans weren't exactly thrilled! "Our cheeky friends at Lucky Pants have offered to help us out with FREEand paid games in the 'Cheaper Than Chips' bingo room, worth over £1000, until your favourite Mecca Bingo site is up and running."
This message brought a wave of complaints from players who were having issues logging in or signing up to Lucky Pants Bingo! One player pointed out that her funds were 'frozen' on Mecca so this 'free' offer was useless to her. Another mocked "Is this the 'exciting offer'?" Then it happened, Lucky Pants started to feel the strain of the unusually high traffic and bingo rooms began to crash. Some couldn't deposit while others couldn't even gain access to the bingo lobby!
Just before midnight on Thursday, Mecca Bingo were back, but they admitted there may still be a few problems dotted here and there. The truth is it's more than just a few problems, it's a tidal wave with issues still being reported on deposits, promotions, withdrawals, log in and support! It would seem they are fed up with queries on Facebook and are now diverting complaints to the chat hosts or contact centre. Not viable options for those who can't access the bingo rooms or support!
General Bingo News
Back to articles
Your feedback
Please enter your comment.
Your comment is added.
Member's Feedback (1)
TinTinn
01/17/22, 10:01:27 AM
I wasn't able to log in on Thursday but Friday I was and my £15 was in my bankroll. Not sure how only a few are having problems. The rooms were full of chatty players...
I wasn't able to log in on Thursday but Friday I was and my £15 was in my bankroll. Not sure how only a few are having problems. The rooms were full of chatty players when I visited.
Show more