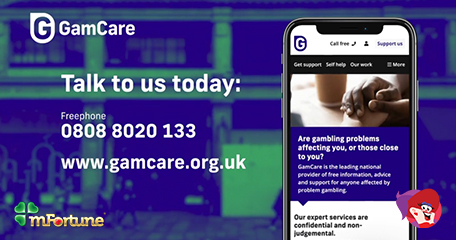 Gambling should be fun, and you should never spend more than you can afford. The majority of us already know this, but for a few, the temptation to carry on just a little bit longer gets the better of them. "It should be due to pay out now, I've put enough in" is a misconception and a phrase I hear way too often, especially when I'm at bingo walking among the arcade machines. Gambling by its very nature is a gamble and there are no assurances, not even when it comes to best odds bingo games unfortunately, which is why we should all have our limits set in stone, and not just deposit limits.
Stay in Control
mFortune wants you to have an enjoyable gaming experience and being advocates of safer gambling, they decided to up their game with a new set of gambling tools. The menu bar once consisted of banking, refer a friend, bonuses, and promotions as well as support, but now we it is also home to a flashy new button – 'SG,' which also stands for safer gambling!
Safer gambling tools have been created to help you stay in control of your spending plus your activity and include:
Deposit Limits: Here you can set an individual daily, weekly, or monthly deposit limit.
Session Limits: This facility encourages you to set reminders, so you know exactly how long you've been playing, making you more aware of the time (and money!) being spent on gambling.
Cool Down Period: Taking a break from gambling is often needed. If you need a little time-out, this option allows you to stay logged out for a period of 1 day to a maximum of 6 weeks.
If your gambling habits are getting out of control or you fear they are escalating, you must stop. mFortune have a self-exclusion setting which when activated, will result in you being banned from mFortune and all sister brands from 6 months to 5-years! Another handy tool is being able to opt-out of promotions, plus account closure.
Safer Gambling Questionnaire
If you feel you or someone you know may have a problem with gambling, answer the following questions:
Do you find yourself making excuses to stay away from work or college to gamble?
Do you gamble in a bid to escape from a mundane unhappy life?
When gambling results in your running out of money, do you feel angry and upset and feel the need to gamble again?
Do you gamble until you have no money left? Not even enough for transport costs or food?
Have you ever found yourself lying to friends/family/work colleagues to cover up the amount of money or time you have spent gambling?
Have others ever criticised or noticed how often you are gambling?
Have you ever lied, stolen or borrowed money to gamble or pay gambling debts?
Do you have money that you use for gambling and nothing else?
Have you distanced yourself from family, friends, work or hobbies?
After losing, do you feel the need to gamble more to win back what you lost?
If your answers were mainly yes, you may need help. You can contact GamStop who will help you put controls in place to restrict your online gambling activities. By doing this, you will be blocked for a period of time chosen by you, from using all gambling websites (and mobile apps) licensed in the UK.
General Bingo News
Back to articles
Your feedback
Please enter your comment.
Your comment is added.
Member's Feedback (1)
MadamMilly
08/24/21, 07:08:11 AM
I have the deposit limits set in for a week and a month. Didn't realise you could set a time reminder – will have to take a look at this.