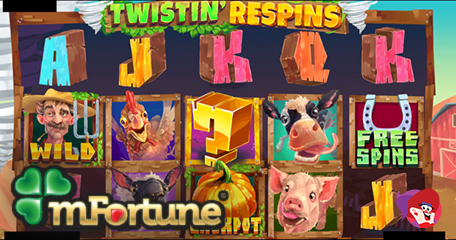 Sound the klaxons! It's game of the month time again and this means even more chances to win without spending a penny! A storm is brewing over at mFortune and its bound to twist things up. Forget raining cats and dogs, it's raining bonus spins from its reels and it's likely to cause a major whirl-win (get it?)!
(Weather) warning – Twistin' Respins is filled with some pretty awesome bonuses which are waiting to sweep you right off your feet. Think you can handle this win-storm? Only the brave will be rewarded with magnificent prizes. Sound like you? Come in in and play for free!
May 14th saw the launch of the new farm-themed video slot, packed with crops, pigs, cows, chickens – you name it; if it belongs on a farm, chances are you'll see it on the reels. Witnessing mother nature in all her destructive glory isn't so rewarding, but for mFortune players, it will be.
Get ready to lock the doors and board up those windows…
…there's a twister coming! Open up the bonus spins and the fierce storm will throw extra wins your way. Other bonuses include the random second chance element where a non-win spin could trigger a free re-spin! Will the twister launch a second chance at you and your bankroll?
It's Really Win-dy!
Yes, you can play with no deposit required, but I'll reveal all the details on how to do this shortly. Don't you want to know how to play and win before you claim your spins? Understanding how a casino game works will allow you to recognise the best paying symbols, bonus features and how to win.
Your first lesson here is the highest paying symbols. A complete win line of pumpkins will unleash the progressive jackpot into your bankroll. One thing to note; you want to make sure no wild farmers fall on the same win line or that real money jackpot will be replaced by a lesser sum of 300x.
A trio of horseshoes will activate bonus spins mode – up to 15 free games to win as much as you can. Three golden question mark boxes activate 'twister time'; a board game with a difference. Multipliers have been scattered over the farmers' fields and it's your job to wander around the crops to pick up as many as you can.
Press spin to move between 1 and 6 positions on the board. Collect all prizes you land on, but land on the same section twice and its back to the base game you go. The question mark boxes could be hiding a big win or a mystery win, making it all the more exciting!
All non-winning spins offer the chance of a free re-spin and this means another shot at winning. The torando will unleash its fury upon a selection of reels – it could be one or all five! Oh, one other thing, this is the only way to enter the bonus spins mode!
Head to mFortune, log in (or register!). Make your way to the games lobby and a window with a multi-coloured wheel will appear. If not, click the new game to action this process. Give the wheel a spin to pick up your share of guaranteed spins!
Bingo Games
Back to articles
Your feedback
Please enter your comment.
Your comment is added.
Bubles12
05/15/20, 10:05:53 PM
Love this time of the month! Just came back to say the slot I great and not like something they've created before. The element of surprise really keeps you on edge!...
Love this time of the month! Just came back to say the slot I great and not like something they've created before. The element of surprise really keeps you on edge!
Show more