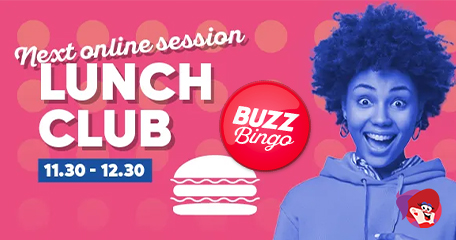 Everyone Gets the Same Chance to Win!
Many favour playing online bingo over visiting a bingo hall for its convenience, and the fact bingo games run 24/7 opposed to set times of the day, however, there are advantages when it comes to playing land-based bingo, such as guaranteed in-house winners. Playing online bingo games could result in you facing off hundreds if not thousands of other players and the more people taking part, the less chance of you winning.
You could buy the maximum number of tickets and hope to have the 'edge' on your fellow dabbers, but this will come at a cost. Technically, only one ticket will win, but the more you have in play, the more chance of you beating your roomies to the prize pot. But…Buzz Bingo want you to look after the pennies, as do we, which is why they have introduced session bingo for all budgets.
Get So Much More
What is session bingo? It's basically a package of games for a one-off price, similar to what you'd find in your local bingo hall. Everyone who buys into the games receives the same number of tickets. This means an equal chance to win for all. Talk about fair play! The session games over at Buzz Bingo are proving to be so popular, they've had to introduce even more of them! Whether you're an early riser or a night owl, there are unbelievable ticket offers and prize pots of between £261 and £1,300 waiting to be won!
Q: When Do Session Bingo Games Take Place?
A: There are five sessions of bingo running each day and every one of those five lasts about an hour. You will get several games of bingo for one bargain price.
Lunch Club: 11:30am to 12:30 each day
Afternoon Main: 1:30pm to 2:30pm daily
Big Bite Bingo: 6pm to 7pm every day
Evening Main Event: 7:30pm to 8:30pm daily
Twilight Bingo: 10:30pm to midnight
Q: How Much Does it Cost to Play Session Bingo?
A: The cost of the session will be as follows:
Lunch Club: £5 entry = 12 games with 30 tickets per game
Afternoon Main: £5 entry = 12 games with 12 tickets per game
Big Bite Bingo: £5 entry = 12 games with 30 tickets per game
Evening Main Event: £10 entry = 12 games with 12 tickets per game
Twilight Bingo: £10 entry = 20 games with 30 tickets per game
Q: How Much Can I Win?
A: That depends on when you play! The schedule is as follows:
Lunch Club: £335 will be shared between 12 games of 5-line bingo with prizes for one-line and full house winners! The last full house cash prize is £100.
Afternoon Main: It's treble chance 90-ball bingo for 12 games where lucky dabbers will win a share of £260! The last full house winner gets £50 in cash.
Big Bite Bingo: 5-line bingo means 12 games where winners get to share a £514 prize pot. There are five prizes per game with cash awarded to those who manage to get one-line, two-lines, three-lines, four-lines or a full House. The final game will pay out £100 on the full house!
Evening Main Event: 5 Three prizes per game with a £1,425 prize pot. The last full house winner gets a mega cash prize of £500.
Twilight Bingo: Should have renamed this one nifty fifty because every full house winner gets £50 in these treble chance bingo games. There's £1,300 in the prize pot each twilight session.
Q: Can I Upgrade My Tickets?
A: Buzz Bingo want to keep their games fair, and this means no upgrading tickets to upgrade your chances of winning.
General Bingo News
Back to articles
Your feedback
Please enter your comment.
Your comment is added.
Member's Feedback (1)
lollipops321 11/17/21, 09:11:14 AM
Main event has the most cash, but twilight has the most games. I will be giving these a try next time I play to see what they're like.