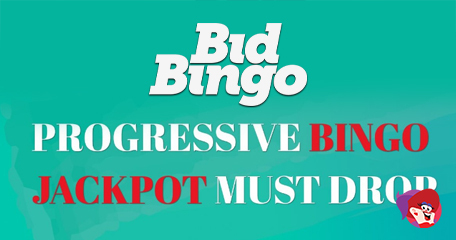 Progressive jackpots have always been popular, but more so with online slots than bingo. There are bingo jackpots available across many a networked bingo site, but the chances of winning are pretty slim. Even if you're as quick as me on a keyboard, you don't stand much chance of winning unless you can call house in what seems an impossible number of calls, but all that is set to change, all thanks to Bid Bingo!
Must drop jackpots changed the online casino industry when Red Tiger Gaming invented a series of jackpots that could be won randomly at any time, and what made them even more popular was the fact you could win life-changing cash from the lowest of stakes! You don't need to splash the cash to win substantial cash with Red Tiger!
What's that got to do with online bingo? Bear with me, I'm getting there! Red Tiger's series of slots are all linked via a network, so you have popular titles such as Dragon's Fire Megaways and the much-loved Reel King Mega title offering the same three pots; a guaranteed to be won daily pot, one that will be won before reaching a set amount and the biggest of all – the Mega jackpot that can be won at any time!
New Bingo Jackpots Explained
Just like the many slots where jackpots are guaranteed to be won…
…daily, Bid Bingo are offering something similar and in turn ramping up the thrill factor with guaranteed cash pots! But how can you win? Guaranteed jackpot wins are offered through an increase in calls between 4pm and 11pm on a Friday, and as the evening goes on, the ball count increases to ensure there will be a winner!
Three of their most popular rooms; Chatterbox, 90's Extreme and Even Stevens (where everyone has the same chance of winning!) are hosting these special cash pots will increase throughout the week so the pot becomes very lucrative indeed! Best of all, you won't need to land jackpot symbols or spend a shed-load of cash to try and win (like you may need to do with online casino games), instead, you purchase your tickets like everyone else and hope that lady luck is in your corner!
All of the must drop jackpots will run in addition to…
…pre-existing full house prizes, so if you land the jackpot, you win the full house prize too! To be eligible for such jackpot win, which is wager-free I should add, you must make real money ticket purchases. Fancy your chances?
Bid is proving to be one of the best bingo sites yet again with great value for money offers, big jackpots and an exclusive offer that cannot be found anywhere else! Newbies can boost their deposit by 100% up to £50 with code: BID100. Here's a top tip: Only play on a Friday between 4pm and 11pm to give you the best possible chance of winning for less!
Bingo Promotions & Bonuses
Back to articles
Your feedback
Please enter your comment.
Your comment is added.
Member's Feedback (1)
lollipops321 09/11/20, 09:09:15 AM
Brilliant feature! I hate jackpots that go on and on and on! At least you know these ones will be won on a Friday evening!