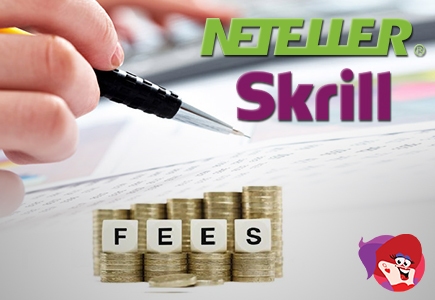 After the last round of fee increases implemented by Paysafe owned payment solutions, Neteller and Skrill, and the devastation of the loss of the Mastercard for users in over 100 countries, these two are back again to stab customers in the back again. This time, the major effects fall on the shoulders of business account holders, but not to worry, they haven't left out personal accounts.
Neteller
As of April 6, 2017, the fees to fund your personal Neteller account will be increasing on several payment methods.
Sofort, Giropay: 1.9% (up from 1.5%)
MasterCard: 2.25% - 4.95% (up from a minimum of 1.9%)
Paysafecard: 7.5% (up from 7%)
We recommend checking your inboxes for notifications if you're a business account holder. There will likely be some surprises in store for you and if you have a Skrill account, just wait to see what they're doing over there, especially if you have a merchant/business account.
Skrill
Gone are the days when it was free to receive cash into your account. As of April, Skrill will hit you with a surcharge of 1% on all transfers to your accounts from another account based in any of the following countries.
Albania, Argentina, Armenia, Azerbaijan, Bangladesh, Belarus, Bosniaâ€Herzegovina, Brazil, Bulgaria, Cambodia, Chile, China, Colombia, Costa Rica, Croatia, Cyprus, Czech Republic, Egypt, Estonia, Georgia, Greece, Hungary, Iceland, India, Indonesia, Israel, Japan, Kazakhstan, Kenya, Korea (South), Kuwait, Latvia, Lithuania, Macedonia, Malaysia, Mexico, Moldova, Montenegro, Nigeria, Oman, Pakistan, Peru, Philippines, Romania, Russia, Saudi Arabia, Serbia, Seychelles, Slovenia, South Africa, Sri Lanka, Thailand, Tunisia, Turkey, Ukraine, United Arab Emirates, Uruguay, Venezuela, Vietnam and Taiwan.
A 'Minimum Receive Money' fee of 1 EUR will be tacked on to such transfers.
Upload funds fees:
Sofort, Giropay: 1.9% (up from 1.50%)
JCB, Diners Club cards: 2.5% (up from 1.90%)
MasterCard: 2.25% (up from 1.90%)
Paysafecard: 7.5% (up from 7%)
The inactivity fee stands at 2 EUR and will go up to 3 EUR if you haven't logged into your account or made a transaction for 12 consecutive months. While that's not horrible for personal accounts, brace yourself for the fee on a merchant account.
For business accounts, if your account becomes "inactive', a 100 EUR fee will be applied to your account. "You will be charged a monthly inactivity fee of 100 EUR (or equivalent) if no funds have been uploaded, withdrawn, sent or received through the Merchant Account(s) within the last six (6) months.' Interesting. Not only is the standard 12-month timeframe cut in half, but the fee is ridiculous.
So, there you have it. What's a gambler to do? Well, many have gravitated to
ecoPayz
. Do you plan to keep your accounts with Neteller or Skrill and, if not, what alternative have you selected?
Bingo Banking & Cryptocurrencies
Back to articles
Your feedback
Please enter your comment.
Your comment is added.
zuga
02/06/17, 04:02:18 PM