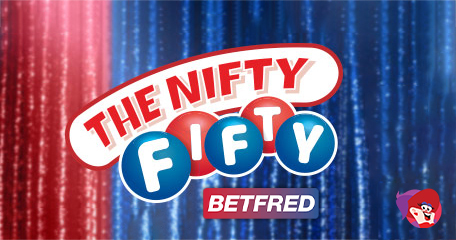 A new and exclusive numbers game that's a little bit different but a whole lot of fun has been unveiled at Betfred, meaning you'll not find it anywhere else! 'The Nifty Fifty' launched with a stunning television campaign only this week with 'lotto' heads singing and dancing to a catchy little number, whereby the lyrics revealed you could be playing to win large sums of money in twice daily draws!
There's no bigger thrill than tuning in to watch a draw live and that's exactly what you can do, providing you've a ticket in play that is. But how do you play? Like a lottery game, you select the numbers you wish to bet on, or you can go for the lucky dip option to all the computer to randomly select them for you. Alternatively, you can choose from odds or evens.
On first impressions, it's a combination of roulette – the popular table game variant (what with it offering odds and evens!) and lottery, which can prove to be very fruitful indeed, especially given that there are odds of up to 200,000:1 on offer!
Betting Options
There are two options for you to bet on; numbers and groups. In the number's category, one to five numbers are chosen and if all those numbers picked are drawn, your ticket is a winner. The groups section allows you to select a group of numbers such as odds or evens, or one to ten. If the first ball drawn in the groups option matches your choices, you win!
You've the option of betting on one, two or all three (at least twice a day!) and there is also an option to purchase your tickets up to 4-weeks in advance! What are the odds for 'The Nifty Fifty'? Numbers selected and both 6 and 7 ball draw ins are as follows:


One number: 7:1 for six-ball draw and 6:1 for seven-ball draw win


Two numbers: 70:1 for six-ball draw and 50:1 for seven-ball draw win


Three numbers: 800:1 for six-ball draw and 500:1 for seven-ball draw win


Four numbers: 10,000:1 for six-ball draw and 5,500:1 for seven-ball draw win


Five numbers: 200,000:1 for six-ball draw and 60,000:1 for seven-ball draw win


Those odds are pretty spectacular! I'm sure you'll agree, there's nothing worse than being let down by one number, which is why the folks over at Betfred have introduced the 'Missed by One' a promo which gives you your bet back (as a free bet!), if you have three out of four, or four out of five matching balls.
Draws take place every day at 11:30am, 2:30pm and again at 6:30pm and you can tune in and watch them live at Betfred Bingo! Log into your account, purchase your tickets and keep those fingers crossed! New customer? Sign up and deposit (and spend £10) to receive £40 in bonuses and 50 bonus spins!
Bingo Games
Back to articles
Your feedback
Please enter your comment.
Your comment is added.
Member's Feedback (1)
Bubles12
08/03/20, 08:08:49 AM
Sounds very much like Hot Picks on the lotto. It may be new to Betfred but it's not exactly a new concept. That being said, I'll be giving it a try.