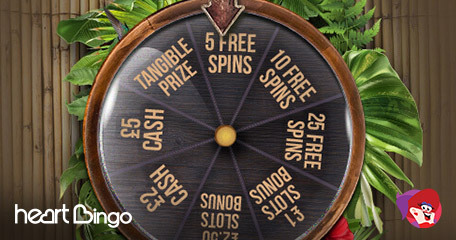 Multiple Summer Prizes (or Cash!) to be Won!
The sun has got its hat on, hip-hip-hip-hip-hooray, the sun has got its hat on and Heart Bingo invite you to come on out to play! Summer is here and hearties are able to win themselves some fantastic prizes with the new summer dreams wheel. It's packed with cash, bingo bonuses, games bonuses, casino spins as well as a range of summer garden goodies and they're all guaranteed to be won!
Heart Bingo's new daily promotion is open to existing players every day until Sunday 24th of this month and qualifying for a spin is rather simple. The first step is to opt-in, as always, next step is to wager £20 (cash) on any of the qualifying games and you'll get a spin the same day. The great news is that everyone who takes that wheel for a spin is guaranteed a win…
…which means you could win yourself a hot tub, gazebo, top-of-the-range BBQ, a chimney and much more! The following prizes can be won each day, alongside bonus spins and cash bonuses – cash bonuses with no wagering requirements! Plus, those bonus spins also come with a very important rule…
…if you're lucky enough to win from your spins offer, you will get to keep every single penny of it! No wagering requirements on spin wins here either! Now for the prizes.
Chiminea valued at £89.99 can be won on Wednesday 13th only
Brazier Firepit valued at £81.99 can be won on Thursday 14th only
Gazebo valued at £199.99 can be won on Friday 15th only
Gas BBQ valued at £299.99 can be won on Saturday 16th only
Hot tub valued at £209.99 can be won on Sunday 17th only
A rattan ice bar valued at £78.99 can be won on Monday 18th only
Another fire pit can be won on Tuesday 19th only
A rattan garden set worth £149.99 can be won on Wednesday 20th only
A chimnea is up for grabs on Thursday 21st
You could win a fancy gas BBQ valued at £299.99 on Friday 22nd
On Saturday 23rd a hot tub worth £209.99 will be won
The final day, Sunday 24th, a gazebo worth £199.99 will be won.
Hearties who win a tangible prize have the option of taking delivery of said prize, or the cash! The money option will see the cash value (listed above), credited to the winners Heart Bingo account (as cash!), within 72-hours of being notified of the win.
The qualifying games list is a long list and includes Arcane Gems, Ark of Mystery, Artemis vs Medusa, Azticons Chaos Clusters, Big Bad Wolf Christmas Special, Big Bad Wolf Megaways, Big Bad Wolf QS, Big Bot Crew, Blue Fortune, Book of Duat, Cash Truck, Crown of Valor, Crystal Prince, Crystal Queen, Diamond Duke, Dinosaur Rage, Divine Dreams, Dragon Shrine and Durian Dynamite. The full list of casino games in this promotion can be found on the Heart Bingo website.
Good luck LBB'ers!
Bingo Promotions & Bonuses
Back to articles
Your feedback
Please enter your comment.
Your comment is added.
lollipops321 07/14/22, 06:07:50 AM
Great promotion again. You can find winners on facebook too which is great.