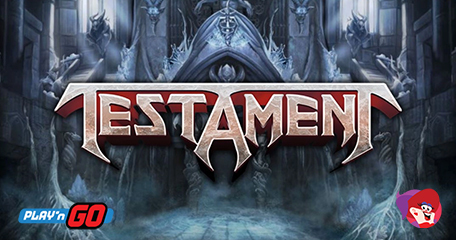 Continuing with their commitment to release a record-number of video slots this year, Play'n GO has outdone themselves (yet again!) with another rock-band inspired creation. Testament is a stunning 5-reel slot inspired by "one of the most influential thrash metal bands in the history of music, specifically their critically acclaimed 2012 album Dark Roots of Earth."
The gameplay has been created perfectly to match the music; rocking out to the sound of iconic tracks is almost guaranteed in this highly volatile title.
Packed into the symbols on the reels is a mega 20,000x non-progressive jackpot…
…which can drop on any spin! There are three different game features based on a trio of popular song titles by the band; Cold Embrace, Dark Roots of Earth and Throne of Thorns. Explosive bonus spins see players unlock additional segments of the reels in the hope of landing the 'Testament Spins' – here all three game bonuses combine to unleash potentially soul-crushing wins!
If the Cap Fits
Play'n GO are being labelled as a music slot specialist, an accolade they're only too happy to take, what with Demon, House of Doom and the rocking sensation known as Sabaton being among the other titles in their ever-growing portfolio. Like the previous band-inspired slots, this one saw the software developer working closely with the band to give it more of an authentic feel.
CPO Martin Zettergren couldn't stress enough the importance of delivering authenticity when creating music slots: "Creating a slot based on a band or artist carries an extra weight to it.
You have to create a fun, unique slot for players to enjoy…
…but also represent the band and their music to fans accurately. This game is another "Testament" to our talent for creating entertaining slots, and our diligence in doing so."
Devilish Features
Images upon the reels will reflect the heart and soul of the music produced by Testament, which means you'll find vampires, skulls, werewolves, skeletons and shields sitting alongside the usual card values. Although, those card values have been created a little darker than usual.
Randomly on any spin, the skull symbol can transform itself into a wild for an increase shot at winning. Also, during the special features, the skull will always appear as wild. The following song features are triggered with two scatters:
Cold Embrace: Any in view will becoming sticky and remain there until your bonus spins are over.
Dark Roots of Earth: Skull symbols will spread up or down on the reel where they land.
Throne of Thorns: The reel engine will expand from 5x3 to 4-5-6-5-4 and thus increasing pay ways by nearly ten times the standard amount, up to 2,400 win ways!
A thrilling experience awaits those who are looking to join the band. All that's left to do is rock – are you in?
Bingo Games
Back to articles
Your feedback
Please enter your comment.
Your comment is added.
Bubles12
03/13/20, 08:03:16 AM
Never heard of the band before, but the features sound great. I take it it's not available to play yet? I'll keep my eyes open for it