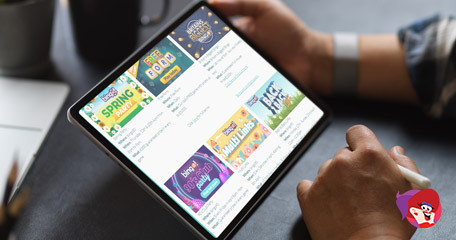 Use Letters To Spell Words And Wins!
Words has landed at tombola arcade and this exclusive game is offering top prizes of £1K for simply spelling out a word! Styled on the classic game of Scrabble, the aim of the game is to use all letters on a single row to win the stated prizes. In the last couple of days alone there have been more than 50 jackpot winners ranging from £25 to that mega £1K!
All tombola arcade games have increased their maximum stake from £1 to £2, meaning all previous top prizes of £500 have now been increased to £1K! The jackpot will be reflected by stake.
Spell It Out!
What looks to be a complicated game really isn't. All you need to do is decide on a stake by select 'buy' to play. If you manage to complete the missing letters within the 5 available words, you'll win a prize. Click or drag the letters from the collector on the right hand side or for a more simpler way to play, press the 'solve' button to fill in the letter. The clue bar will display a clue for each word though. Use all the letters from a row/colour in the collector in order to win.
Stakes to play Words are 5p, 10p, 20p, 50p, £1 or £2. The stake is defaulted to 5p on your first play then if changed it is remembered for your next session. Return to player (RTP) is 98.00% this is the amount returned to players relative to the amount staked. For example if they take £100 of stakes, on average, tombola will pay out £98 in winnings. Prizes are credited immediately to a player's account with no wagering requirements.
What Else Is Going On?
Now for the tombola promotions and there's a new no deposit freebie about to kick off too! Oh, and the possibility of free bingo rooms in the near future because guess who got an invitation to ask would "free bingo" be of interest to the bingo community? Yep, you guessed it – me!
#1 – Grand National Sweepstake: Click to opt in to the Grand National sweepstake between noon on Thursday 13th and 5pm on Saturday 15th to win. Rules state the free offer is only open to depositing players.
#2 – Free Vibes: Win a share of £40K in real cash every week in the first of 2 no deposit games. Opt in, receive a 4-digit code on a Monday for a week's access to the game. Prizes range from 25p to £5K!
#3 – Free Form: Match four of the same colour to win a free prize up to £5K every day!
#4 – Spring Party: When? Thursday 13th and 20th April from 8pm to 9pm in bingo80. What? £300 guaranteed prize in every game.
#5 – 90's Club Party: When? Every Friday in April between 8pm - 9pm in bingo90. What? Guaranteed prizes in every game!
#6 – Multi Links: When? Every Saturday in April, starting 8th April. What? £5,000 Full houses in the 8pm, 8.30pm and 9pm Link Games in bingo90.
#7 – Back 2 Back Links: When? Monday 17th - Sunday 23rd April from 12pm to 12.30pm. What? £1,000 guaranteed full house prize in every game, but only in bingo90.
#8 - £1K Monday's: When? Monday 10th and 17th April from 8pm until 9pm. What? Guaranteed full house prize of £1K in every bingo75 Lines game!
#9 – Back 2 Back Link Lites: When? Monday 24th to Thursday 27th April between 8pm - 9pm. What? £1000 guaranteed full house prize in each bingoLite game! Play from just 2p a ticket!
#10 – Britain's Biggest Bingo Game: When? The 1st of every month at 9pm. What? This is tombola's monthly full house bingo game with a minimum £100,000 guaranteed prize up for grabs every month. The prize is progressive which means the more tickets sold, the bigger the prize. 'Jannb9' won an incredible £113,998 in April's Britain's Biggest Bingo game, but who will be May's big winner? You won't find this exclusive bingo game nor promotion anywhere else – not even on other UK bingo sites! Purchasing is now open with tickets starting at 50p to a max of £2!
Be the first player to mark off all 15 numbers on your ticket to win the full house prize. Even though it is a 90-ball bingo game, there are no one-line nor two line prizes. If more than one player wins, the full house prize will be shared amongst all winners. Tombola guarantee that 100% of all real money stakes will be added to the prize pot and the full house will increase with every ticket sold after it has exceeded £100,000.
Purchasing will stay open for a full month before the game commences at 9pm on Monday the 1st of May. You can buy 1 strip for 50p, 2 strips for £1, 3 strips for £1.50, or all 4 strips for £2. This means no-one can have more than 4 strips in play! Each strip has 6 tickets – that's 6 chances to win. Players can return at any time before the game starts to buy more tickets (up to £2).
One Last Thing
Don't forget your Playmates codes! Refer a friend to tombola to play absolutely free and you can start earning rewards when they win! Send your friend(s) £5 in bonus funds to try tombola and you get £20 bonus money when they deposit and spend £20! Anything won from those bonuses will be credited as cash with no wagering requirements!
That's not all! You'll also receive great rewards every time they win, but the rules state you must have placed a stake on a tombola game within the six month prior to the award being triggered to receive it. They win £20+ you get £2 real money. They win £50+ jackpot you win £10 real money. They win £100+ jackpot and you win £20 cash. If they win a jackpot of £500 or more, you get £50 credited to your real money bankroll! Oh, then there's the arcade. A win of £100+ and you get £2 there too!
Click one of your five unique referral codes within the "refer a friend" tab to send via email or social media. Posting onto Facebook allows you to reach a wider audience – the people who redeem your codes do not have to be your friend.
Bingo Promotions & Bonuses
Back to articles
Your feedback
Please enter your comment.
Your comment is added.