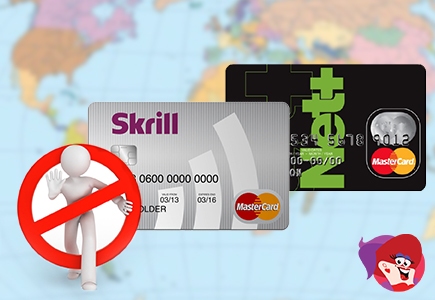 Neteller
and
Skrill
prepaid Mastercards were one of the most popular banking gateways and widely used within the online gambling community due to instant withdrawals and hassle-free use, but sadly players from over 100 countries will no longer have this possibility on their disposal as the prepaid services are being halted in all countries outside of the European Single Euro Payments Area (SEPA), Brazil, Australia, Russia and others.
According to the notification issued to its users only a few days before the new restriction will be in effect, the owner company Paysafe group warned all affected customers and announced the changes to take place on November 25th, 2016. This radical change will bring difficulties to online gamblers who used Mastercards to fund their casino accounts, withdraw payouts immediately and directly from their e-wallets or for other purposes outside of gaming, such as online shopping.
Skrill & Neteller accounts will, however, remain functional meaning that customers will still be able to receive funds to their e-wallets, but withdrawing will have to be done via balance transfers to bank accounts or between other Neteller/Skrill accounts, neither of which was found to be a reasonable amendment, especially due to large transaction fees.
There are speculations circulating across the industry that negative impacts of this restriction will boost the popularity of Bitcoin and lead to numerous gamblers embracing this cryptocurrency as a viable option.
Soon after the warning has been issued, an outcry erupted with a vast majority of affected users cancelling their subscriptions in disappointment. No doubt these two popular brands are about to lose a good chunk of their customers base and some are predicting major financial consequences for Paysafe.
Bingo Banking & Cryptocurrencies
Back to articles
Your feedback
Please enter your comment.
Your comment is added.
zuga
11/30/16, 11:11:25 AM
really shitty move by these guys. they going to lose so much customers because of this. This in addition with the increased fees they imposed few months ago is just another nail in their coffin.