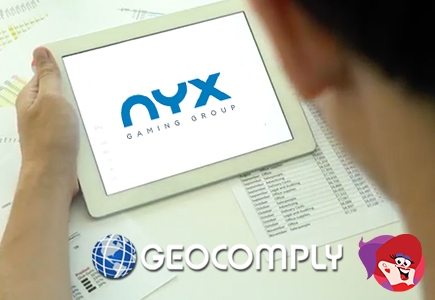 NYX Gaming Group (NYX), game developer and solutions provider for online casino, lottery and sports betting operators, announces its latest partnership with geolocation services provider, GeoComply Solutions, Inc. The deal will see NYX's full-service Digital Gaming System (DGS) incorporate GeoComply's pINpoint™ geolocation system and risk tools.

As a result of the intermingling of these two products, operators now have a regulated solution designed for mobile players.

Kevin Vonasek, NYX's Chief Product Officer Americas, commented, "Since becoming the market leading supplier of iGaming platforms in New Jersey, NYX aims to extend that position into the world of regulated on-property mobile gaming. The security and acute sensitivity provided by GeoComply's system is unmatched. With this partnership NYX can now deliver mobile slots, table games, poker, bingo or scratch cards to brick & mortar casinos, allowing our partners to reach their younger in-venue players – or millennials, who we already know represent the lion's share of the digital gaming market."

For those of you still wondering what this really means, maybe this will help. Geolocation systems/software determine our geographical location when accessing a program, system or app. GeoComply's pINpoint™ product will use this technology in combination with additional Bluetooth tools to restrict players from certain regions attempting to play games on the NYX platform. For example, if games are to be accessible to players in Spain, this technology will pick up on players attempting to play games from outside Spanish borders. The same concept is seen in casinos in the US. Players can use a smartphone or tablet to access games while on the property but once they leave, their access is cut off or switched from real money to free play.

Taking this a step further, pINpoint is specifically designed to suit the regulated gambling market with built in anti-fraud monitoring tools and player notifications sent when a players are moving beyond permitted access areas.

"Building on a growing relationship, we're excited to be working with NYX to expand our on-property solution," said Anna Sainsbury, GeoComply's CEO. "Together we can allow players to bring their own device and remain as safe as when they play on the machines and tables on the floor."

A demo of NYX's DGS with pINpoint will be on display at G2E Las Vegas September 27 – 30, 2016.

Source: 'NYX partners with GeoComply for total indoor mobile gaming solution', NYXGamingGroup.com, September 20, 2016.
Bingo Banking & Cryptocurrencies
Back to articles
Your feedback
Please enter your comment.
Your comment is added.