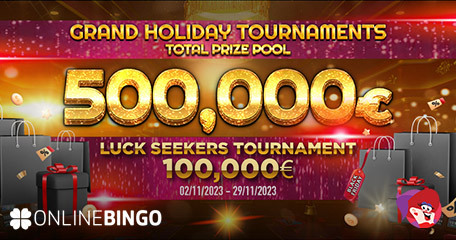 Half-a-million Euros is a whole lot of cash and it's hard to believe this sort of money can be won – but it can, especially if you're an OnlineBingo.eu member with a competitive nature.
LBB'ers, we all know the headline brought you here because let's be honest, who wouldn't like to win a share of €500K. So, you're going to want to know all the details for sure, even the terms and conditions because as we always say, it's vital you pay attention to the rules before entering or you could get stung!
€500K Grand Holiday Tournament Introduction…
Labelled as the "Ultimate Grand Holiday Tournament", which we would not say otherwise, is looking to be the tournament of a lifetime for OnlineBingo.eu customers, and what you can already guess is there is big real money prizes to be won by participating. Running until 28th February next year, you're invited to take part in a series of distinct challenges, each with incredible prizes.
Mission: Each win during the Grand Holiday Tournaments will earn you valuable points based on the following formula: Points = (Amount Won / Amount Wagered) x 100. For example, if you wager €1 and win €10, you will be rewarded with 1,000 points. The more you play and win, the higher your chances of climbing to the top of the leaderboard and securing fantastic items - money! The formula is not based on whoever wagers the most wins, it is based on wager to bet ratio, meaning even those with the smallest of bets (from €0.20) can have a shot at winning the cash.
The remaining tournament schedule is as follows:
Wealth Seekers (2nd to 29th November) - Prize Pool: €100,000
Santa's Gifts (30th November to 27th December) - Prize Pool: €100,000
New Year Luck (28th December to 17th January) - Prize Pool: €80,000
Winter Fortunes (18th January to 7th February) - Prize Pool: €60,000
Festival of Love (8th to the 24th February) - Prize Pool: €60,000
The participating (Spinomenal) games – there are 29 of them and you can play any or all of the to try and rack up those points! Playing casino games other than the ones shown below will mean you have no chance of landing a spot on the prize leader board.
Demi Gods V
Demi Gods IV – The Golden Era
Wolf Fang – Treasure Island
Story Of Odin
Story Of The Little Mermaid
Trout's Treasure – Payday
Book of the Night Wolf
Book of Rebirth Extreme
Trojan Tales
Book of Rebirth 2
Wild Oktoberfest
Story Of Love – Aphrodite's Spell
Geisha´s Dream
777 Candies
Mythical Creatures Of Greece
Story of Vikings – The Golden Era
Wolf Fang – The Origins
Book of the Divine
Wolf Fang – Sakura
Story of Loki – Master Of Illusions
Age Of Pirates
Story of Vikings
Book Of Tribes
Book Of Demi Gods IV – Thunderstorm
Fairytale Beauties
Majestic King Sunset
Story of the Samurai – The Last Ronin
Werewolf – The Becoming
Oktober SpinFest
Good luck!
Bingo Tournaments
Back to articles
Your feedback
Please enter your comment.
Your comment is added.
bridgetjones
11/16/23, 07:11:00 AM
I love tournaments where it's based on win ratio. Makes it more enjoyable!