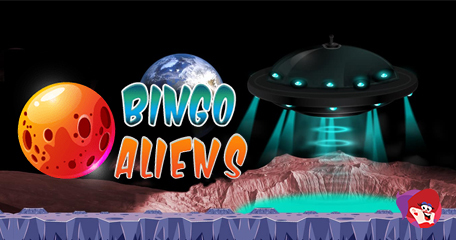 Crop circles, unidentified flying objects and stories of being kidnapped into outer space are all directly linked with one thing – aliens. There have been some tremendous movies based on alien encounters; my favorite is Signs. Mel Gibson, the ex-preacher and his brother try to keep calm when unexplained things happen…
…but, despite the tension and the scary encounters, it all works out well in the end. One place it doesn't is in New York. The War of the Worlds remake with Tom Cruise is spectacular in terms of graphics and really leaves you on the edge of your seat, and you know what else does? The big jackpots and fabulous promotions over at Bingo Aliens.
As the moon rises high above an abandoned and unknown planet, aliens are secretly hatching their plan. Intelligences far greater than our own are waiting to pounce. Across the gulf of space, intellects unsympathetic to our planet are viewing us with envious eyes which is why they want to…
…reward you with out of this world cash prizes! You only have to take one look at the welcome page to realise the sheer volume of games and cash on offer here. If you're not in it for the spinning and winning, there are numerous bingo rooms waiting to beam you up to prizes of up to £1.5m.
Mission Expansion Bankroll
A firm favourite (aside from the free bingo rooms) is the Bingo Millions room – here you'll have plenty of chances to win an eye-watering cash prize, or you may just find yourself winning free tickets into the next game.
Don't miss the end of moth special whatever you do. On Friday 31st, there's £2K up for grabs across two rooms. Whether you're a newbie or a seasoned player, the chance to win is there. And, tickets only cost 50p. If you can't make it on the night – pre-buy! How many times do we have to say this? You wouldn't not buy a lottery ticket just because you're not going to be in to watch the draw – why should playing bingo be any different.
Bingo Aliens wouldn't be the same without offering some deep-space games and one of my all-time favourites is Mars Attacks! The Jackpot King Networked slot is based on the popular 1996 movie of the same name. And for those who haven't watched this comedy film; an army of aliens invade earth and meet the president of the United States under peaceful circumstances…
…but they don't stay quiet for long and start attacking the cities! Everything we love about the movie has been stitched into the reels of the casino game where there are five random bonuses, five bonus games, wilds, stacked symbols, bonus spins, multipliers and three progressive jackpots!
How do you know when you're going to win big? Those reels turn to a regal red and gold! Keep your eyes peeled for that! Want in on the alien-antics? There's as many as 500 bonus spins waiting to welcome new players.
Promotions & Bonuses
Back to articles
Your feedback
Please enter your comment.
Your comment is added.
Member's Feedback (1)
Bubles12
01/29/20, 07:01:26 AM
I've watched the Mars Attacks movie but didn't even realise there was a slot game! I'll be giving this one a try.