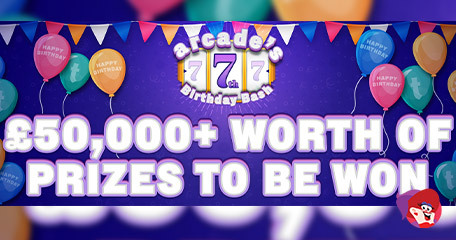 Many Chances To Win A Prize!
To celebrate tombola arcade's 7th Birthday, tombola have put together a fabulous 7 day super-sized giveaway with more than £7K in prizes to be won! In addition to that there will be bonus prizes with no wagering requirements and more than £50K to be won over on arcade!
If you've a Facebook and/or Instagram account you can particpate in the daily £7K bingo bonanza, enter on both to get double the chance of winning! Today, Monday 24th July, 15 lucky entrants will be chosen at random from all correct entries, to receive a £50 UberEats voucher! From Chinese delicacies to British cuisine, puddings and sweets galore, you can find it all on UberEats!
Must Have Prizes To Be Won:
To enter to win that takeaway voucher all you need to do is solve the mathematic equation from the Bubble Lab game of the day and comment the answer along with your tombola username. Don't forget to enter on Facebook and Instagram for two chances to win!
Competition ends 9am on Tuesday 25th July. Winners chosen at random from valid entries. 15 (5) x £50 UberEats vouchers to be won plus 20 x £1 bonus money.
There are more daily prizes to be won on social media right up until July 30th. Take a look at what you could win:
Tuesday 25th: 3 x Annual Platinum Merlin Pass (£299 each!) provide the best value pass if you have an insatiable appetite for adventure, have no exclusion dates, except paid events, guarantee free parking, comes with £5 Off Fast Track Vouchers and Share the Fun Vouchers plus even more great benefits, including more reservations per park and discounts. Plus 20 x £1 bonus money.
Wednesday 26th: 2 x Apple iPhone 14's (£849 each) or one of 20 x £1 bonus money prizes.
Thursday 27th: 7 x £150 Netflix Vouchers or one of 20 x £1 bonus money prizes.
Friday 28th: 15 x £100 Primark Vouchers or one of 20 x £1 bonus money prizes.
Saturday 29th: 10 x £20 bonus money or one of 20 x £1 bonus money prizes.
Sunday 30th: 4 x Apple AirPods or one of 20 x £1 bonus money prizes.
Birthday Bash
Continuing with the celebrations, tombola arcade have got 7 prize draws, across 7 days, on 7 different games! All you have to do is join in with the fun from Monday 24th - Sunday 30th July for your chance to be one of the big Birthday Bash winners.
In each draw there will be a £1,000 top prize, as well as 4,500 Free Play prizes to be won. Every day there will be a different game to play to enter each draw.
Monday 24th July - Bubble - Lab
Tuesday 25th July - Scratch - Jungle
Wednesday 26th July - Cards - Cinco arcade
Thursday 27th July - Spin - Phoenix
Friday 28th July - Scratch – Dominoes
Saturday 29th July - Spin - Gaelic
Sunday 30th July - Spin - Pirates Curse
To enter:
#1 - Stake £2 real money on the Game of the Day between 8PM and 10PM.
#2 - Opt in on the promotion page for the draw by tapping the 'opt in' button between 8PM and 10PM.
Promotions & Bonuses
Back to articles
Your feedback
Please enter your comment.
Your comment is added.