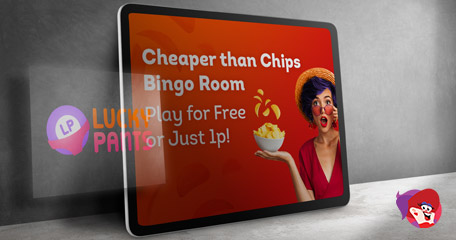 New Promotions and Ways To Win Cash!
Cheap as chips bingo games where playing for 1p to win big pounds is a feature available to all Lucky Pants Bingo customers, not just the "regulars." Shaving the cost of the ticket prices (and without touching those prize pots) is one of the reasons why the bargain bingo room is always so full! Oh, and the fact more than £1K will be won via free games!
The cheaper than chips bingo room is a mix of paid-for and free bingo games. Head to the lobby via app, desktop or mobile browser, select said room and dab away manually or watch the tickets mark themselves automatically, to win up to £1K daily!
Free Games: Every day there will be over £1,000 in free games to play in the cheaper then chips room
Penny Games: Play from just 1p a ticket and win up to £50
Big Linked Games: Win a top prize of up to £1,000 in linked specials
Tickets cost: 1p, 10p and 50p or free!
Prizes: Up to £1,000 daily can be won every single day!
Pennies From Heaven
Penny bingo games continue in the penny paradise room every evening, and Lucky Pants Bingo guarantee to create more winners with win-win, no-win free tickets, lucky star, roll on and 1TG/2TG features in every game! Real cash prizes of up to £250 will be won and thanks to multiple bonuses, there will be more chances to win too! Oh, and with just 1p tickets!
How to join the fun:
Log into your account
Head to the Penny Paradise room every night from 7pm to 9pm
Pre-buy tickets are available via the schedule
Enjoy bingo games with extra chances to win a prize!
Want more freebies? Saucy freebie fun will run until Christmas day and get this - £1K must be won! Dab from 8pm with the daily advent calendar. Everyone who participates has the same chance to win too! The 75-ball bingo games will pay nothing but real money, no wager prizes.
Plush old onto your bingo dabbers roomies…there's a daily chance to win big cash prizes (and other bonuses) absolutely free in the free-to-play daily scratch and win game! A 'brief' scratch could result in a myriad of prizes being won, including loyalty points that can later be exchanged for bingo-related goods plus slots bonuses!
Other Promotions and News
#1 Fancy winning £5K? Sure you do and here's how you could be one of 10,321 lucky winners taking home a prize! The £250K slots draw is in full swing and by the end (29th December), real money prizes will be won! Bet £10 on any of the following qualifying casino games to earn 1 free entry into the prize draw:
Eligible games for 1 prize draw entry: Age of the Gods: Lord of Lightning, Big Top Tombola, Bouncy Balls, Clover Rollover, Fireworkz Blitz, George and the Dragon, Mafia Millions, Marine Mayhem Mini (play this one in the bingo lobby!), Pet Luck, Pirate Plunder and Snow Queens Magic. You have until midnight on the 29th to secure your place into the draw.
Get double the entries per £10 spend on Snow Queens Magic, Fireworkz Blitz, Big Top Tombola and Age of the Gods: Lord of Lightning. That's 2 entry tickets with your name on per £10 spend instead of just the one! You can enter as many times as you like with no cap on how many cash prizes you can win. However, please gamble responsibly and have your safe play tools in place.
#2 Crimbo Prize Pot will give away £95K before New Year's Eve and pocketing a share is as easy as securing your tickets into the upcoming games! Head to the Bingo Lobby every Friday at 9pm, get your tickets for just 50p and keep your fingers crossed for a share of that booty! There are just two bingo games left in this promotion, £45K on the 23rd and £50K on the 30th. Imagine the 2023 celebrations you'd have winning that!
#3 Happy hours don't only exist in drinking venues, but in the world of online bingo too, and Lucky Pants Bingo are giving all customers the chance to double their deposit with the bonus spinner wheel. Make a deposit of at least £10, spin the wheel to see if you can win a bonus of up to 100%!
#4 Naughty but nice bingo games paying £2million in cash? You betcha and there's a different way to play and win every night! Triple chance games with tickets starting from just 1p each pay up to £50K in guaranteed prizes!
Roll On Monday – £30,000 guaranteed to be won from 6pm to midnight with plenty of Roll On Prizes to create additional winners
Bargain Tuesday – Tickets will cost 5p or less all day and night
The Money Ladder Wednesday – Prizes increase every hour with £600 to be won at 6pm, £700 at 7pm, £800 at 8pm, £900 at 9pm and the final at 10pm is worth £1K
Bargain Thursday – Get more from your bingo for less with 5p max prize tag in all games
Friday Fever – Play for £50K from 6pm to midnight – that's the sum that will be won!
Super Saturday – Friday was so good they decided to do it again! Play for £50K between 6pm and midnight
Sunday Sales – Play from 1p a ticket to win a share of £30,000
#5 Lots of slots! Swathes of new gaming releases have been added to the slots library in recent days including big progressive jackpot paying titles! Naughty Nick's Book, Gold Blitz, Christmas Krampus, Ted Cash lock and Christmas Bonanza Megaways are just a few to mention. Any spin (of any level) could land a mega prize. Exciting bonus features include free games, multipliers, cascading symbols for multiple chances to win in a single spin, walking wilds, scatters and much more!
Promotions & Bonuses
Back to articles
Your feedback
Please enter your comment.
Your comment is added.
bridgetjones
12/22/22, 09:12:33 AM
There's a monthly member draw too and if you play and get chosen, you can access a secret bingo shop where you get to spend up to £500. My friend won a few months...
There's a monthly member draw too and if you play and get chosen, you can access a secret bingo shop where you get to spend up to £500. My friend won a few months ago and chose an iPad.
Show more