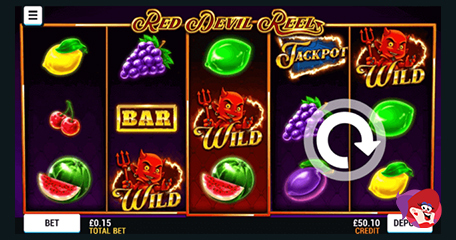 Get Up to 15 Bonus Spins to Test New Progressive Slot
Red Devil Reel by Mr Spin is red hot and ready to surprise you with some fascinating bonus features, as well as a huge progressive jackpot and some no deposit bonus spins to play for free. Every month a new slot machine is revealed to the community along with a free trial offer with absolutely no risk to your own cash. No deposit, no fuss, all it involves is a simple mini game that will determine the number of bonus spins you will get to test the new game. Ready to shake hands with the devil? Read on!
Step 1: Sign in or register. New players are eligible for yet another no deposit offer of up to 50 bonus spins. Existing players can use their log in credentials to gain access to this attest bingo offer. It's free to play!
Step 2: Play the mini game. A delightful 16-segment wheel will appear on your screen, whether you play on mobile or desktop/laptop. All but one of those colourful sections house bonus values ranging from 50p to £3. That may not seem like much but that top bonus sum is enough for 15 bonus spins! Should you land on the lose option, you won't be disappointed because you'll get another go until you win!
Step 3: Head to the new Red Devil Reel slot by pressing the "play game" button.
3D fruits, golden bells and bars with mellow jazz soundtrack take your mind straight to the speakeasy, but where's the devil? The name Red Devil Reel tricks the brain into thinking there's an evil guy with horns waiting to drag you to the deepest, darkest depths of a fiery furnace, but nope, Mr Spin has created the perfect disguise…
…but that's not to say there is no horned fella waiting to guide you on the highway to good wins though. Little red appearing on your screen will do just that, but triggering a re-spin, bringing in new symbols to try and create wins. It's basically a second chance to win some prizes.
Get into the bonus spins action by landing a trio of free games icons on reels 1, 3 and 5. During the feature, only wilds and more spins symbols will occupy the centre reel, meaning you are guaranteed either a win or an extra spinwith every re-spin! The plus symbols keep you in the free games bonus just that little bit longer. The more spins, the more wins! Once complete, it's time to face the devil himself. Will you collect your wins or gamble on the turn of the devil's card? It's a straight choice – fortune doubles your win; devil means you lose everything you won!
Bingo Promotions & Bonuses
Back to articles
Your feedback
Please enter your comment.
Your comment is added.
HulioSas 07/06/22, 05:07:50 AM
The progressive jackpots take so long to go. I think a few have been going since 2020 or even before. I could be wrong though but it does feel like an eternity.