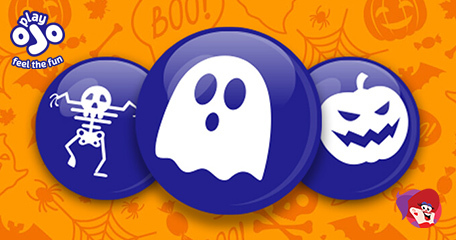 Spooktacular Bingo Promotions Ahead
Why wait until October 31st for treats when you can indulge in free no deposit offers and bargain bingo deals all month long at Play OJO Bingo! The popular no-wager, no-nonsense and no-withdrawal restrictions bingo brand is upping the cash spills and thrills this month with a jam-packed bingo line-up, and you could be among the many guaranteed winners!
In celebration of it being October, Pragmatic Play, the folks who power the bingo games here at Play OJO, have given their exclusive (and unique) bingo game a makeover. Beachball Blast with its sun-kissed beaches and summer feel is now sporting a much more terrifying look, and it's all in aid of Halloween!
An abandoned graveyard with only a full moon to light your way through the trees, aims to guide you to big real money wins…
…just select your tickets from 1p to 20p and watch as two explosions pull random bingo balls from play. At the end of the second explosion, the bingo game will commence as usual, only 4x quicker than your typical 90-ball bingo game. It's frightfully good fun and budget-friendly too!
Halloween Bingo Promotions
#1 – Trick or Treat: Bargain bingo, penny and 2p bingo games, BOGOF deals, roll-on features for more winners and 1TG/2TG will commence every night from the 24th until the 31st. There's more than £20K to be won in this promotion alone!
#2 - £1K Nightly Prizes: Every evening from the 24th to the 31st, £1K will be won in the midnight bingo games. Tickets will cost just 1p each! The lucky full house winner gets £500, two line winner gets £300 and the one-line winner walks away with £200 in cash!
#3 – Reels Room: Play bingo games between 6pm and 10pm daily to win bonus spins prizes. All free game vouchers this month will be credited to the mysterious Madame Destiny slot title.
#4: Masked Dancer Bingo: Play patterned bingo games with two chances to win between 5pm and 11pm daily. Match the mask pattern for the first prize then it's onto the coverall for the biggest prize of all!
#5 – Drop Pots: Three jackpots are guaranteed to be won in this room. The mini, midi and maxi will increase the ball count to ensure there are jackpot winners. A daily prize pot of £7K is guaranteed to be won too!
#6 – It's All Free Baby: 90-ball bingo games commence every 10-minutes and they're totally free to play. Games run between 9am and midnight with a mixture of paid-for and 1TG prize games too.
#7 – Session Bingo Games: Buy 10 bingo games for £10 and save £10! Get a whole hour of bingo games for just a tenner every Sunday between 1pm and 2pm and then again between 8pm and 9pm.
#8 – Get Your Boogie On: 80-ball bingo fun between 3pm and 7pm where tickets start from just 1p.
#9 – No Deposit Fun: Available until the 29th, the match the masks promotion can be played once a day – every day, and for free. Log in and match three symbols for bonus spins, bingo tickets, games bonuses or a spin of the prize twister machine. Make a deposit and get a guaranteed win the following day.
#10 – Tell Your Mates: Bring your mates to Play OJO Bingo and get up to 1,000 free bingo tickets absolutely free! Refer your mates with your unique code and you'll both get bingo tickets!
Bingo Promotions & Bonuses
Back to articles
Your feedback
Please enter your comment.
Your comment is added.
lollipops321 10/03/22, 12:10:10 PM
Be careful with the kickers. Last weekend I claimed the bonus spins deal where you get 50 spins instantly and 25 the following day. In the meantime I won a prize...
Be careful with the kickers. Last weekend I claimed the bonus spins deal where you get 50 spins instantly and 25 the following day. In the meantime I won a prize twister spin from the daily free match the masks game, and from that I won nothing. Turns out that extra offer (prize twister) cancelled out the 25 bonus spins. Still waiting for a reply from LIVE CHAT 9 days on.
Show more