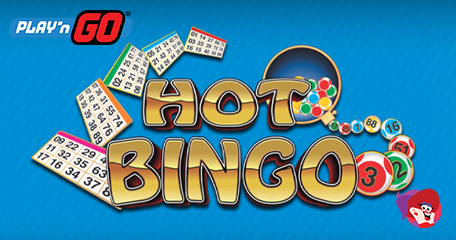 It's all go over at Play'n GO; not content with throwing out the slots at a rate of knots, the major video slots developer are now trying their hand at something new – bingo! That's right roomies, the developer released a full suite of video bingo games on Wednesday thanks to a partnership with video bingo producer – RCT.
Four new video bingo game titles owned by RTC have been given the slots treatment and with the brand's unique winning formula, they've been given a huge boost and are now available to a wider audience. Despite the makeover and the new mechanics, the video bingo games still have their original charm.
Not for Everyone
Sadly, the four new bingo games are only currently available to the Latin American market, so if you're from a jurisdiction outside this, you'll have to wait a bit longer to dab those tickets. Flex Bingo, Hot Bingo, Park Bingo and SuperBola have tailored games with a classic video game format, and the latter is not just your typical game of 90-ball bingo, instead, it offers more of a casino games style of play with an 'extra balls' feature…
…think Slingo and you've hit the nail on the head. Basically, the 'extra balls' allow you to purchase extra balls for extra chances at hitting the big money jackpot. SuperBowl is certainly set to be a crowd-pleaser, what with its 75-ball bingo appearance; spell the out the title of the game on your ticket to win 1000x your bet. This game is fast and furious – you select your bet and watch as 44 different numbered balls are drawn. Numbers will mark themselves off automatically and if you match the pattern, you win the stated sum, it's as simple as that.
Balls Galore
Hot Bingo is very much a traditional game of bingo with one-line, two lines and a full house prize up for grabs, but there are also prizes for four corners. Unlike SuperBola, once the 33 balls have been drawn, it's game over. Will you decide to keep your cards or go for new ones?
Flex Bingo allows you to play up to 4 cards at once. Each game round offers the option to purchase up to 13 additional balls plus a free extra ball will randomly be awarded somewhere between the fourth and ninth extra balls. You will unlock the 13th and final extra ball if you're only one ball away from winning at least 200x your bet per card – simple!
Park Bingo is similar to the other trio of bingo games, the only difference is when you're one ball away from 8x credit pattern, you have the option to purchase up to 10 additional balls to complete it. Should the 'gift ball' drop, you get to choose which numbers are drawn next!
What do you make of the new bingo games? Have you played them yet? Let us know below.
Bingo Games
Back to articles
Your feedback
Please enter your comment.
Your comment is added.
Bubles12
11/21/19, 08:11:48 AM
I love the sound of theses bingo games, it's such as shame they're not available to the UK.