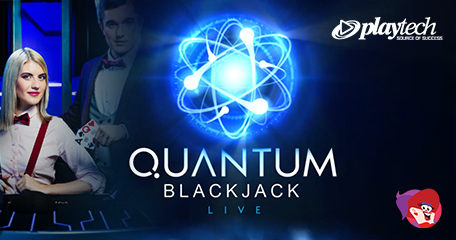 Slot games and live casino games are two very different concepts; one requires you to spin the reels whilst the other offers an immersive experience with more of a one-on-one environment. But what if those two entities were brought together? And more importantly; why haven't they been already?
Playtech is reinventing the live casino scene with a duo of new industry-first products; Live Slots and Quantum Blackjack. The world's leading supplier of gambling products announced the network-wide launch of the two live casino variants, starting with immersive slot play.
One of the developer's most popular slots – Buffalo Blitz, has been reinvented for their latest product and we think it's going to be a huge hit. The cross vertical concept will turn slot play into a collective experience, similar to that of land-based slots with a community feature. Barcrest is renowned for this concept with a trio of Rainbow Riches machines linked to a community element; when one wins, they all win…
…but this latest offering by the brand is somewhat spectacular. Based in a live studio with friendly hosts leading the game and providing commentary, Live Slots delivers the ultimate gameshow feel whilst bringing slot play to life in a totally unique way.
Stampede Your Ways to Win
Just like the video slot, Buffalo Blitz boasts a 6-reel engine with 4096 ways to win. The only major difference is the reels of the casino game are now placed within the live studio with a host standing by to not only engage with players, but to assist with gameplay.
Scatters, wilds, bonus spins and huge wins are packed into the symbols on the reels, but you need to opt-in at a minimum of 40p a spin before you can take part. The lower screen is where you'll find info on when the bonus spins were triggered last, the latest winners and how much has been won. The bonus feature can re-trigger spins and boost your winnings when there is a presence of diamonds on the gaming area. Keep your eyes peeled for Buffalo – this is the highest paying symbol.
Quantum Leap
Following the success of Quantum Roulette, Playtech had a vision to bring the highly immersive studio atmosphere to the blackjack tables and as a result, Quantum Blackjack was born – the industry's first ever multiplier-based blackjack game. Once betting time has elapsed, an extra draw begins where as many as three cards are drawn and given a multiplier of 3x, 5x, 10x at random. If a player is dealt one of these cards in their hand and beats the dealer, they will be paid according to that multiplier.
Kevin Kilminster, Head of Innovation for Live Casino, Playtech, comments:
"2019 has been a remarkable year for the Playtech Live team, with a stronger focus than ever on experience-led innovation. Live Slots is a genuinely new concept within the industry, delivering an engaging new style of gameplay for players and creating an exciting cross-sell opportunity for operators. The popularity of live play streaming via social media demonstrates a player demand for an interactive feel – the experience you would enjoy when playing alongside others in a land-based casino. Live Slots recreates that feeling with a unique style of gameplay."
"Quantum Roulette has been one of Playtech Live's biggest launches of the year, thanks to both its immersive visual atmosphere and the unique multiplier win concept. We're confident that, as the first-to-market multiplier-based Blackjack game, Quantum Blackjack will prove equally popular and set the tone for future Quantum Releases. With more than 20 additional Live variants also launched this year, including American Roulette, Dragon Jackpot Baccarat, All Bets Blackjack and Casino Stud Poker to name but a few, everyone at Playtech is already looking forward to raising the bar even further in 2020."
Source: "Playtech launches industry-first Live Slots and Quantum Blackjack games". Playtech. December 19, 2019.
Bingo Software
Back to articles
Your feedback
Please enter your comment.
Your comment is added.
Bubles12
12/27/19, 02:12:43 PM
I absolutely love the sound of the new live casino slots game. I will be giving this a go later!