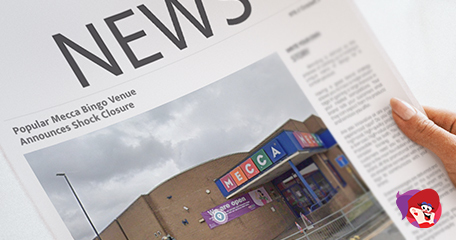 Independence Day Closure for Mecca Bingo
One arm of the Mecca Bingo branch has announced it will close after serving the community for more than 20-years. Mecca in Rochdale has been a hub for morning, afternoon and evening bingo for young and old alike, providing great value for money games and the chance to scoop bingo jackpots 7-days a week. Sadly, this will cease to be the case on Monday July 4th.
The bingo club in Rochdale town centre will have its lease terminated on "Independence Day" and there were never any plans to renew it. The staff at Rochdale say they are "We are working on plans to make the next five weeks memorable."
John Dyson, Operations Director at Mecca Bingo, says: "We're sad to confirm that our Mecca Bingo club on Smith Street, Rochdale will be closing from Monday 4 July 2022. Mecca Rochdale has been a part of the local community for over 20 years, and we want to say a huge thank you to every single one of our incredible customers for their loyaltyand support – we'll miss you very much. Mecca plays a very special part in communities and has done for over 60 years, bringing people together both in our clubs and online. We're in consultation with our colleagues at the moment and wish them and our customers well for the future."
Light at the End of the Tunnel
The news came as a shock to locals who were assured by Rochdale Borough Council in 2017 that the building and business would be safe! Just 5-years ago, Rochdale Borough Council snapped up the site of Mecca Bingo for £3.6m and at the time said the acquisition was to "safeguard the future of these key town centre sites and ensure they complement Rochdale's ongoing regeneration programme."
However, it would seem the decision to terminate operating a bingo business from that venue was made by…
…Mecca Bingo and not the council! And to add insult to injury, they decided to close early! According to John Blundell, the cabinet member for economy and regeneration at Rochdale Borough Council, the lease was due to end on September 22nd this year, with an option to extend, but in a shock move, extension wasn't requested!
"We are sorry that Mecca have made this decision and the impact this will have on its many customers. Given the significant regeneration taking place across Rochdale town centre we are currently exploring options for appropriate future uses of the site," said Blundell.
It's not all bad news. Mecca Bingo customers can access a wider range of bingo games online with online slots, progressive jackpot games and exciting promotions, including the no deposit daily spinner feature to win a holiday – every day! New to playing online bingo? Deposit and spend £10 with Mecca and win up to £120 when you spin the welcome wheel.
Source: "Mecca Bingo to Close After 20 Years" https://www.rochdaleonline.co.uk/news-features/2/news-headlines/146241/mecca-bingo-to-close-after-20-years. Rochdale Online. May 31, 2022.
General Bingo News
Back to articles
Your feedback
Please enter your comment.
Your comment is added.
Member's Feedback (1)
TinTinn
06/09/22, 12:06:54 PM
Not the news locals want to hear but that's the way most high streets are going now. Finances are tight and more venues will close I suspect.