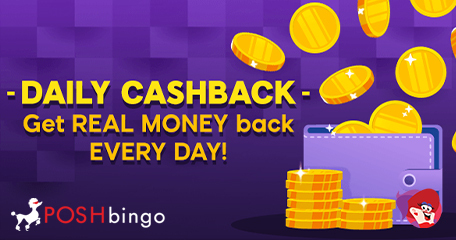 A Star-Studded Bingo Line-Up
Being posh usually means having the expensive taste, but what if we told you how to experience the life of luxury without the price tag, would you be interested? There is but one place online where the red carpet is rolled out from the moment you join – Posh Bingo. From the welcome offer to daily deposit deals, there are fun promotions providing exceptional value for money whether you have a huge bankroll or just a fiver to spend!
Before you can start unwrapping the gift boxes of rewards, your name must be on the guestlist. How do you get your name on the exclusive list? You sign up, make a deposit of just £10 and receive £25 in free play bonuses. From there, you will qualify for all manner of promotions and can even take part in big jackpot paying games where hair-raising sums of money can and will be won!
Rolling Out the Rewards
As soon as you start playing, you'll start to see the cashback flow – real cash back. Any of the hundreds of slots or multiple bingo rooms will see you qualify for as much as £100 in cashback, and not just on a weekly basis, but on a daily basis. Head to your account (my zone) to claim your cashback manually.
Then there's the wheel of wins. Every single spin guarantees you a win, with rewards based on the value of your deposit. Use the unlimited promo code: WHEEL with each deposit to receive the following:
Deposit £10 to £19 to get one of these prizes: £5 bingo and/or games bonus, 5 free games or 5 bingo tickets.
Deposit £20 to £29 to get one of these prizes: £10 bingo and/or games bonus, 10 free games or 10 bingo tickets.
Deposit £30 to £39 to get one of these prizes: £15 bingo and/or games bonus, 15 free games or 15 bingo tickets.
Deposit £40 to £49 to get one of these prizes: £20 bingo and/or games bonus, 20 free games or 20 bingo tickets.
Deposit £50 to £99 to get one of these prizes: £30 bingo and/or games bonus, 30 free games or 30 bingo tickets.
Deposit £100 or more to get one of these prizes: £50 bingo and/or games bonus, 50 free games for any of hundreds of titles (maybe even the latest arrivals!) or 50 bingo tickets.
No online bingo website would be complete without a free bingo session or two, and…
…Posh Bingo has plenty to choose from. Every new player is treated to three whole days of no deposit bingo where there £300 will be won on each of those days. Funded players can look forward to even more games with increased prize pools:
Fancy Freebies: Prizes every 10 minutes between 8am and 10am, noon and 2pm and then again between 6pm and 10pm.
The Bargain Basement: £10 jackpot Every 30 minutes between 10am and 10pm.
£1,000 Monday Catwalk: every Monday at 10:30pm to win £100 for the one-line, £100 for the two-lines, £300 for the full house and 1TG and 2TG prize pots of £250 each.
Free Sunday £250: Plays at 9pm each Sunday.
Promotions & Bonuses
Back to articles
Your feedback
Please enter your comment.
Your comment is added.
Member's Feedback (1)
MadamMilly
03/30/21, 10:03:08 AM
Wagering requirements are on all bouses, but the bingo tickets and bonuses carry the lowest.