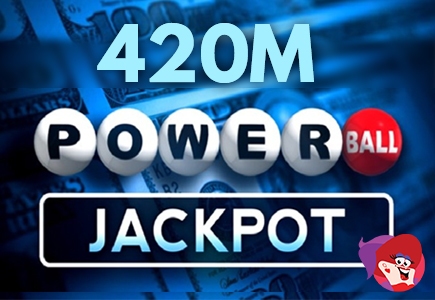 The Powerball jackpot generated nearly $420 (417) million for Wednesday night's drawing, since
lottery
declared no winner last weekend, and guess what? This past Wednesday night's drawing saw no winner yet again, skyrocketing the pot up to $455 million for the drawing this Saturday, March 17th, with a cash option of $269.4M. Accordingly, the Mega Millions jackpot also featured no winner, and now extends to a mouthwatering $345 for tonight's (March 16th) pool.
The winning numbers on Saturday (43, 44, 54, 61, 69) and decisive 22 had a cash option of $229.4 million. WABC-7 in New York and Fox 29 in Philadelphia broadcasted the intense drawing of Powerball which is offered in 44 states. At a price of only $2 per ticket, players share the odds of triggering the jackpot at approximately 292,201,338 to 1. The numbers are "far better" for hitting the second prize of $1 million dollars – roughly 1 in 11,688,053.
A New Hampshire woman who won $560 million in January has finally been granted permission by the judge to keep her identity a secret and stay completely anonymous. She claimed her lottery prize after asking to stay out of the public eye, stating that privacy interests must always prevail and triumph over the state's lotto rules. Her lawyer, William Shaheen settled for a sum of $352 million or $264 to be more precise after the taxes were deducted. A share of the prize in the amount of $249,000 has already been donated to numerous nonprofit and charity organizations, but the winner is planning to give away up to $50 million for good cause in the upcoming period.
The court ruled in favor of the woman due to an increased number of threats that are directed at lottery winners. However, the judge has approved some information to be publicly released such as the woman's hometown and the place where she bought the ticket – Reeds Ferry Market.
The online division of lottery games such as Mega Millions, Superena Max, Euro Millions and even Poweball are available at sites such as
PlayHugeLottos
, LiveLotto and Jackpot.com.
Sources:
Bill Gallo Jr. And Jeff Goldman.
"Powerball numbers: Who will win Saturday's $385M lottery drawing? Live results (3/10/18)"
, March 11, 2018.
Marwa Eltagouri, Eli Rosenberg and Cleve R. Wootson Jr.
"Winner of a $560 million Powerball jackpot can keep the money and her secret, judge rules"
, March 12, 2018.
Bingo Games
Back to articles
Your feedback
Please enter your comment.
Your comment is added.