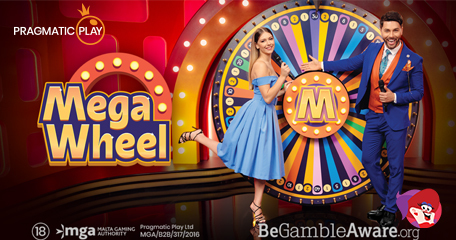 There's always a first for everything and for Pragmatic Play, they're no stranger to firsts. Recognised as a top-tier online casino developer, we were more than shocked when they entered into the online bingo industry with their hugely popular Bingo Blast variant. What followed was a highly successful bingo platform which was adopted by the likes of PlayOJO Bingo, Leo Vegas Bingo and many other popular operators.
So, where do you go from there? When you're up, you can only come down, right? Wrong! It can only get better and they're proving that they're among the very best when it comes to creating thrilling, immersive and interactive games.
Ditching the reels and bingo tickets for wheels…
…Pragmatic Play have announced their very first live casino gameshow – Mega Wheel, where players are thrown headfirst into the action through live, flawless HD streaming! The supplier's state-of-the-art wheel is expected to be a huge success and while it may look a little similar to the 'competition,' it offers plenty of thrills and cash spills for any level of bet!
Come on Down!
Studio lights, fun interactive live hosts and a floor for an unlimited number of contestants awaits Mega Wheel players. Upon the giant wheel sits 54 multi-coloured segments, all of which can produce epic wins! The aim of the game is simple; predict where you think the wheel will come to a stop to win the corresponding multiplier. Prior to each spin, a random multiplier segment (1x to 40x) will be chosen as the Mega Lucky Number and if you have a matching winning bet, your winnings could be boosted by up to a maximum of 500x.
Lena Yasir, Vice President at Pragmatic, said: "Game shows are truly a landmark in the relentless player-engagement focus that is the world of live casino. We're beyond happy to provide a product that's perfectly in line with the current market demand and to reveal today our take on the popular live casino game shows, the first only of many more to come. We believe that Mega Wheel is packed with entertainment value that appeals to a wide range of player profiles, which in turn delivers plenty on the potential for conversion."
Features include auto play for more of a relaxed gaming experience, a bet on all option which covers all 9 possible outcomes as well as advanced bets validation, a detailed history of betting outcomes and a chat feature which enables players to interact with each other as well as the hosts. Dramatically changing lights, sounds and state of the art animations are all guaranteed and it's available to play at PlayOJO and other major operators from today.
Source: "Ready for Showtime? Pragmatic Play Reveals Mega Wheel – It's First Live Casino Game Show". Pragmatic Play. November 10, 2020.
Bingo Society News
Back to articles
Your feedback
Please enter your comment.
Your comment is added.
lollipops321 11/12/20, 08:11:49 AM
Dream Catcher and Mega Wheel sound almost identical, but having looked at the latest invention, it offers something completely different; a significantly large multiplier bonus! 2x or 7x are offered with Dream Catcher – up to 500x with Mega Wheel, meaning more money for your bet!