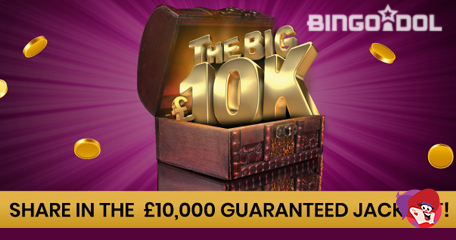 A thousand pounds – that's how much is up for grabs over at Bingo Idol on the 10th of every month. Guaranteed cash that will be won but you don't necessarily have to be lucky to win a share, and here's how; each month, you won't only find prizes awarded to those quick enough to call house, but there are fixed prize pots for those who were close to winning and then an even bigger pot for those who were quite frankly, closer to the start than the finish!
The 'Ace Club Big Bang' promo is by invitation only and if you're a registered player, you will be able to claim tickets via numerous promotions already running; the daily rewards are just one way of grabbing an invite. If you're yet to join, you only have a limited time to get in on the action…
…sign up, make a deposit of just £10 and receive £100 of FREE bingo tickets! Oh, plus you'll get 10 bonus spins to use on a game of your choice – where you can have a spinning good time on the house. The bingo tickets are awarded as follows; £50 in free bingo tickets to the Street Party room; this is open at 7.30pm daily plus the remaining £50 of tickets will be credited to the 'Ace Club Big Bang' game on the 10th.
Everything you win is wager-free at Bingo Idol and that is GUARANTEED! Whether you opt for a bonus which boosts your bankroll or claim free bingo tickets, the amount you win is credited as real cash for you to cash out if you wish; whether you win £10 or hundreds (or even thousands), you will find no red tape and no small print to stop you withdrawing your winnings.
Back to the Game:
On the 10th, the bingo room will open its doors slightly before the game begins at 8pm. If you have tickets into the game but are busy on the night, don't panic! Your tickets will be played through automatically as if you were there in the room and whatever you win – a main prize or a consolation prize for taking part, will be credited to your account.
We all know there's a prize fund of £10,000 on offer, but how is this shared? The biggest slice of the bingo pie will be awarded to the full house winner; this is a 90-ball bingo game after all; that's £750. For the two-lines, the prize is slightly less but equally as pleasing; £500, whilst any-one line will credit the winner with a generous £250.
Players who sit there eagerly willing their final 1 or 2 numbers to come out for the full house, will not go away empty-handed should they fail to appear; they share prize pots of £2,000 and £1,500 respectively. Can't even get close? Fear not! Bingo Idol have a huge prize pot of £5,000 which will be split between all remaining ticket holders…
…that's an impressive amount, I'm sure you'll agree. Remember, this game is free every month – where else will you find £10,000 in a single game of free bingo? Not forgetting the wager-free winnings too? All real cash, all fun and no catch – that's what you'll find at Bingo Idol!
If you're taking part, don't forget to let us know how you got on. Good luck!
Bingo Promotions & Bonuses
Back to articles
Your feedback
Please enter your comment.
Your comment is added.
JaniceJ 06/08/19, 11:06:19 AM
I joined and I have my tickets ready in the upcoming game. There's so many players taking part already, but at least you get something even if you lose.