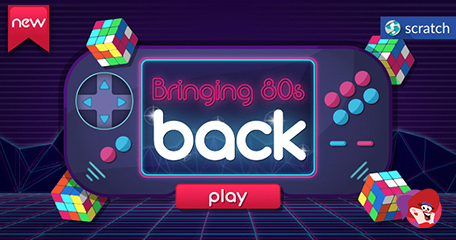 More Than Just Scratching to Win Cash!
Have you heard? Tombola Arcade have released four new themed scratch games, and each one comes with its own set of pays and bonus features. Joining Jungle, treasure, space and heroes is retro, lamps, chests and snapshot, and despite the four very different themes, they all have two things in common – you need reveal three identical symbols to trigger a win and there's a chance you could even get your hands on some free games too!
Bringing back the 80's with Retro, Britain's biggest bingo site has all the ingredients you need for 'thriller' of a gaming experience. 3D specs, cassette tapes, joysticks, headsets, roller skates, corded old-school controllers and boomboxes offer pays of up to £500, depending on your stake. Reveal 3 Trio symbols and it's to the free games feature for you!
Hiding behind the 9 Rubik's cubes could be any of those eight possible symbols. Stakes start from just 5p each with multipliers of 1x, 2x, 5x, 10x, 20x, 50x and 500x on offer. The return to player (RTP) is 98.25% and this is the amount returned to players relative to the amount staked. For example, if they take £100 of stakes, on average, they will pay out £98.25 in winnings.
Three's Never a Crowd Here
Will you be enchanted by the new Tombola lamps themed game? You will be when you learn you don't need to rub them to reveal a win! Simply select your stake and sit back to see if you have won a multiplier or free games! If you think chest's theme is anything like the pirates, think again! Hidden within an underground tomb is a fire-breathing dragon, one who owns a shedload of gemstones. If you can get in and get out (without being burnt to a crisp!), with three matching dazzling precious gems, you'll win a prize of up to £500 in wager-free cash! Again, if 'Trio' appears within three of those chests, you get three free games at your current stakes!
Snapshot aims to fly you to a far-flung destination…
…but before you can sit on a sandy beach with a cocktail in hand, you must tackle the departure lounge wait! Rome, Moscow, China, Egypt, New York, London, and Paris hide within the cameras, the most valuable being the France's Eiffel Tower. Free games are awarded on the presence of three 'Trio' symbols, only after your current game has come to an end.
What do you make of the new themes? Do you prefer bonus spins rounds over the unique bonus games of previous themes? Pirates features a treasure map pick-and-click feature. In jungle reveal all four panels and win the corresponding prize shown. Rounds 1 and 2 can award progression to the next bonus round (up to 3). Space is another pick-and-click style bonus only this time, you visit multiple planets (up to 3) with prize amounts increasing in value per round. Heroes offers the same style of bonus only with a Marvel-esque theme.
Lottery & Scratchcards
Back to articles
Your feedback
Please enter your comment.
Your comment is added.
HangingAround
07/26/21, 01:07:15 PM
Never seem to win much on the scratch games. Been playing since they launched five years ago and never won more than £50 (on £1 stakes).