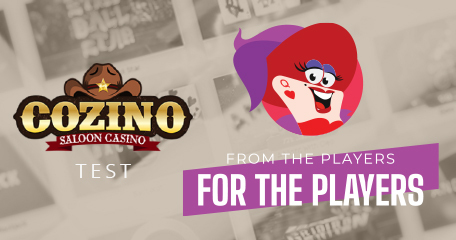 Since 2018, Cozino's wild west-themed online casino welcomed players with bonuses, daily rewards, big bonus bundles and bingo rooms. Boasting an impressive catalogue of slots, table games, jackpots, poker and immersive live casino games means players are spoilt for choice. We decided to put them to the From the Players for the Players test to see if they really do give "players an experience that's unrivalled" (from the 'About Us' page). How did they do? Stick around to find out!
Tester of the day: whikay_yy83
Registration Date: Monday 11th July
Deposit date, amount and payment method: £150 via PayPal on Tuesday 2nd August
KYC or other identification methods (if any) date of submitting and date of approving docs: Added on Monday 11th July and approved on 23rd of July
Withdrawal request date: Tuesday 2nd August, withdrawal request for £75.39p via PayPal
Withdrawal received date: £75.39p received (via PayPal) on Thursday 4th August
Registration
What started out as a mission to register at Cozino, make a deposit, play some games and withdraw, resulted in weeks of toing and froing.
On Monday 11th July, our tester registered at Cozino. A mobile phone is required to complete the simple sign-up form. An hour after registration, our reviewer received a call on her mobile – it was the Cozino welcome team reminding her she had not made a deposit yet. When asked about the welcome offer and how to decline it, the representative promptly hung up the phone!
Initial Deposit
Once the formalities were out of the way, whikay_yy83 attempted to make a deposit but was limited to a maximum of £80 without uploading ID and Source of Funds documents. As this was significantly lower than the £150 she wanted to deposit, she went ahead and uploaded the necessary documents.
Using the "upload documents" feature within her account, our reviewer was able to send proof of address, proof of ID and funding evidence. On Tuesday 12th July, her ID was accepted. Her deposit limit remained the same.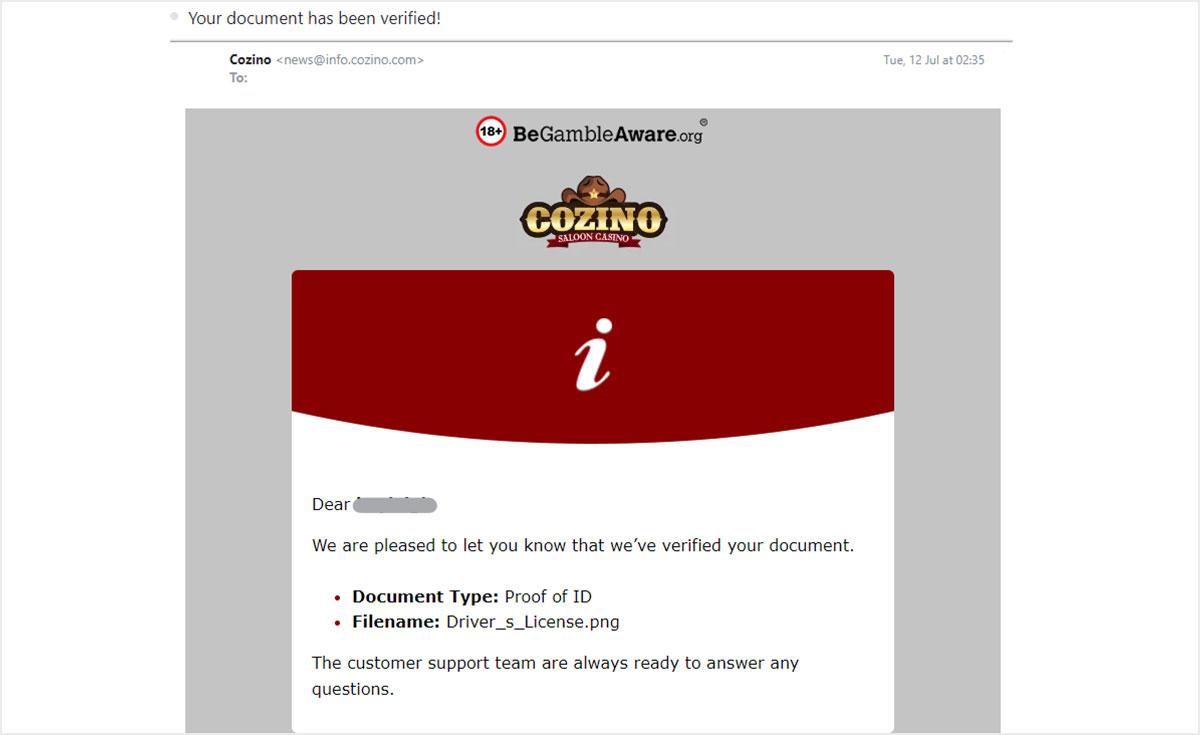 Thursday 14th July, three days after registering and adding documents to her account, the source of funds evidence that whikay_yy83 supplied was rejected. The email stated the reason for the rejection was due to the fact they needed to see where the funds were coming from, and this was despite the company name on the payslip and on the bank statements from a period of more than 12 months.

The result of this? That maximum deposit limit went from £80 to just £70 and eventually £60.
Emails regarding SOF were sent on the 12th and the 19th and no response came. On Friday 22nd July, SOF was rejected a second time. This same SOF evidence that was supplied to Cozino has been supplied to other operators with no issues, so this was an unusual roadblock.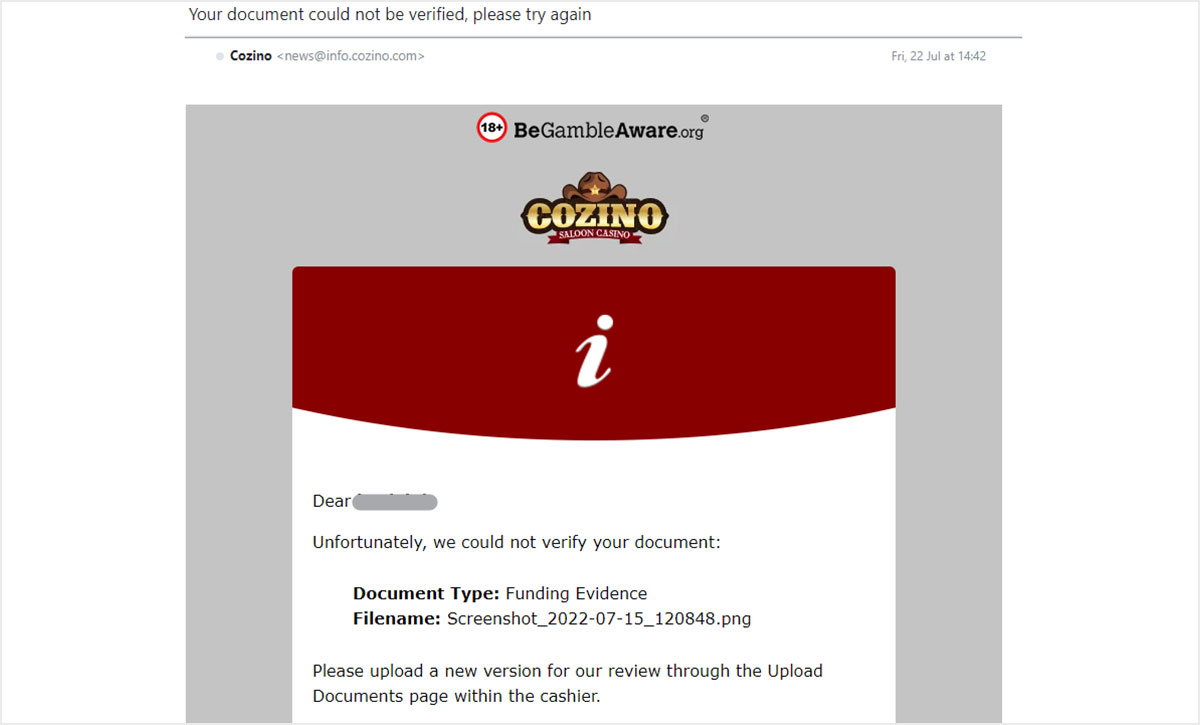 Despite the second rejection, that deposit limit was increased from £60 to £110. Our reviewer uploaded the SOF documents once again on the 22nd of July.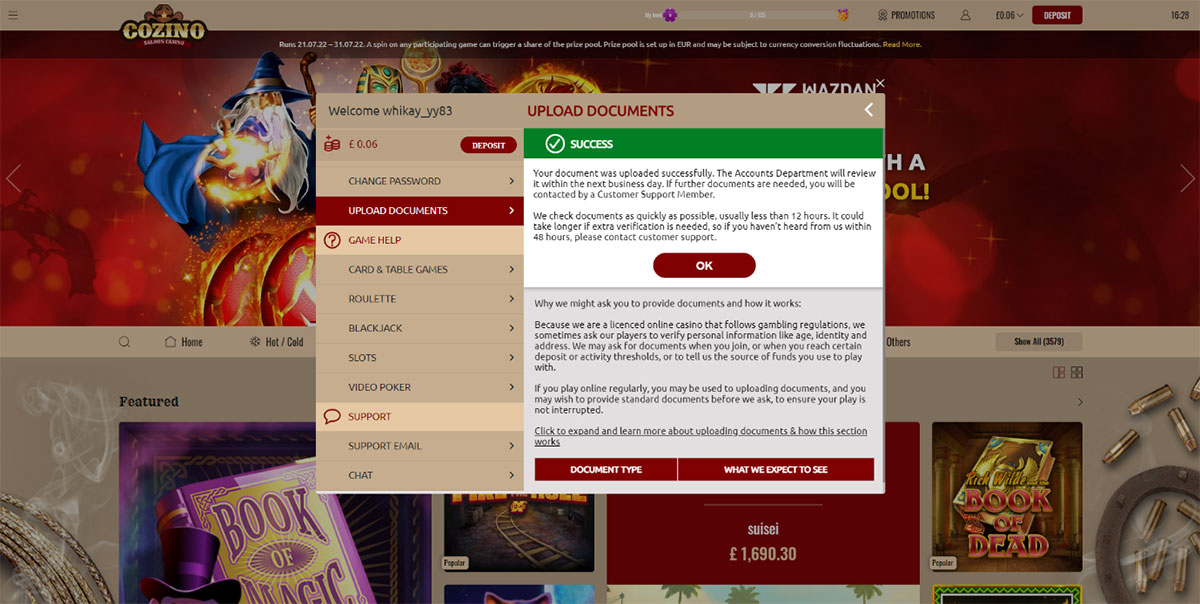 On Saturday 23rd July, the very first documents that were uploaded on the 11th July that were initially rejected, were now accepted, but that deposit limit had only increased by £10, going from £110 with "no clear source of funds evidence" to £120 with verified SOF documents. The email from Cozino support detailed a maximum monthly loss of £400. Our tester replied to the email requesting they look at the evidence supplied once again, as the deposit limit was way too low based on what she could afford.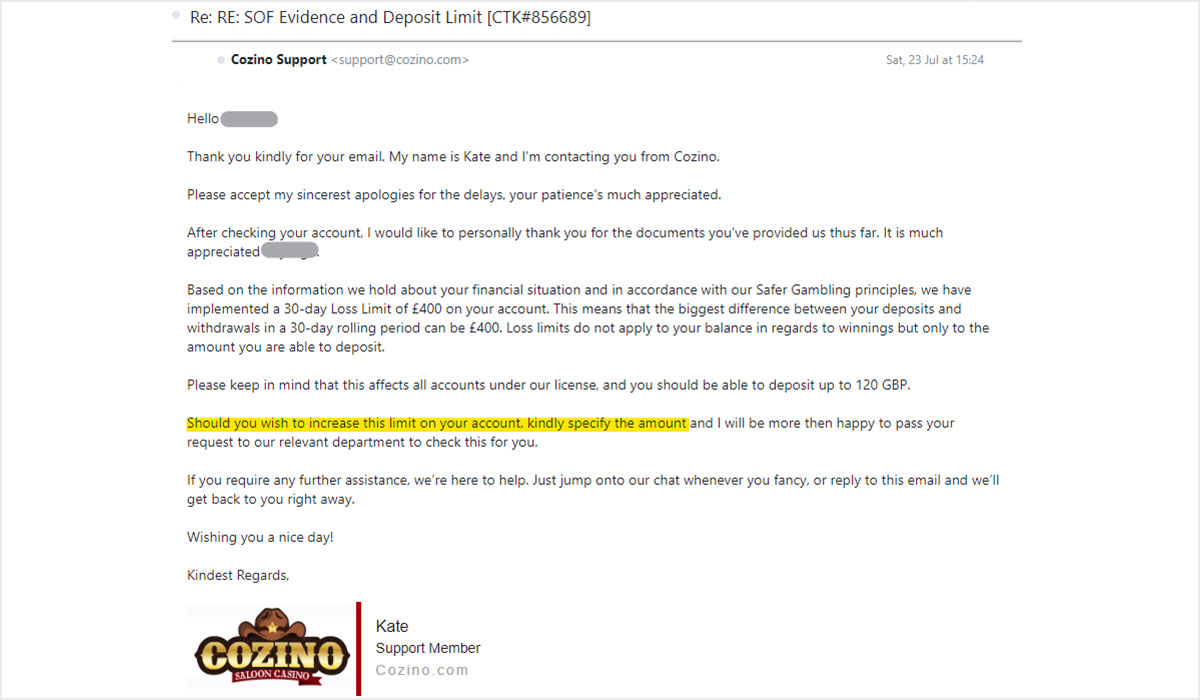 Several days after sending an email to support requesting the deposit limit be increased, no replies. Live support on the Cozino website is an automated chatbot, so she had no joy there. By chance she decided to check her Cozino account and her deposit limit had increased to £220 a day. To this day there has been no reply to her email that was sent on July 23rd. The only email to come was on July 28th alerting her to a duplicate document being sent some weeks earlier.
Finally, more than 3 weeks after registration, our tester deposited £150 via PayPal on Tuesday 2nd August.
Gameplay
Before jumping into the games, our tester of the day noticed she had received an automatic welcome bonus of £50. As wagering was high, whikay_yy83 wanted the offer removed from her account.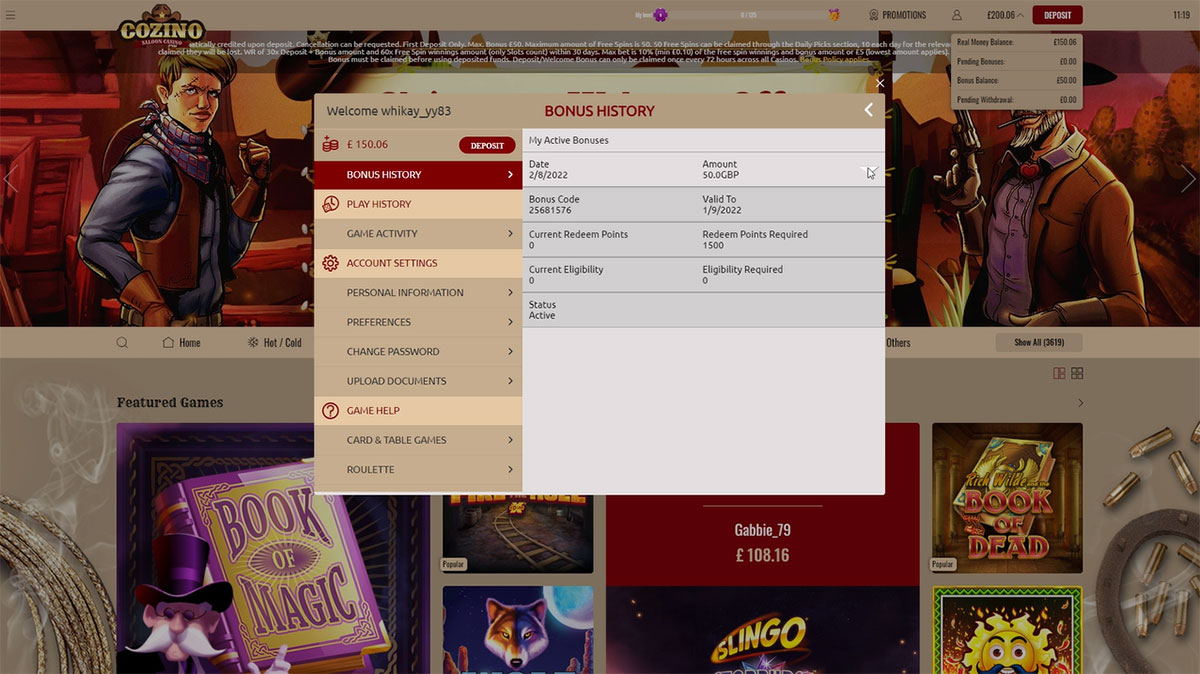 As per the terms and conditions, the wagering requirements on that £50 would result in a spend of £6K before being able to withdraw. That's 30x the deposit (£150) and the bonus (£50).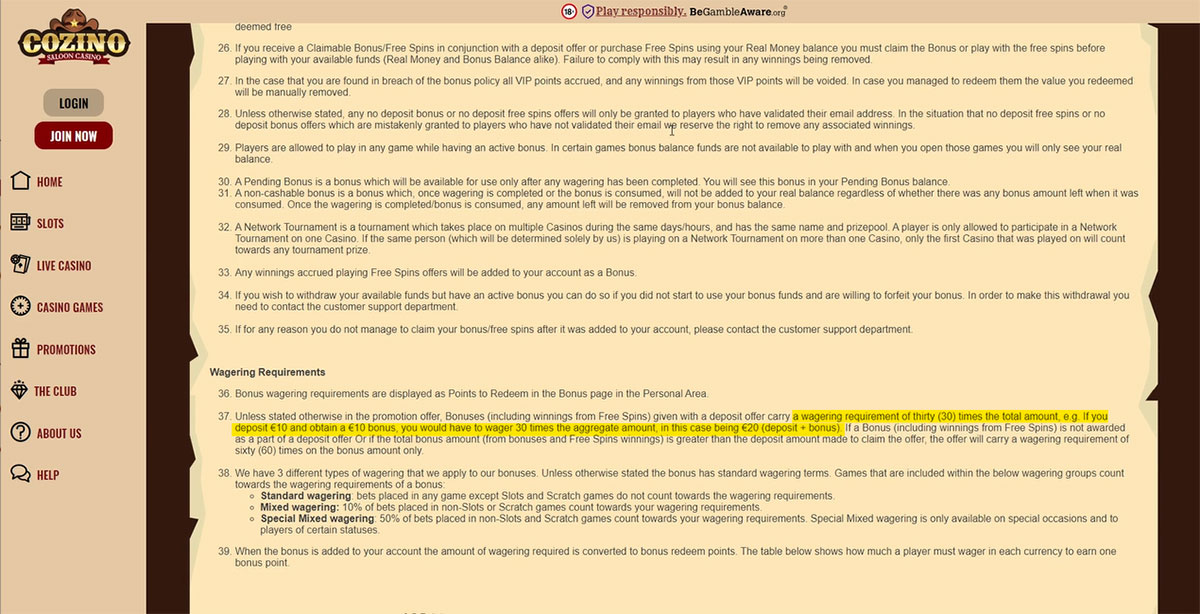 Heading to "chat", whikay_yy83 was able to do what she hadn't been able to do the many instances before – get connected in real-time to a live customer support agent! Instantly she requested the bonus be removed and was told it could only be removed if a single penny had not been spent. Great!

Was it as plain sailing as she thought? No, it wasn't! The customer support agent advised that the bonus had been removed, but it was active on our reviewer's screen. She was advised that it had been removed and to wait a minute. Five minutes later it was still showing.
Heading back to live chat, the support agent said it had been removed for a second time and was about to close chat when our tester requested that she stay on live chat until that bonus had been removed from her end. A second time the agent told her that the bonus had gone but it was still showing as active within her account.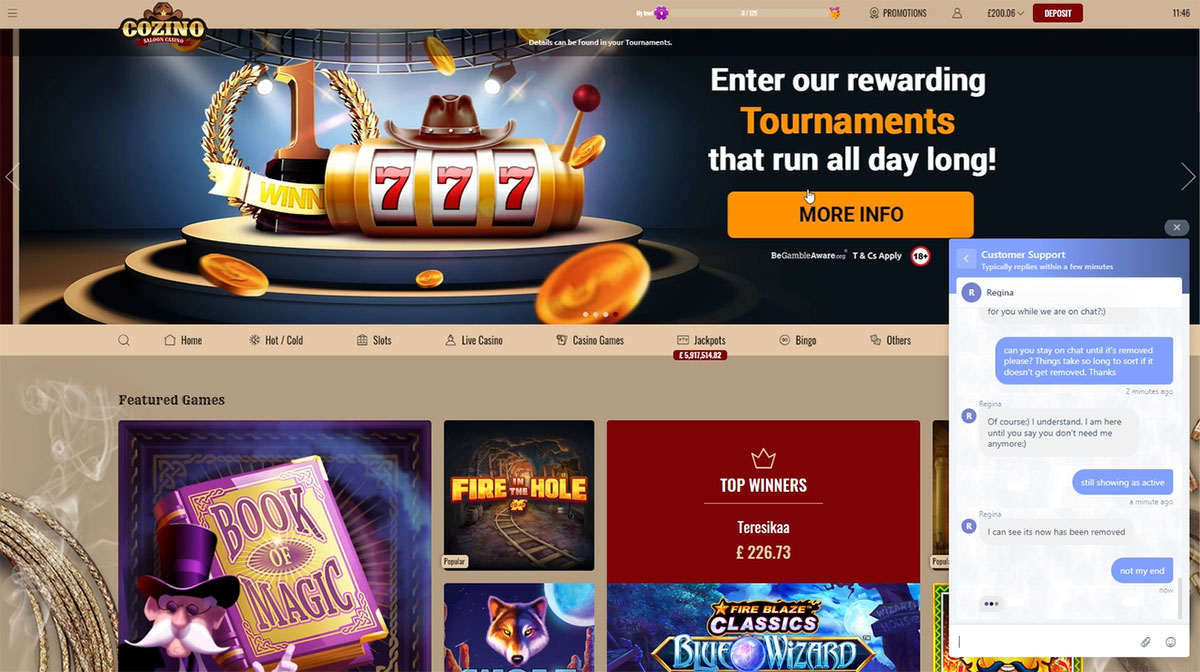 After ten minutes and being told twice the bonus had been removed from her account, the £50 bonus was eventually removed. Now she could get on with playing bingo games!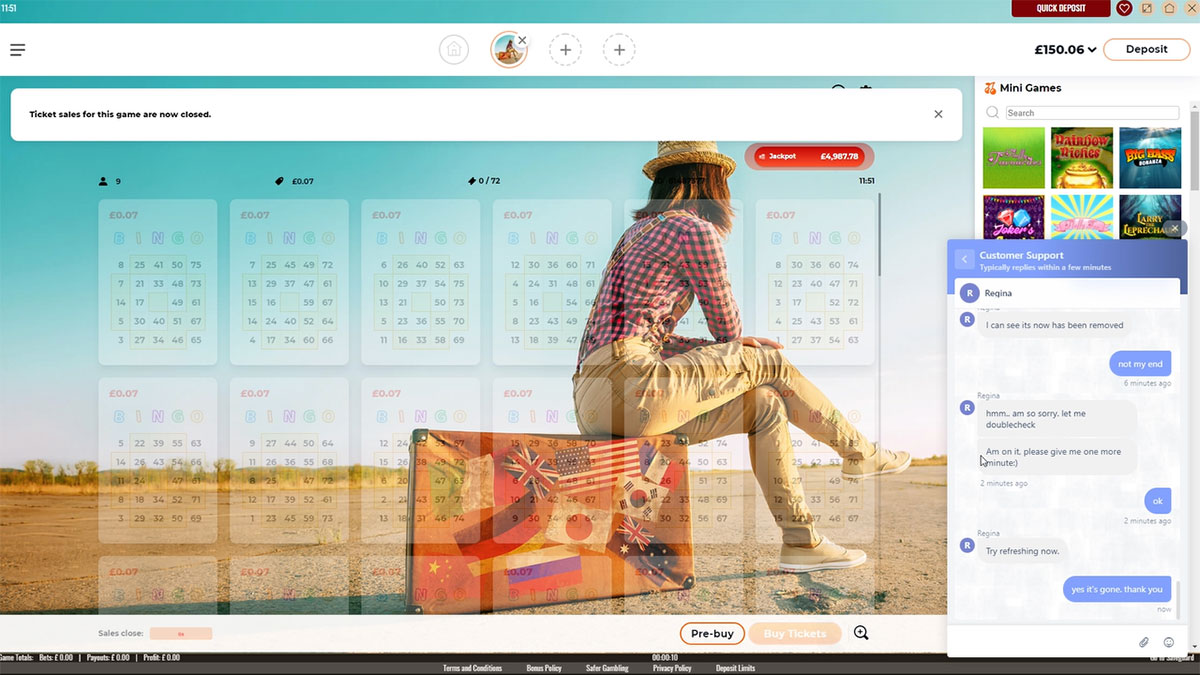 Cozino's bingo product is run by Pragmatic Play with a wide choice of rooms to play in. Sadly, not all rooms are open 24/7. Many are open once a day, weekly or monthly. There's still a good choice of 90-ball, 80-ball, 75-ball and 30-ball bingo games to play. The best time of the day to play is off-peak, this means less busier periods and more chances to win, but due to those visitor numbers being low, the prizes are too. Unless you play in the Drop Pots room that is, with a trio of jackpots with rising ball counts to ensure there is a winner!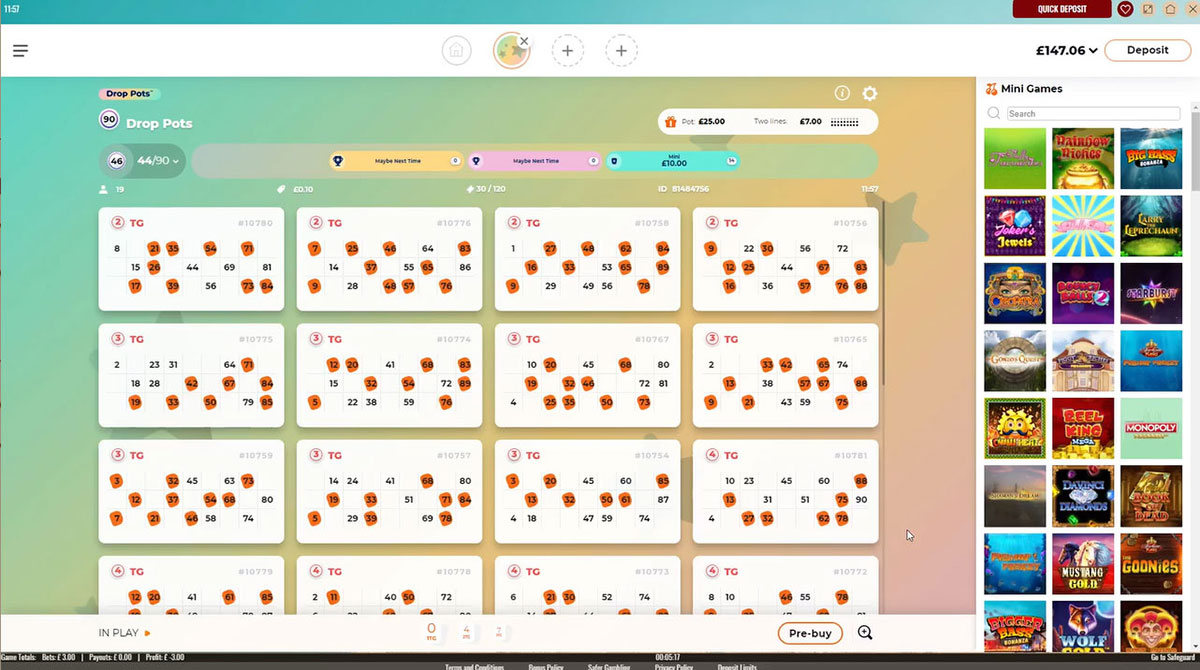 The jackpot room is what it is – a room with jackpots, only unlike the Drop Pots room, this one only delivers jackpot prizes when players call within a set ball count. That's probably why the jackpots are far grander!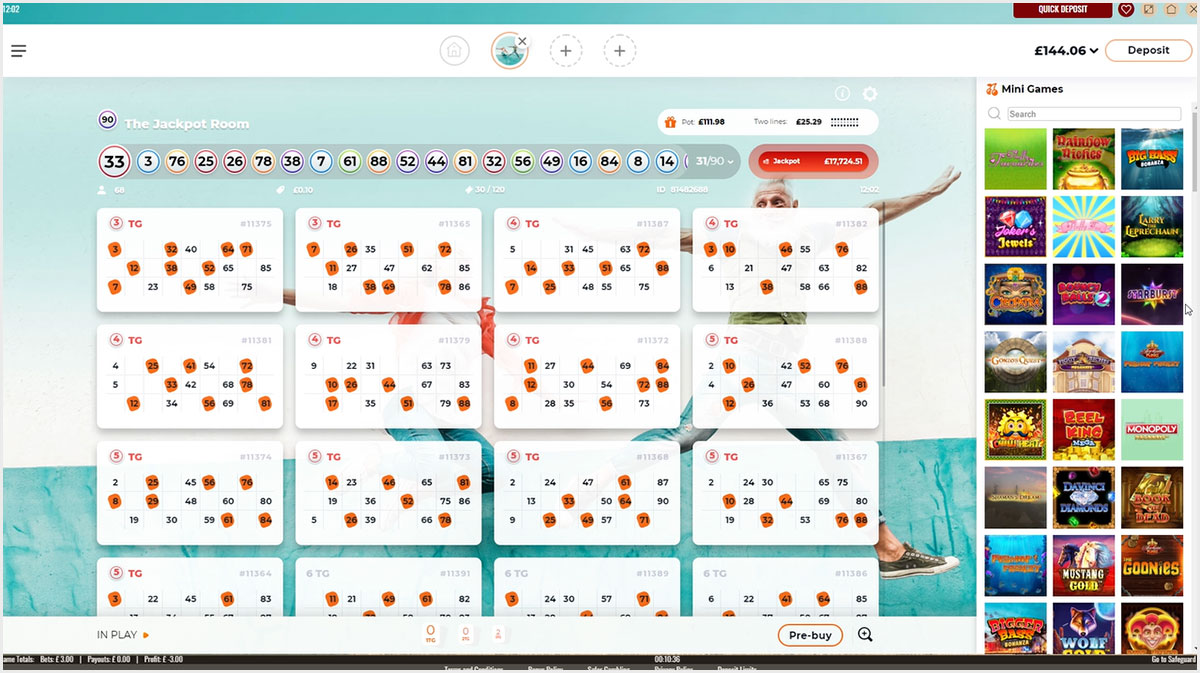 The jackpots continue in the Country Roads room, where coverall bingo games can award tens of thousands of pounds. Maximum tickets in this bingo room are restricted to 72 per player and vary in price. The less busier it is the less the tickets cost, the busy it is, the more they cost and the bigger the prizes!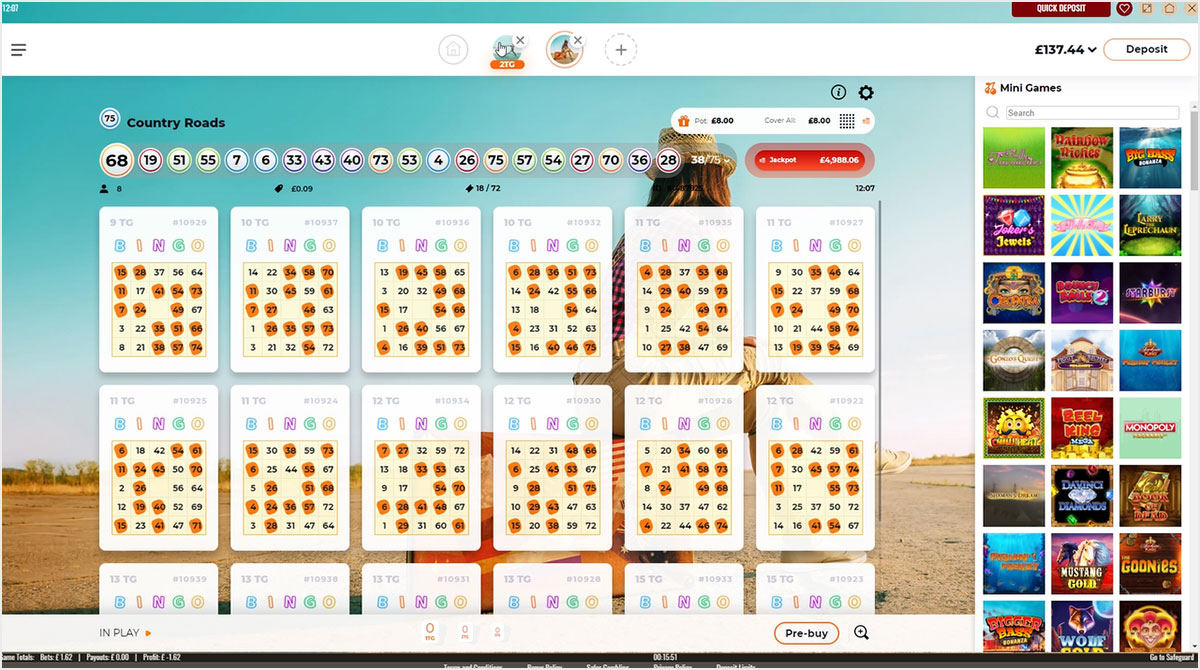 Pragmatic Play's very own bingo game, Beachball Blast as its known in the summer or Snowball Blast in the winter, delivers 4x quicker games through a series of blasts. Once the bingo game begins an explosion takes place and scores of numbers from 1 to 90 are pulled at random. If you have these on your ticket(s) they will be marked off automatically. A second blast takes place again choosing random numbers before the game gets underway. It's heaps of fun any time of the day or night.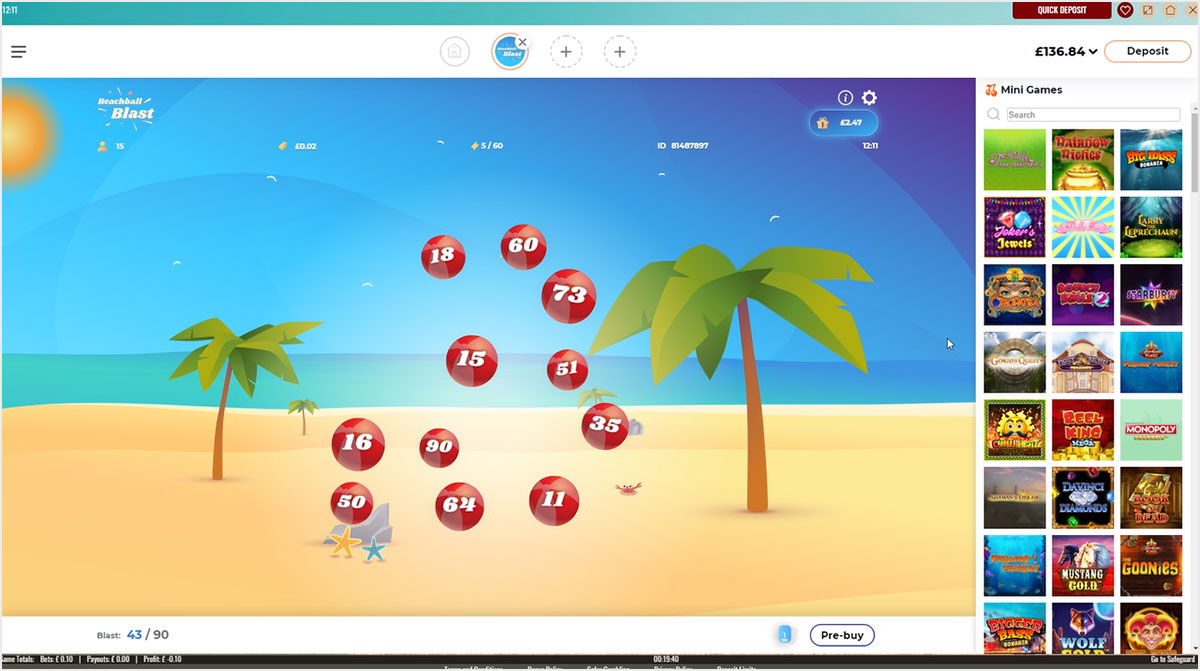 Cozino bingo players can play in up to three bingo rooms at once and enjoy side games. Each of the bingo rooms with active tickets in play will be displayed at the top of the lobby along with how many numbers you need for a win.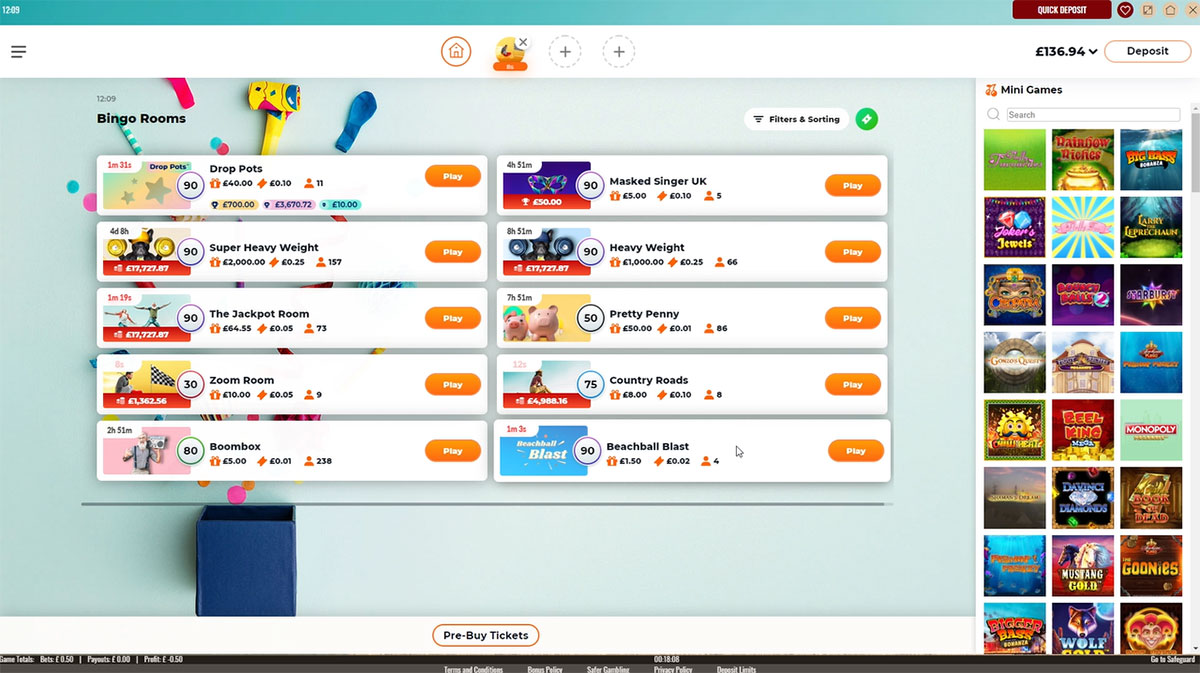 Cozino is home to some of the biggest live casino games, including the newly launched Gold Bar Roulette by Evolution, and our reviewer wanted to see if she could scoop golden wins. Sadly, she didn't.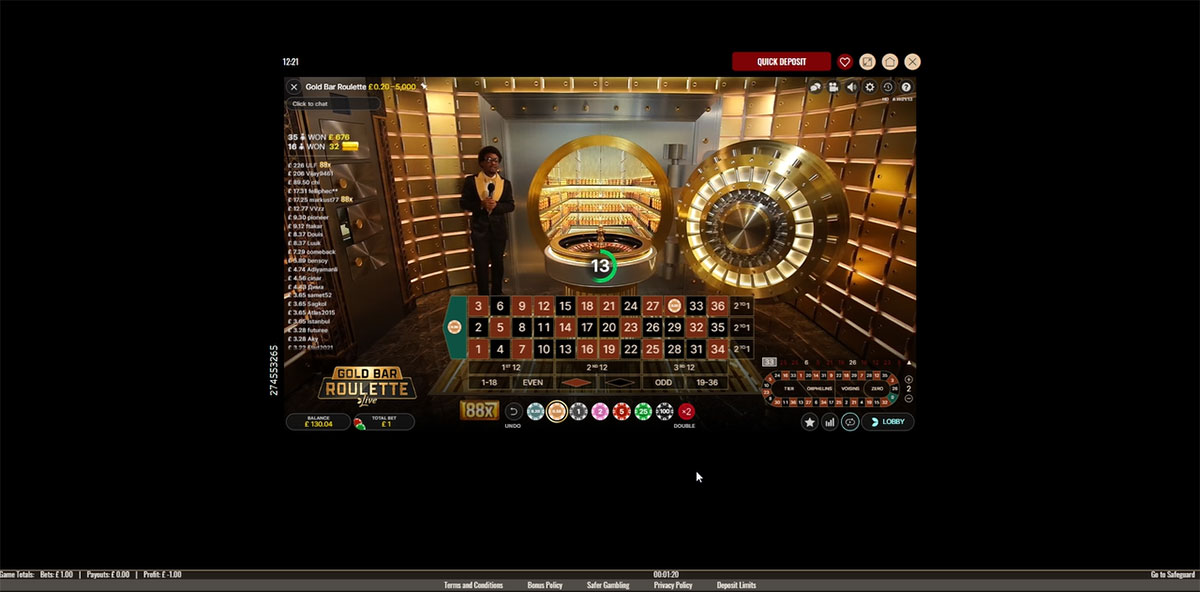 Boasting a catalogue of more than 500 slots from big names such as Red Tiger, Play'N Go, Blueprint Gaming and more, our reviewer was spoilt for choice. Her first port of call was Big Bass Splash by Pragmatic Play. Sadly, she couldn't land a catch of a lifetime, or any bonus features.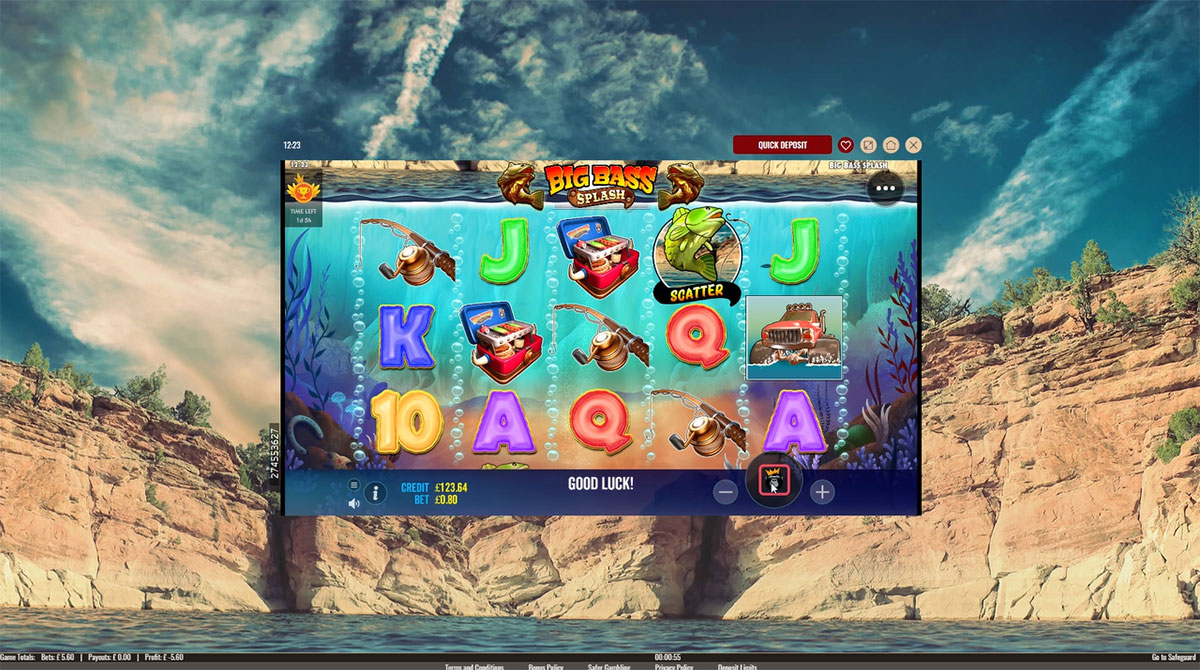 Requesting a Withdrawal
On Tuesday 2nd August, whikay_yy83 decided to cash out her remaining balance. Heading to her account, she requested to withdraw £75.39p. Two days later, on Thursday 4th August, her withdrawal was processed and her funds were in her PayPal account.
How Does Cozino Stack Up?
Let's start with the good news. New players can decline the welcome offer by contacting support, however, you may be kept waiting if it's not during business hours. PayPal withdrawals are prompt with processing completed within 48 hours in this case. The game selection is quite good.
Now the downside.
Support emails unanswered
Live chat not available 24/7 and hours of availability not posted
Documents were rejected and later accepted
Three weeks to manage a single £150 deposit
This information concludes this extensive test as part of the project From the Players, For the Players. If you are a member of Cozino or consider making a deposit, we hope this report provided some useful information.
From the Players for the Players
Back to articles
Your feedback
Please enter your comment.
Your comment is added.