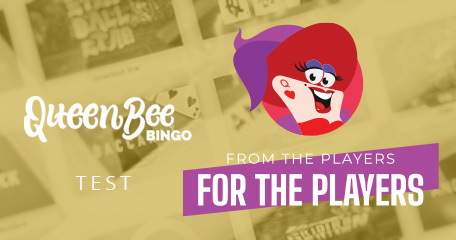 Queen Bee Bingo claims to offer bingo rooms that will "have you buzzing", so we decided to see if for ourselves! As home to wager-free promotions and 24/7 bingo and games, there's no denying this online bingo site is a 'hive' of activity. Does it have a sting in its tail? We sent in our bingo reviewer to make a deposit, play some games and make a withdrawal, but did it all go to plan? Stick with us as we find out!
Tester of the day: BusyLilBee
Registration date: 3rd May 2022
KYC Verification: Not required on this occasion
Deposit date, amount and payment method: A deposit of £150 was made via Visa Debit on Tuesday May 3rd
Withdrawal request date: Request to withdraw £75.35p was made via Visa Debit on Tuesday 3rd of May
Withdrawal received date: The withdrawal of £75.35p was processed and received via Visa Debit on Thursday 5th of May
Registration
On Tuesday 3rd of May, our tester of the day registered at Queen Bee Bingo, a 4-step process that was completed in less than a minute. Step 1 was to verify player name, gender and date of birth, step 2 was address and currency, step 3 required an email address and mobile number, and the final step was to choose a nickname and password before typing in an occupation.

Even though a mobile phone number was submitted by our reviewer, it was not a requirement of the registration process at Queen Bee Bingo.
Initial Deposit
The tester headed to the cashier to make a £150 deposit with Visa Debit as the chosen payment method. A promotional code was not used, and the deposit was successful within the reviewer's banking app.

Gameplay
Heading to the Queen Bee Bingo lobby, BusyLilBee was instantly drawn to the upcoming games. Start times, the number of players in the room, ticket price, bingo variant, prizes and jackpots were stamped on each room, which is perfect if you're looking for a specific bingo type.
Our reviewer wanted to give herself the best possible chance of a win so sought out the rooms with fewer players. Her first port of call was the Wonky room with prizes of up to £30 for just 5p a ticket. There were 24 players competing for the (fluctuating) cash with just the one prize up for grabs. Although there was a chat feature, a chat host was unavailable which meant no chat games. Despite the low number of players in the room, BusyLilBee didn't manage a win.

The next room that instantly appealed to our reviewer was the Mystery Jackpots room. A pop-up appeared on-screen when entering the room detailing how to play. Having never played in this room before she was a little worried it may be too complicated but after one game she realised it was just a 75-ball bingo game with one mystery prize going to the full house winner. A random prize of between £10 and £500 is chosen after ticket sales have closed making these games super exciting.

BusyLilBee won her first prize in the Hit-52 room, a bingo game featuring playing cards instead of bingo balls. Each "ticket" (5p) features five cards from a standard deck of playing cards. The minimum number of tickets you can have in play is 1 and the maximum is 72. The prize will go to the player(s) who matches a hand of five cards first. Six of clubs turned out to be very lucky for our tester of the day.

With it being "off-peak" (less busy period), there were fewer bingo rooms open for BusyLilBee to play in. That being said there was still plenty of choice and she also had the option to buy tickets in advance, tickets to the £1K Thursday game or the £600 Monday special.

Soon enough BusyLilBee's beginner's luck reared its head once again when she won two one-line and a two-line prize in the Fun'in 90 room, but she just couldn't get a full house or win the progressive jackpot of more than £1,200.

Queen Bee Bingo is also home to hundreds of top-tier slots from Yggdrasil, Pragmatic Play, Red Tiger Gaming, Microgaming and many more, with a huge selection available to play as side games in all bingo rooms. A far greater choice of titles with a bigger gaming area can be accessed independently from the bingo via the main games lobby.

When selecting a game, the total balance which almost always appears to the top of the screen vanishes but is clearly visible within each game, along with any wins, how much money has been wagered plus how long you have been playing, all in aid of for safer gambling.

Requesting a Withdrawal
On Tuesday 3rd of May, BusyLilBee requested to withdraw her entire remaining balance of £75.35p. There were three steps to complete this process including entering the cashout amount, confirming the withdrawal method (Visa Debit) and confirming the transaction.

Withdrawals can be monitored within the cashier at Queen Bee Bingo.
On Thursday 5th of May the withdrawal was completed and the funds (£75.35p) were received in our reviewer's bank account, a process taking some 48-hours from start to finish.
How Does Queen Bee Bingo Stack Up?
Queen Bee Bingo offers daily wager-free surprises to its players, as our reviewer found out the day after making her deposit. When logging in to check the progress of her withdrawal she had a message alerting her to bonus spins. All spins (when converted from points to cash) were credited to her real money bankroll.
Without having to complete KYC verification by uploading photographic ID or utility bills, the result was a faster withdrawal. There was no need to contact support and if there was, live chat was available. The choice of games was great with some big money freebies offered, tickets to which can be "claimed" in advance. Our reviewer found no faults with Queen Bee Bingo during the test.
The withdrawal was completed and received within 48 hours via Visa Debit.
This information concludes this extensive test as part of the project From the Players, For the Players. If you are a member of Queen Bee Bingo or consider making a deposit, we hope this report provided some useful information.
From the Players for the Players
Back to articles
Your feedback
Please enter your comment.
Your comment is added.
Bixy
06/20/22, 10:06:09 AM
The report deserved the attention. The casino is good enough to be considered. I am amazed that KYC verification was not needed and the outcome was a fast payout.