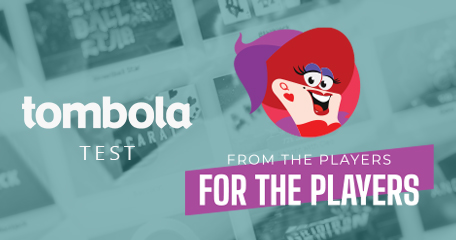 How did Britain's biggest bingo site, Tombola, do when we sent in our reviewer to give them the From the Players for the Players treatment? Find out here!
Tester of the day: uluckybuddha
Registration: existing player
Deposit date, amount and payment method: Deposited £150 via Visa Debit on Monday 18th July
Withdrawal request date: Withdrawal request made for £75.21p via Visa Debit on Monday 18th July
Withdrawal received date: On Monday 18th July, the withdrawal for £75.21p was received via Visa Debit
Registration
New players to Tombola can look forward to one of the fairest welcome offers on deposits £25. A fifty quid bonus will be activated once that initial deposit has been made, with all winnings guaranteed to be credited as cash. The bonus money cannot be withdrawn but anything you may win from your bonus will carry zero wagering requirements.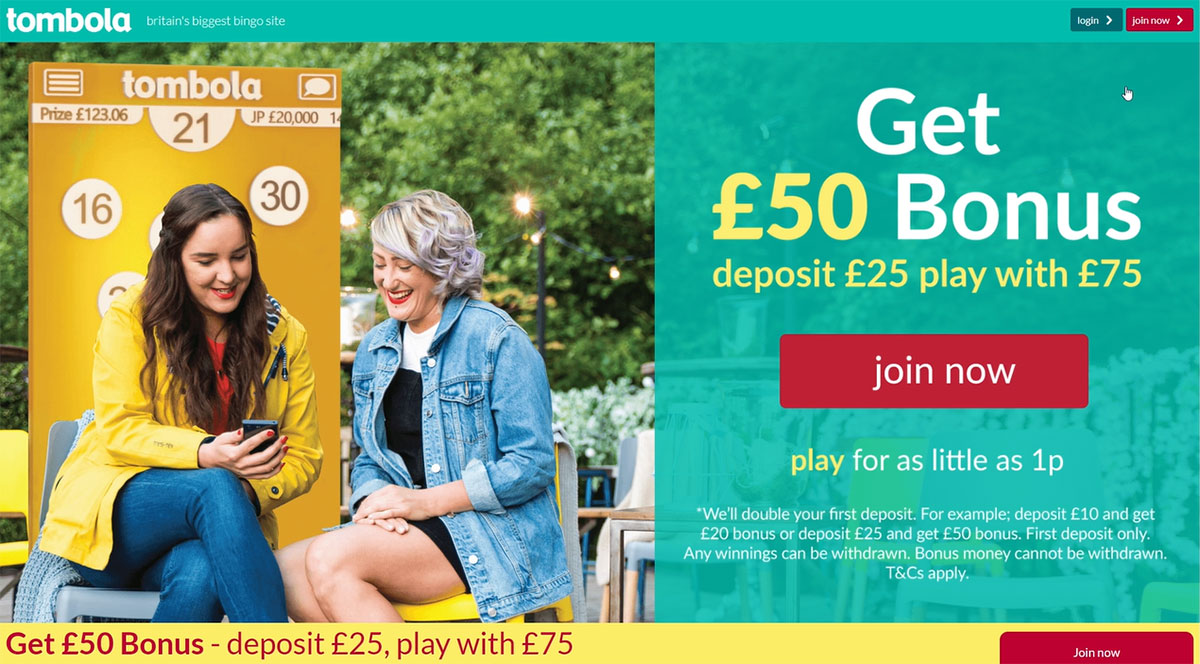 With our reviewer being a 'regular' at Tombola since day one, she was already registered. Britain' biggest bingo site did a 'soft launch' in December of 2005 using the Sun Newspaper as a brand. Popping in her username and password granted access to a wealth of exclusive games where bets would never cost more than £2.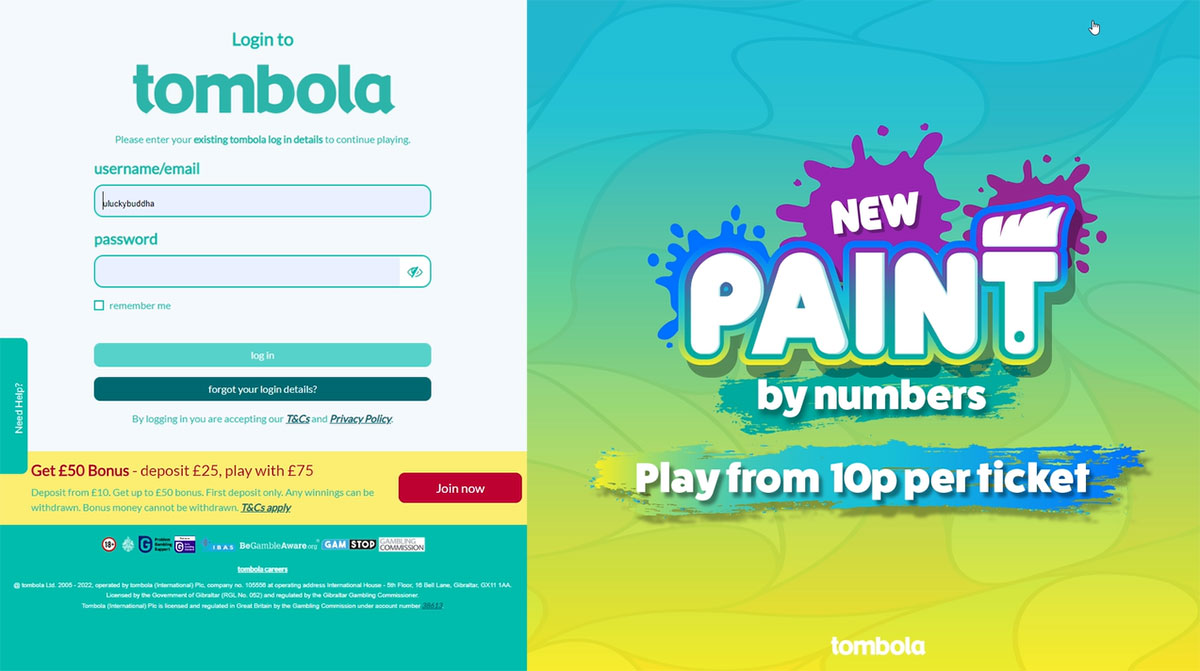 Initial Deposit
To play any of the unique bingo games at Tombola, real money wagers are needed, unless you happen to have a chat game bonus knocking around in your account. Uluckybuddha was all bonused out which meant a deposit was needed. Our tester did not have any bonuses available to her and proceeded to make a deposit.
PayPal is not available to all customers. The longer a member has been with Tombola, the more likely they are to be offered PayPal as a deposit and withdrawal method. Not that this matters nowadays as the bingo site upgraded their withdrawal process in 2021 to deliver much faster withdrawals, but only if you're a Visa Debit card customer.

Our reviewer deposited £150 via Visa Debit on Monday 18th of July. The process took seconds as her payment methods were stored in the account for future use.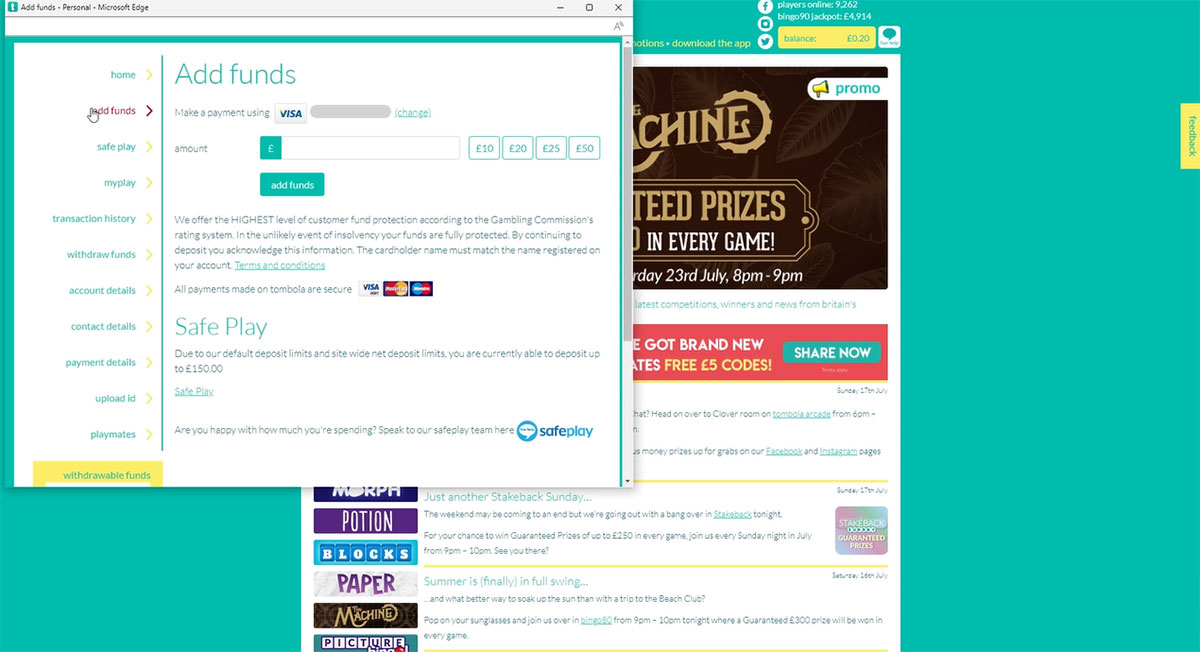 Gameplay
The first game on our reviewer's list was the newly launched Paint by Numbers. Numbers are drawn at random and each of those numbers is assigned a colour. If the colour/number matches any of those on the image (ticket), those segments are automatically coloured in. Basically, it's a 45-ball bingo variant delivering a full house prize to the player(s) who mark off all fifteen numbers first. Do it in a set number of calls to win a jackpot. Players can draw on their ticket before the game begins.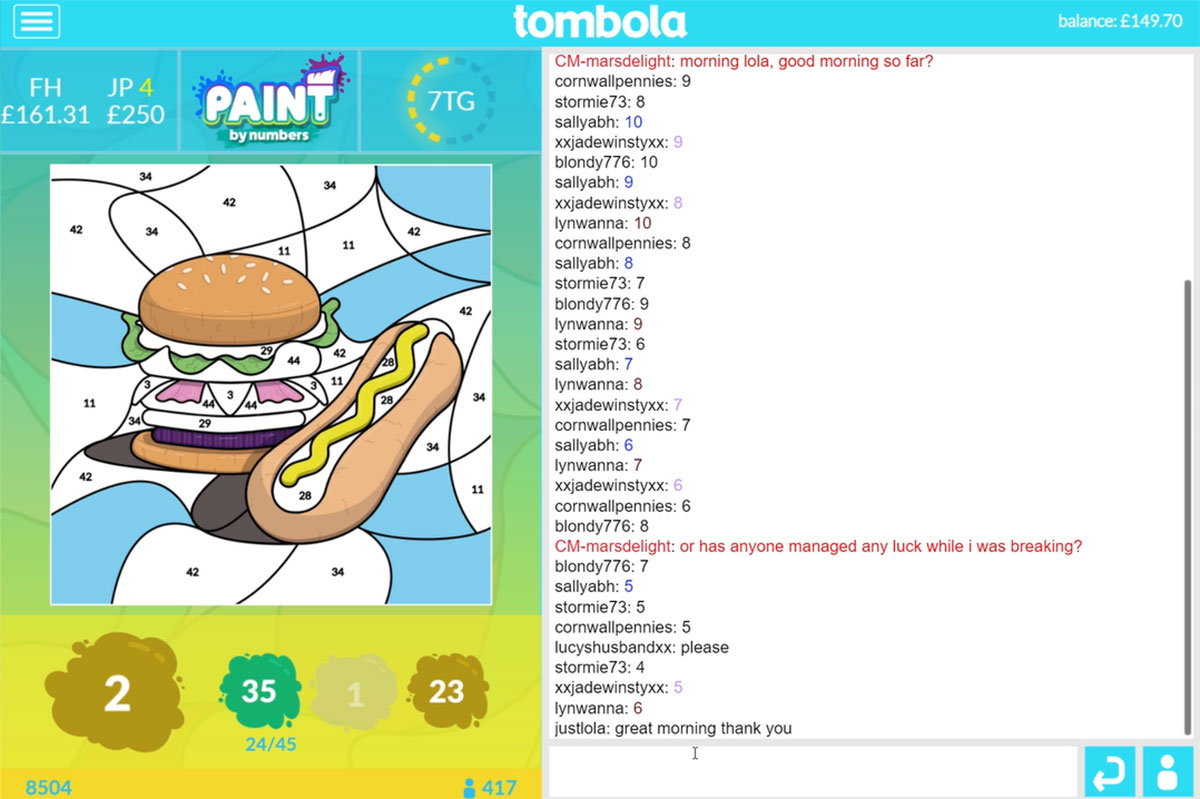 Before moving on to the next bingo game, our reviewer wanted to see if her luck was in with the no deposit daily game, Free Form. After receiving a 4-digit code via text message, access was granted. The simple feature offers prizes of up to £5K to players who match four colours. Uluckybuddha failed to win even the smallest of prizes – 25p.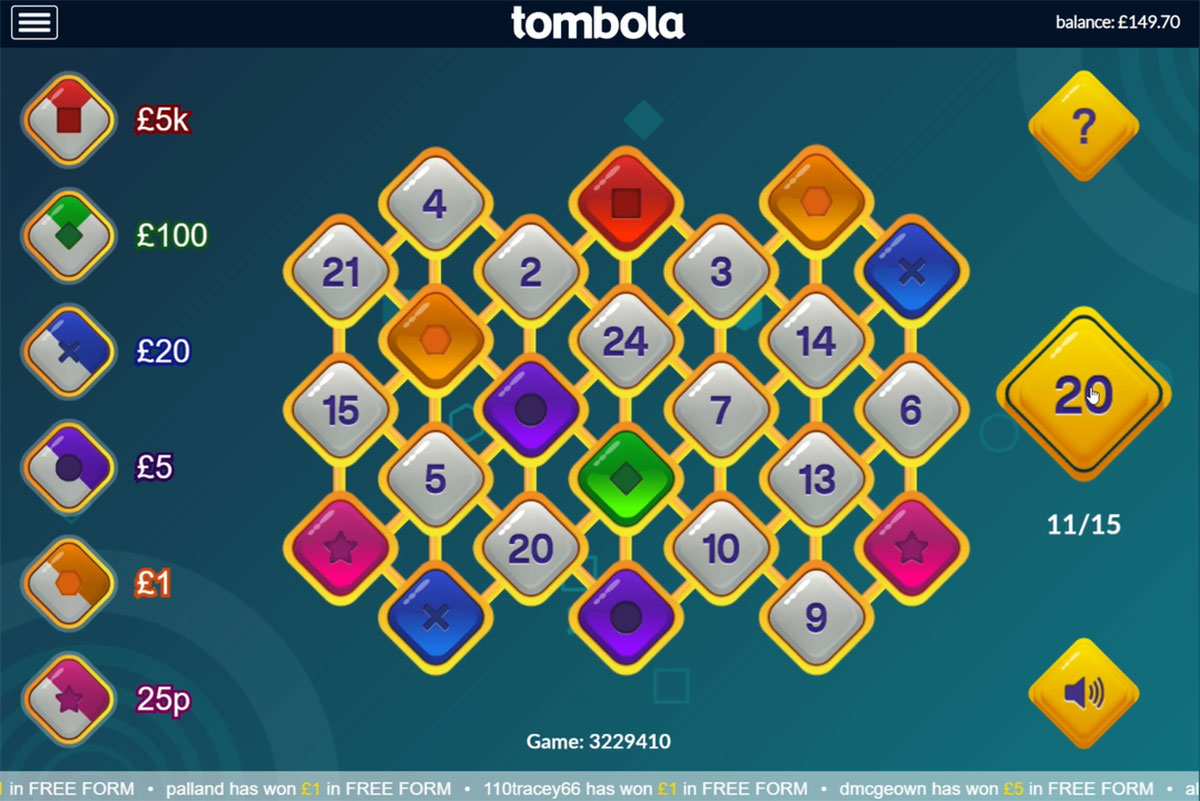 Another new game arrival to Tombola is Reel Bingo, the only game combining bingo and slot game fun! Each 35-ball bingo game delivers a line prize (column) and a full house with the potential for a bonus game prize too. A trio of fruity combinations are drawn at random via a 3-reel, 1 win line mechanic. Match all five in one column before anyone else to win the line prize. Match all ten first to win the full house prize.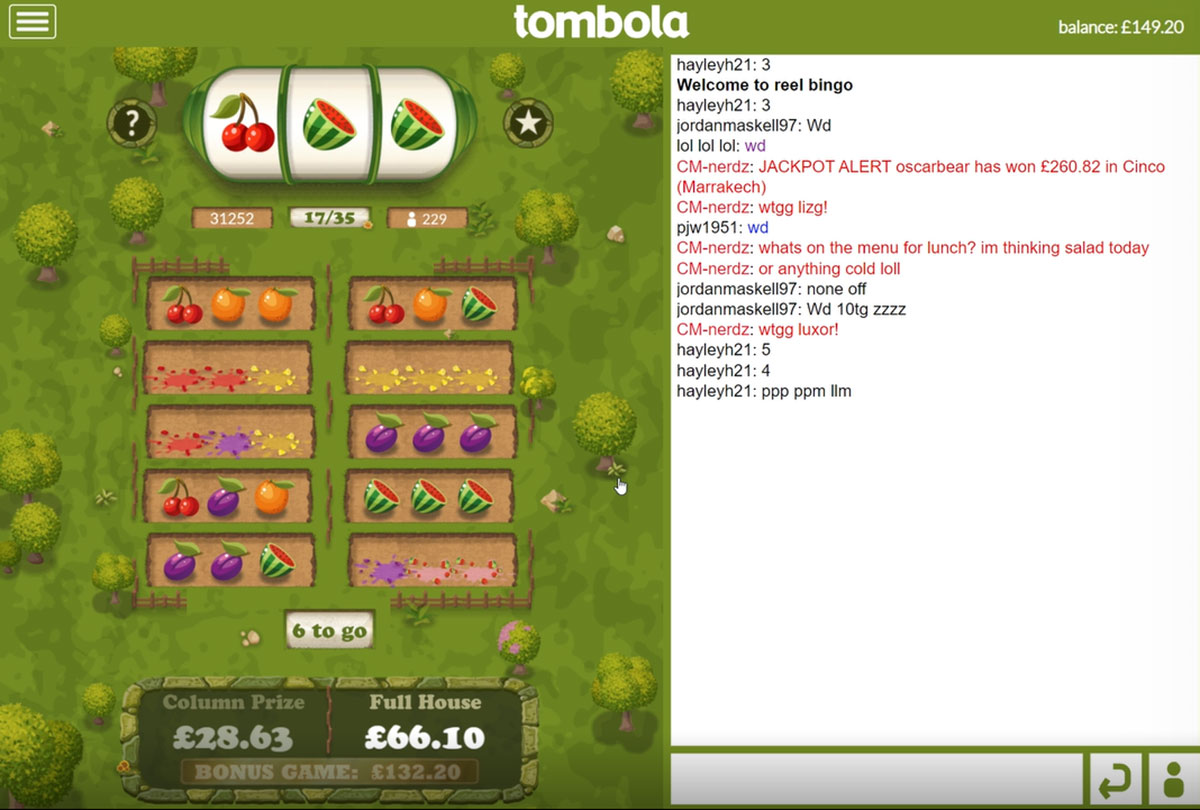 If three overlay BAR symbols appear on that reel engine, the bonus game is activated and will play out at the end of the current game. The prize (double that of the full house) goes to the player(s) who collect 10 BAR symbols first. A fun feature to this one is the fruit smash game available prior to ticket sales closing. Squash as many fruits as you can to claim bragging rights in chat.
Prefer more traditional bingo games? Bingo 90 is right up your street and comes with max tickets totalling just £2. A massive progressive jackpot can be won by calling a full house within a set number of calls and there are often linked up games for increased prize money.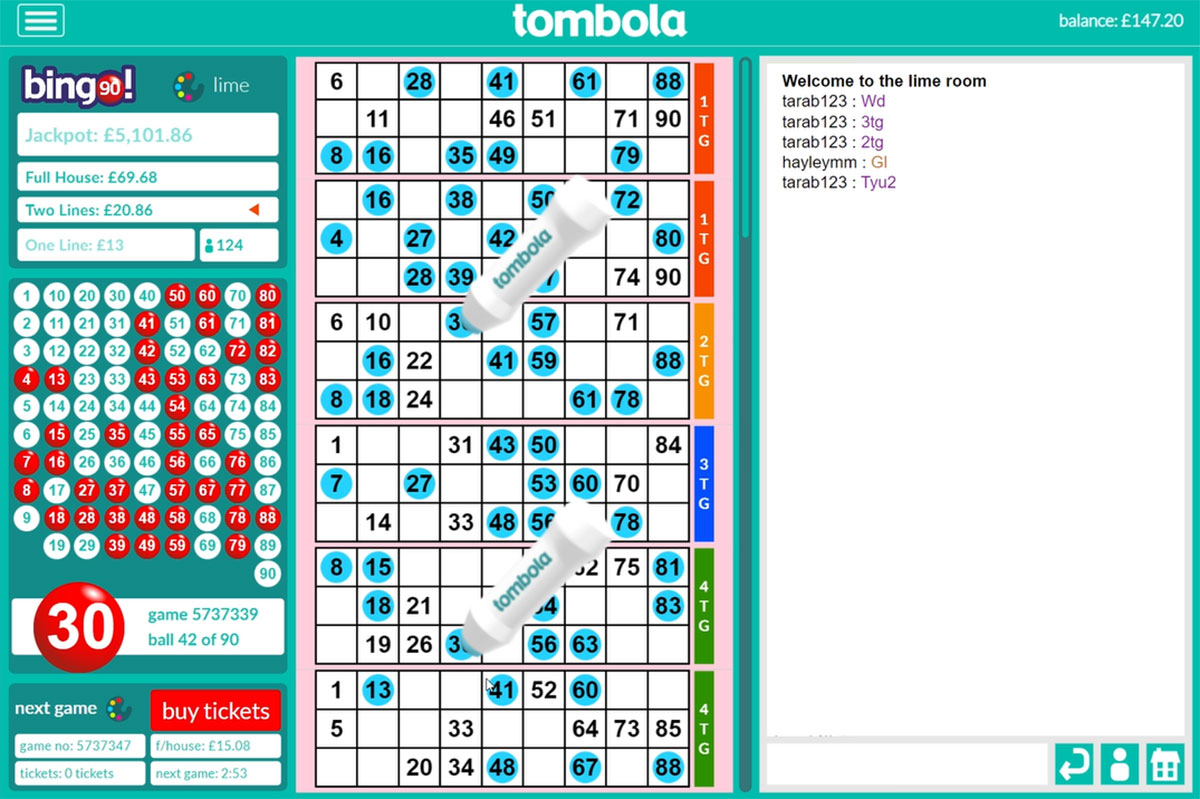 Bingo Lite is another 90-ball bingo variant only this time max stakes will set you back just 40p. Lower ticket prices but still decent prizes to be won. The full house during off-peak times was £233.45p with a progressive jackpot of £700.97p also available to be won.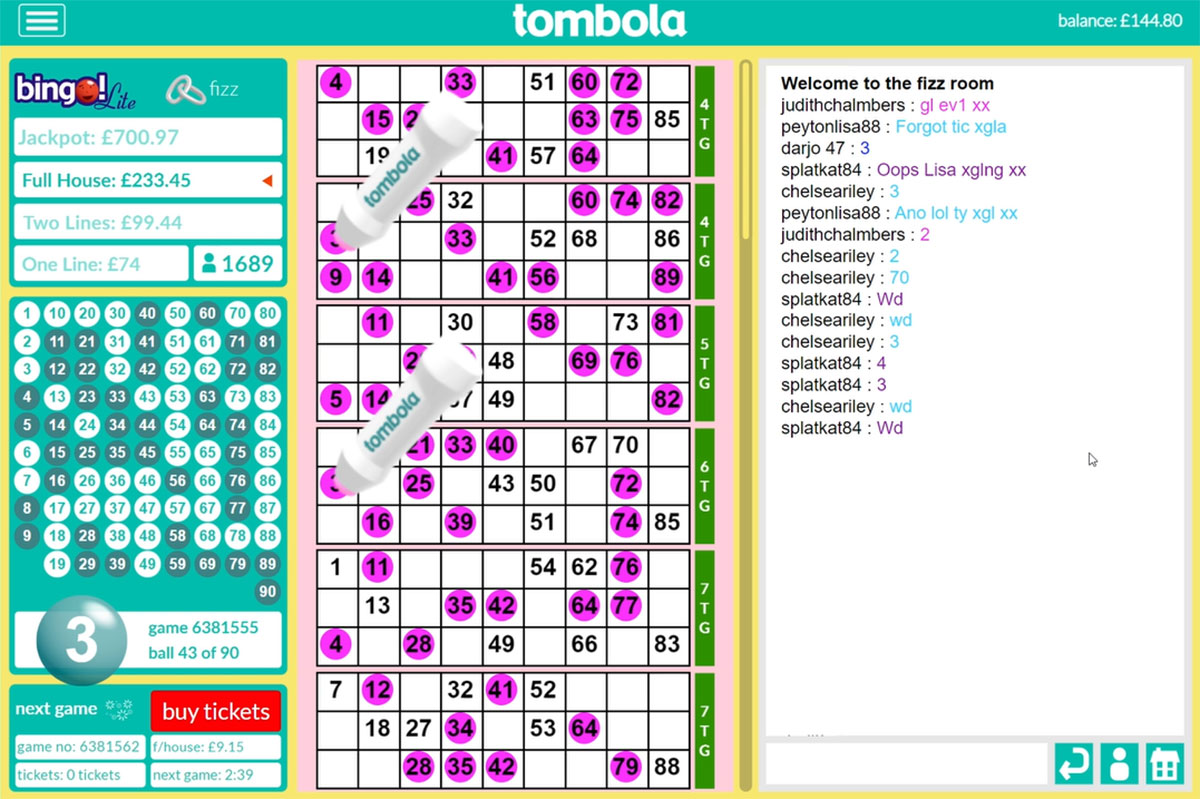 CINCO, a card-based bingo game, is another popular bingo game at Tombola, again with a max stake of up to £2 per game. During off peak hours the most expensive rooms have less players but bigger prizes compared to the 5p, 10p and 20p rooms. Five-a-Side is the only room to replace spades, hearts, clubs and diamond cards with Rovers (white), Wanderers (yellow), United (red) and City (blue) football shirts. To win the only prize available, mark all five cards in one hand first. Win jackpots by marking a hand in 5, 6 or 7 calls.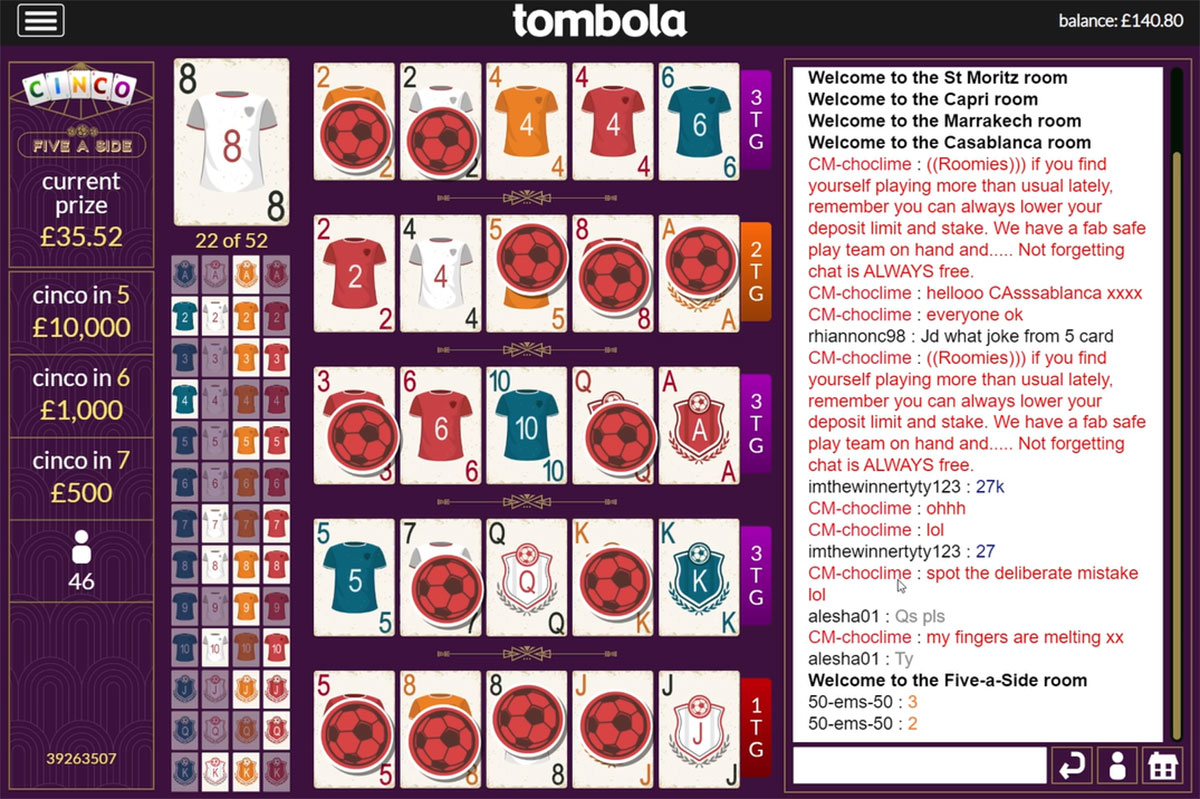 Now for something even more different – Rollercoaster, where heads leap from the rollercoaster to offer prizes of up to £10K! Each ticket represents a cart and each cart can be selected from 10p to 50p. up to four tickets can be in play per game. To win the full house prize, get a full cart of heads before anyone else. Each of the heads will drop at random as the rollercoaster reaches the 12 o'clock position. Turn your volume up for fun phrases.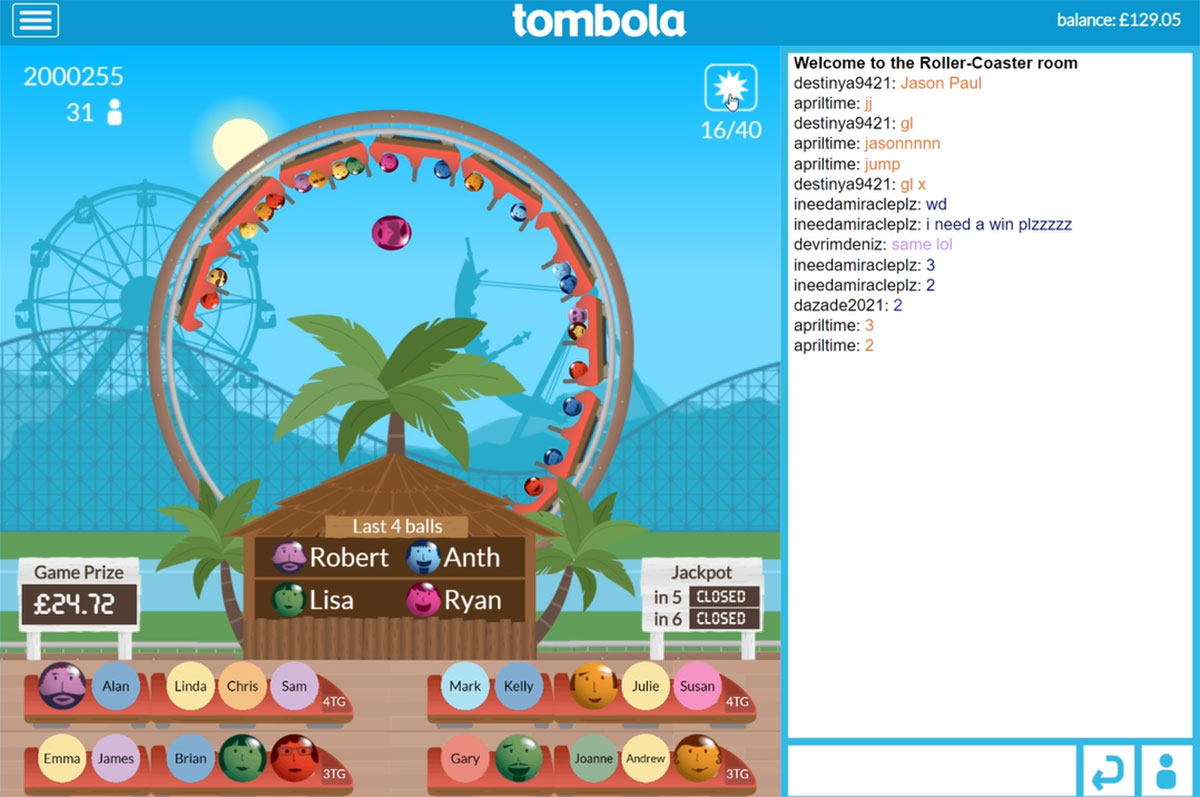 Just the one Tombola account allows players to play games over in the Arcade too, where there are scratchcards, slots, flip a coin, casino style games and much more. All games are unique and exclusive to Tombola and will never cost more than £1 per play.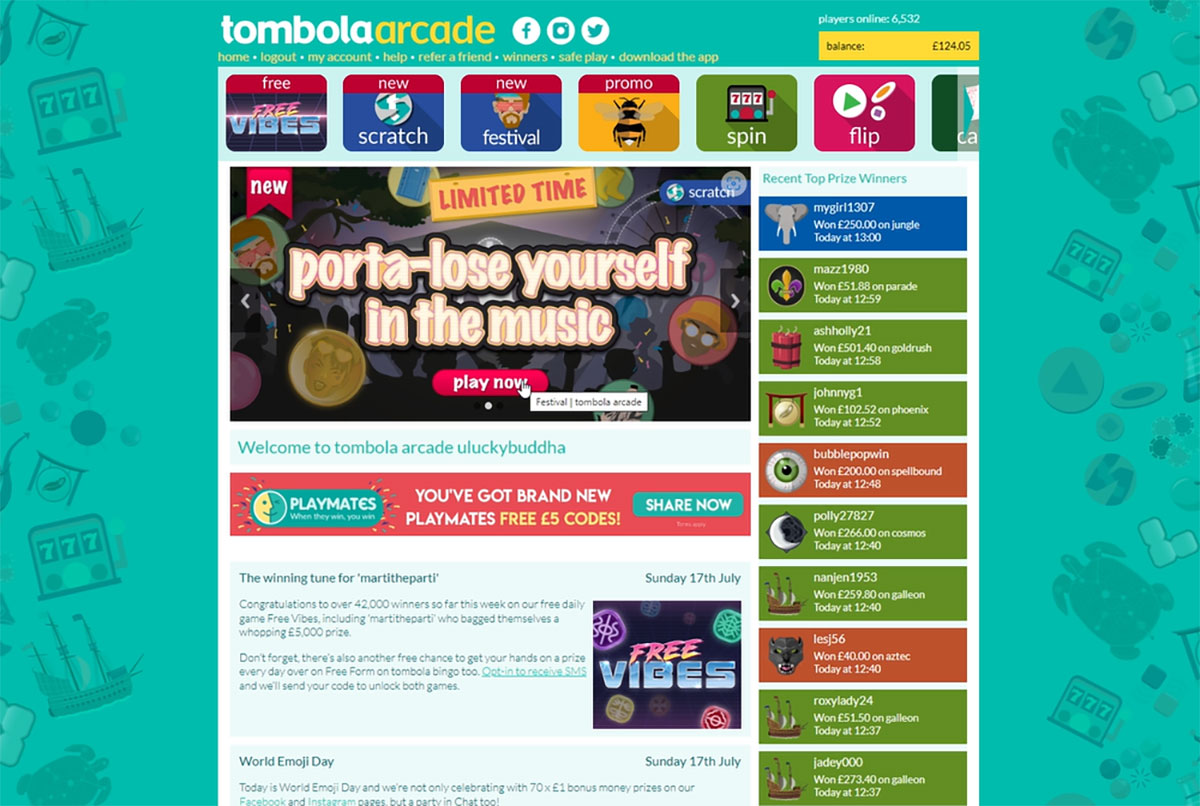 After playing the daily no deposit game on Arcade (no win again unfortunately), uluckybuddha decided to play the latest scratch game – festival.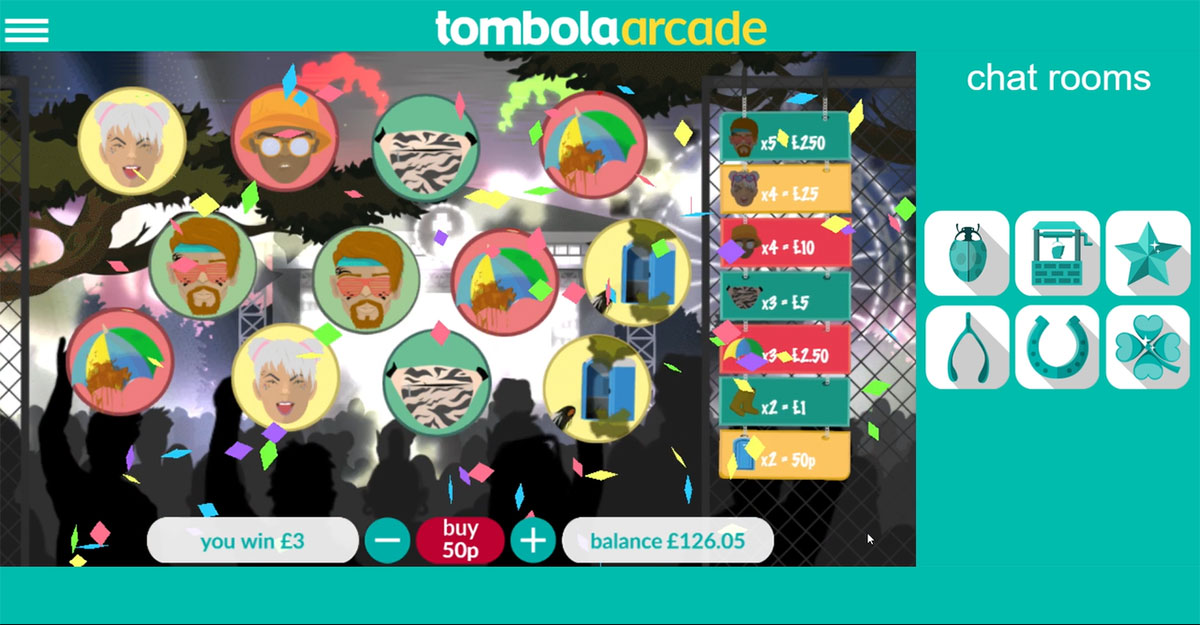 Bubble is a popular game with multiple themes. The lab has a feature where a golden orb could appear from one of the bubbles to guarantee a prize of up to £500!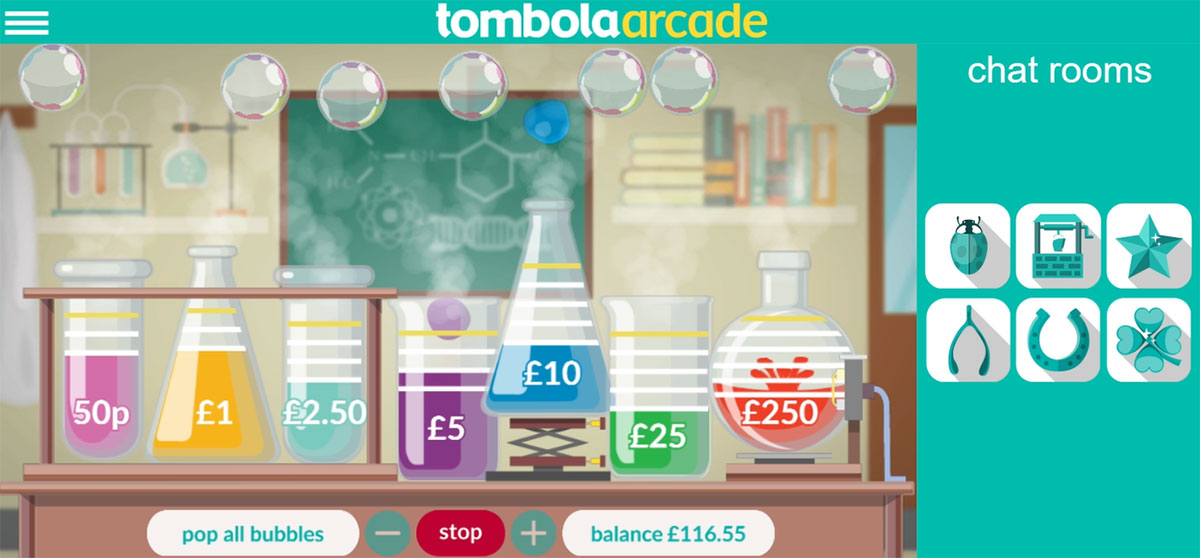 The most popular arcade games of all are the spin games. Online slots of various themes and bonuses. Parade, Galleon, Phoenix and Temple feature no win lines, instead wins are generated with matching symbols on at least three consecutive reels.
Tribe and Gold Rush have a cascading reel engine with the potential for more than one win in a single spin. Bonus rounds include following a cart down the track to win cash and leading the tribe to safety and wins. Land three women symbols in Heist for 7 free games, during which the woman appears stacked on the middle reel for even more chances to win.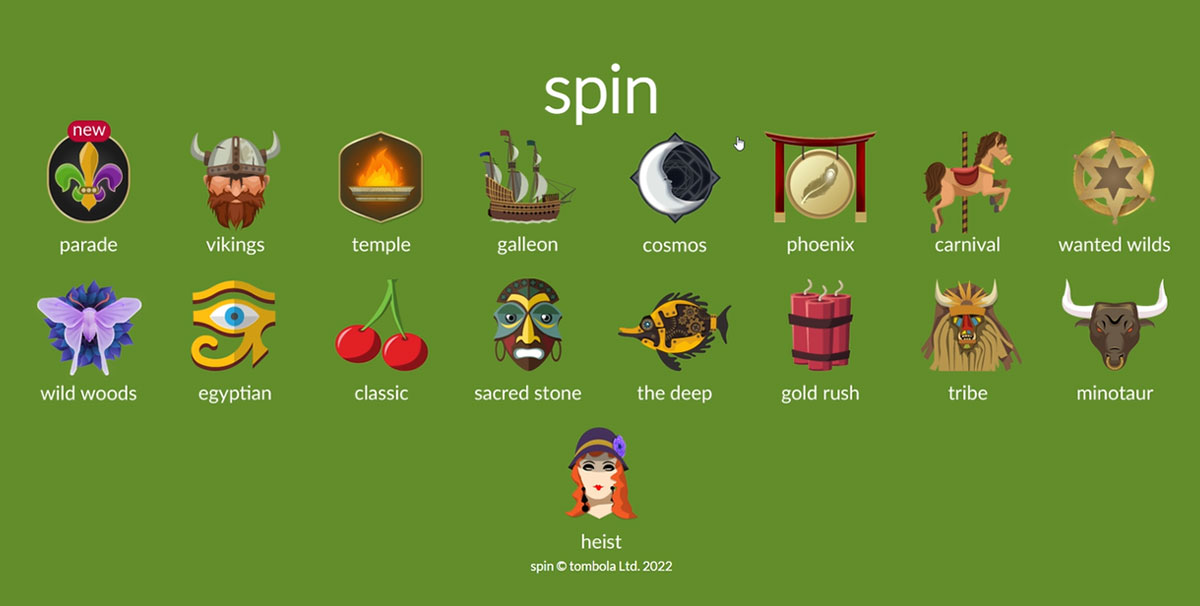 Requesting a Withdrawal
After playing all games, uluckybuddha proceeded to withdraw her remaining balance of £75.21p.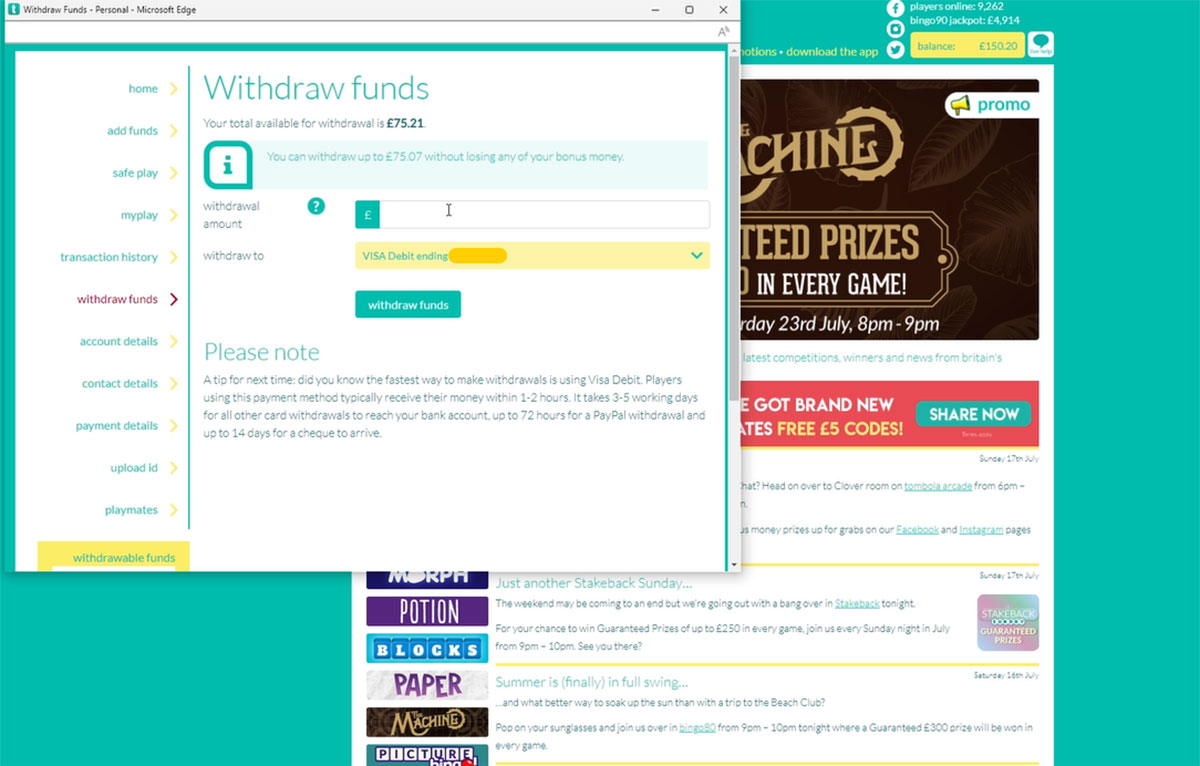 On Monday 18th of July, some 90-minutes after requesting her withdrawal, the funds were already in our reviewer's bank account.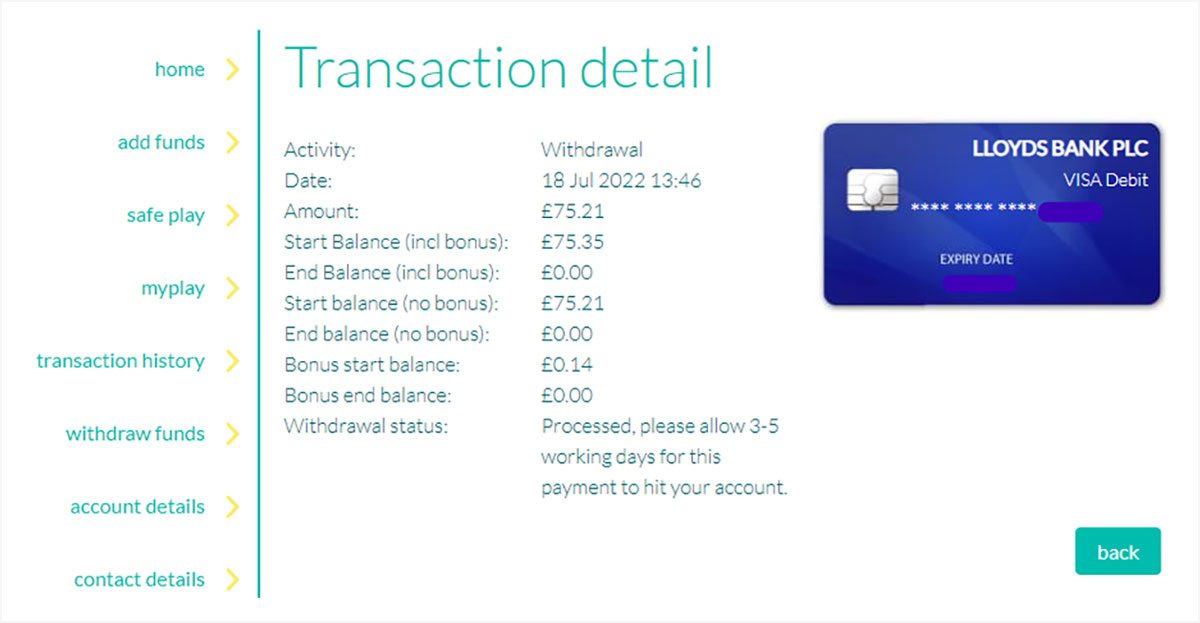 How Does Tombola Stack Up?
The choice of exclusive games is astronomical and means you will not find them anywhere else. Max stakes of just £2 apply to all games. Bar Roulette, where a max bet of £2 is sanctioned however, when playing max bets players are able to play two chips at £2 (£4 in total).
Cash wins from bonuses also separates Tombola from its competition. The Arcade delivers top-quality games but even with max bets capped at £1 per go, funds can dry up quickly when on a losing streak.
Last but certainly not least, the withdrawals for Visa Debit customers are fast and processed within 90 minutes during this test.
This information concludes this extensive test as part of the project From the Players, For the Players. If you are a member of Tombola or consider making a deposit, we hope this report provided some useful information.
From the Players for the Players
Back to articles
Your feedback
Please enter your comment.
Your comment is added.